Looking for the perfect black one piece swimsuit? We have 21 options for you to choose from.
Black One Piece swimsuit
When it comes to swimwear, a black one piece swimsuit reigns supreme as a symbol of elegance and sophistication. And you can never go wrong with a timeless black bathing suit, especially when it's a one piece!
It's super versatile and allows you to effortlessly transition from poolside relaxation to glamorous beachside soirées.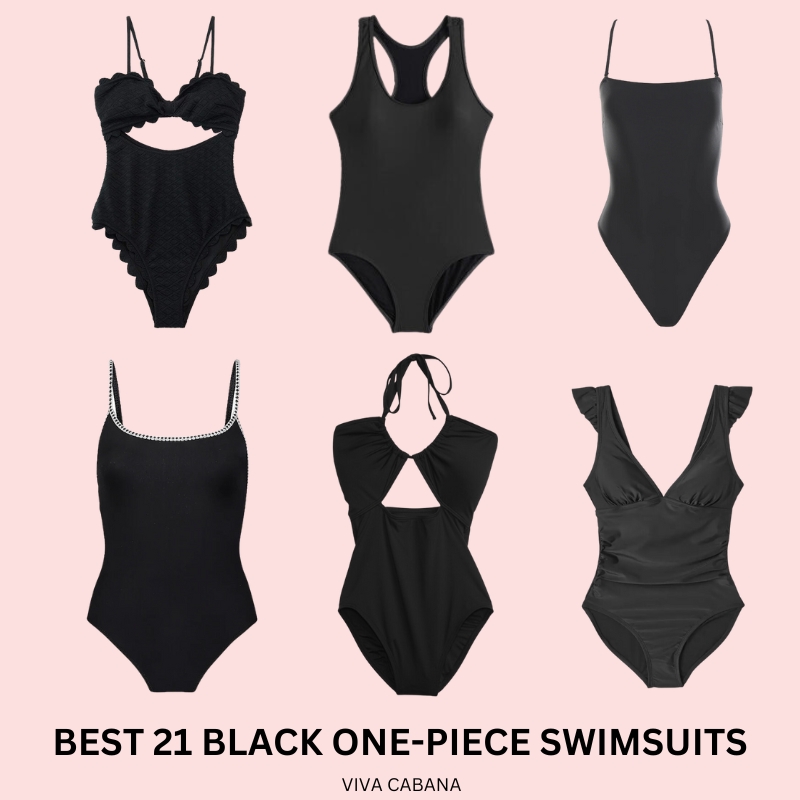 RELATED: The Best 25 One Piece Swimsuits for 2023
In this list we've picked the best black one piece swimsuits available, each offering unique features that let both you and the suit stand out.
From cutouts to the best classic, these swimsuits are perfect for elevating your beach or poolside look by simply adding a sarong or breezy linen pants!
Our Top Picks
Why We Love Black One Piece Swimsuits
Timeless Elegance: Black is a classic color that never goes out of style. A black one piece swimsuit creates a chic and timeless look that flatters a variety of body types.
Flattering Silhouette: Black is known for its slimming effect. It visually slims down the body and creates a sleek silhouette by minimizing your areas of concern.
Versatility: Black one-piece swimsuits are incredibly versatile and can be effortlessly styled for various occasions. They're easy to dress up with a sarong and fabulous beach sandals or dress down with board shorts.
Focus on Details: With a black one piece swimsuit, you can let the design details shine whether it's intricate cutouts, mesh panels, or lace-up accents.
Easy to Coordinate: Black pairs well with various accessories and cover-ups making it easy to mix and match. Think of it as a canvas to create the ultimate summertime look!
Investing in a high-quality black one piece swimsuit ensures that it will remain a staple in your swimwear collection season after season.
A black one piece swimsuit is an essential addition to your swimwear collection. Whether you prefer classic elegance, modern cuts, or daring details, these swimsuits offer something for everyone.
Embrace its elegance and versatility as you make a statement on the beach or by the pool. Embark on a fashion journey with the alluring black one piece swimsuit, radiating confidence, style, and timeless beauty.
RELATED: Top 18 Underwire Swimsuits: Ultimate Support and Style