Stylish and waterproof beach sandals… what else do you need?
Beach Sandals
Summer is finally here, and that means it's time to hit the beach and bask in the sun's warm embrace. But before you pack your beach bag, there's one crucial accessory you shouldn't overlook: a fabulous pair of beach sandals.
When you pack for your coastal vacation, you likely always grab your favorite white sneakers for excursions and heels for dinner, but beach sandals shouldn't be overlooked.
Whether you're strolling along the shore or lounging by the pool, the right pair of sandals can elevate your style and keep your feet comfortable all day long.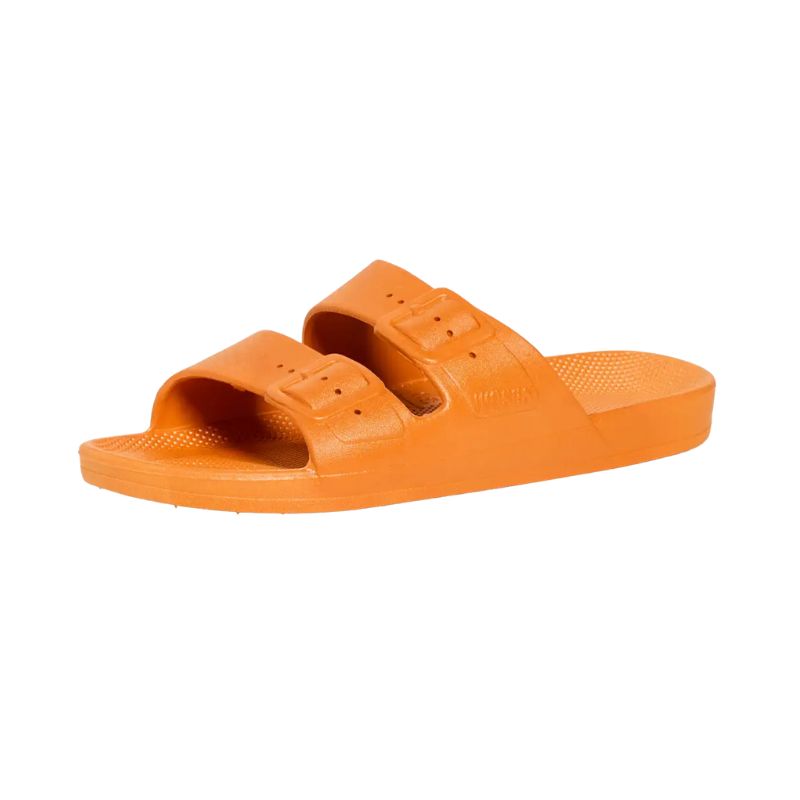 We love these Freedom Moses Two Band Slide which comes in endless options of cool prints and colors.
Orange is the best for adding a pop color to your beach outfit!
RELATED: 14 Best Pool Slides That You Can Wear Anywhere
Which Footwear is Best for Beach?
Beach sandals not only allow you to go from the water's edge to lunch in town with ease but they offer essential foot protection from the scorching sand to sharp sea shells.
They're lightweight, making them easy to put in your beach bag and you'll feel chic on and off the sand—with the right pair. Plus beach sandals are the definition of fuss-free.
Sand ends up on everything at the beach, and beach sandals can be rinsed off at the end of the day.
What's the Best Beach Sandal?
Beach sandals come in all sorts, from easy on-and-off Havaianas flip flops to chunky Birkenstock slides to nostalgic Melissa jellies.
Or if you're in the market for a comfortable, durable, and supportive beach sandal that can be worn hiking or water tubing, shop some classic Tevas.
There are plenty of more elegant and stylized sandals that are perfect for the beach as well, like ankle-strap PVC bows from Zimmermann and embellished sandals from Gianvito Rossi.
Style Tip: shop fashion and function
If you're looking for some additional support on uneven sand, shop for a pair with ankle straps. 
RELATED: Easy Slide Sandals That Look So Chic
What Beach Sandals Are in Style?
Classic Flip-Flops: A timeless choice for beachgoers which never go out of style.
Sporty Sandals: For those seeking a blend of style and practicality for activities.
Slide Sandals: A fashion staple. Easy slip-on styles are ideal for beach outings.
Espadrille Sandals: If you're yearning for a touch of elegance at the beach. Get your full guide of Espadrilles here.
Water Shoes: To protect your feet from sharp rocks, hot sand, or pesky sea creatures.
Join us as we explore the best beach sandals that seamlessly combine fashion, functionality, and comfort for your ultimate summer escapades.
Our Top Picks
We've rounded up the best beach sandals that will match your swimsuit collection. Check out all of our favorites, just in time for summer.
You should paramountly seek out sandals that are made of water-resistant or fully waterproof materials, like rubber, nylon, and clear PVC.
That way, even if your feet are not fully dried before you slip into your beach sandals, they will dry quickly and without damage.
Our Shopping Guide
Classic Flip-Flops
These versatile sandals are known for their simplicity and effortless charm. Look for flip-flops with durable rubber soles, cushioned footbeds, and water-resistant materials.
Sporty Sandals
These sandals often feature adjustable straps, water-friendly materials, and grippy outsoles, making them perfect for beach hikes, water sports, or even casual seaside strolls.
Slide Sandals
Opt for slide sandals with contoured footbeds and soft straps for maximum comfort. Look for vibrant colors, playful prints, or even metallic accents to add a touch of glamour to your beach ensemble.
Espadrille Sandals
These chic sandals feature jute-wrapped soles and stylish woven uppers that exude a laid-back yet sophisticated vibe. Espadrilles come in various styles, including ankle straps, wedges, and platforms.
Water Shoes
These highly functional sandals are made from quick-drying, water-resistant materials and often feature rubber outsoles with excellent traction. Look for water shoes with adjustable straps, breathable mesh panels, and cushioned insoles for enhanced comfort.
What to Look for
As you are often in and out of the water on a beachside vacation, it's important to look for materials that are durable in nature, if not fully waterproof.
Material: Water-resistant and waterproof materials like Rubber, nylon, PVC, and more.
Fit: While you can certainly opt for an ankle strap or wrap, slip-on and other easeful silhouettes are great for the beach.
Size: Take your proper shoe size. Read the reviews and check the size guide.
Shop shoes that are waterproof so that you don't have to worry about getting too close to the waves while you're at the beach.
Just in time for summer, shop some of our favorite (and stylish!) sandals that are perfect for the beach.
Finding the perfect balance between style and comfort is essential. Whether you prefer the classic flip-flops, sporty sandals, slide sandals, espadrilles, or water shoes, there's a pair out there that suits your beach style and ensures your feet feel fantastic all day long.
Embrace the summer vibes, unleash your inner fashionista, and let your beach sandals become your ultimate seaside companions. So slip them on, feel the sand between your toes, and get ready to make a fashion statement as you soak up the sun in style.
FAQ
How to choose best sandals for the beach?
When it comes to shopping for beach sandals, opt for those that slide on fairly easily or feature a single ankle strap so that it doesn't take long to slip them on and off as you move from the sand to the water and back again.
What's more, in keeping with the water-centric theme, now is the time to shop for sandals that are fairly waterproof so that you don't have to worry about ruining your favorite new purchase while you're at the beach.
What sandals are good in the sand?
All sandals are good in sand, although you might want to avoid dear materials, like suede and soft leather, when it comes to the sand as well as water.
What can I wear to the beach instead of flip-flops?
There are plenty of sandals that you can wear to the beach instead of flip-flops. In fact, we encourage it!
Whether an easeful slide sandal or a more structured ankle-strap sandal, the world is your oyster…as long as you're opting for a durable material.
RELATED
Our Favorite Designer Slides for Women