One piece swimsuits designed with long torsos in mind.
Long Torso One Piece Swimsuits
Having a long torso doesn't mean compromising on style or fit when it comes to finding the perfect swimsuit.
It's no secret that every single woman's body is different. Embrace your unique body shape and dive into summer fashion with our curated list of the best 12 long torso swimsuits. 
Designed for Long Torso
These thoughtfully designed swimwear options cater to your proportions, providing the perfect balance of style and comfort.
With the below brands, you can shop specifically for that elongated shape—long torso swimsuits for every personal style and price point.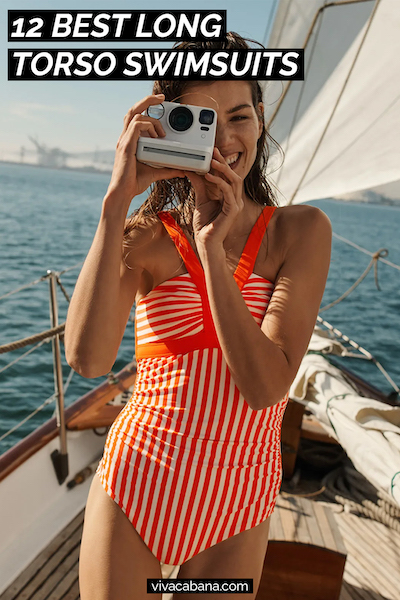 RELATED: The Best 25 One Piece Swimsuits for 2023
How to choose the right one?
Look for designs with high-cut legs and deep V-necklines to create the illusion of a lengthened silhouette.
Solid colors or vertical stripes work wonders in creating a streamlined effect.
For a modern and eye-catching choice, consider an asymmetrical swimsuit. These swimsuits add visual interest and draw attention to your torso in an elegant way.
Join us as we explore these figure-flattering choices and discover style tips to elevate your poolside ensemble.
Our Top Picks
RELATED: Chic Black Sleek Bikinis For This Summer
Long torso swimsuits are crafted for a reason.
Shop the above and never again will you have to will yourself to fall in love with one pieces that don't exactly fit you as comfortably as they should.
For all you taller women out there, these swimsuits are the game-changer that you've been searching for.
From bright color blocks to basic black, shop the above long torso swimsuits, just in time for summer.
FAQ
What is considered a long torso for swimsuit?
In the context of swimsuits, a long torso refers to a body proportion where the distance between the shoulders and hips is longer than average.
Individuals with long torsos typically have more space between their bust and waistline requiring swimsuits that are specifically designed to accommodate their proportions.
How do you know if you need a long torso swimsuit?
If you find that regular swimsuits tend to be too short in the torso area, causing discomfort or inadequate coverage, it is likely an indication that you have a longer torso.