We've asked Jin Soon (the nail expert!) to come up with the best 50 nail designs for this season.
Nail Designs 2022
Whether going to the salon, trying these nail designs at home, or having your friends over for a new take on a paint-and-sip night, Jin Soon's favorite picks will give you great ideas and inspiration.
Jin Soon knows nails.
Inspired by her continuing work as a top runway nail artist and nail spa founder, she also created a line of nail polishes which are non-toxic, 21-free, cruelty free, vegan friendly, and UV-protected.
This season is all about a clean silhouette and formality.
Nail polish colors tend to be less predictable, favoring smoky, moody, earthy colors that still represent the picturesque colors of fall and winter but with more subtle, referential twists.
As seen at the Michael Kors, Peter Do, and Brandon Maxwell Fall/Winter 2022 shows, it's all about muted yet unique tones like dusty reds, browns, olives, and blues.
Toned-down moody colors look exquisite and stylish on everyone, short or long nails. All you need is fashionable fingerless gloves!

Team JINsoon created these ultimate DIY-friendly nail designs using these ultra-cool tone colors that you'll find yourself wearing all fall and winter.
Nail art novice looking to experiment with designs more elaborate than alternating solid colors?
Look for a nail art design kit to create dots, swirls, squiggles, and more. Try a set like this one here to create the nail designs of your dreams.
Here are some simple nail designs using unique fall and winter shades:
OUR TOP PICKS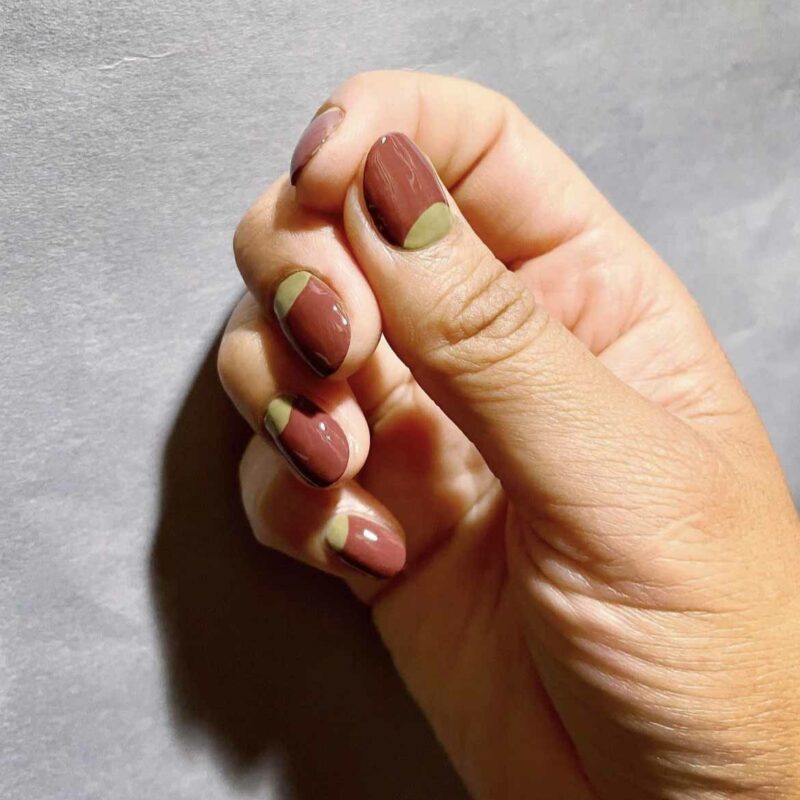 For a spin on the classic moon manicure, use a cool color combo for an understated fall nail look. This nail design is soon to be everyone's best friend 🙂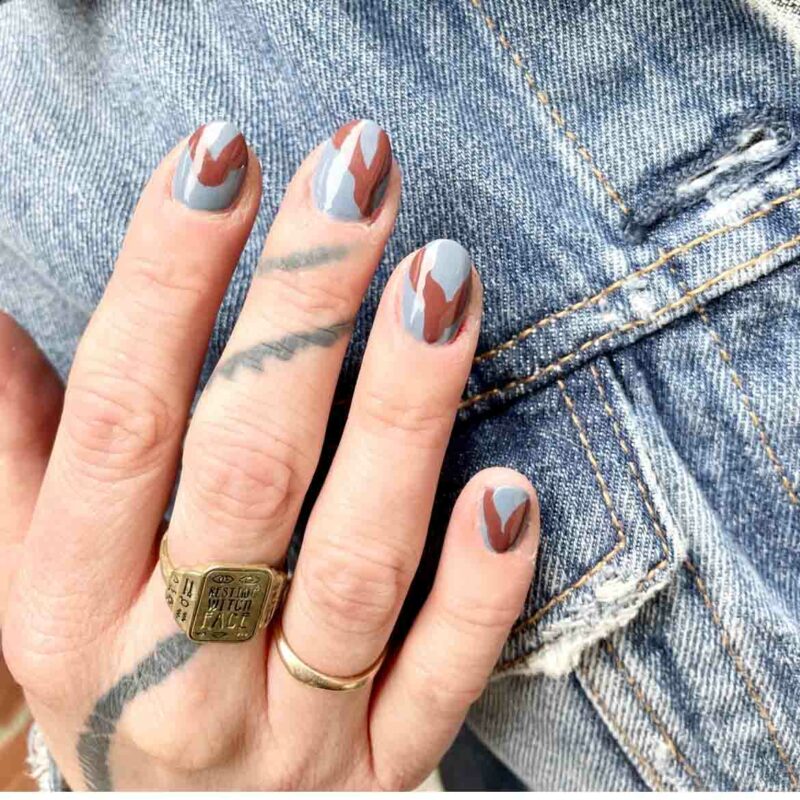 Unleash your inner artist and get creative with this abstract swirl pattern.
The best part of creating this nail design: you don't need any nail art brushes, just use the brush that comes with your polish.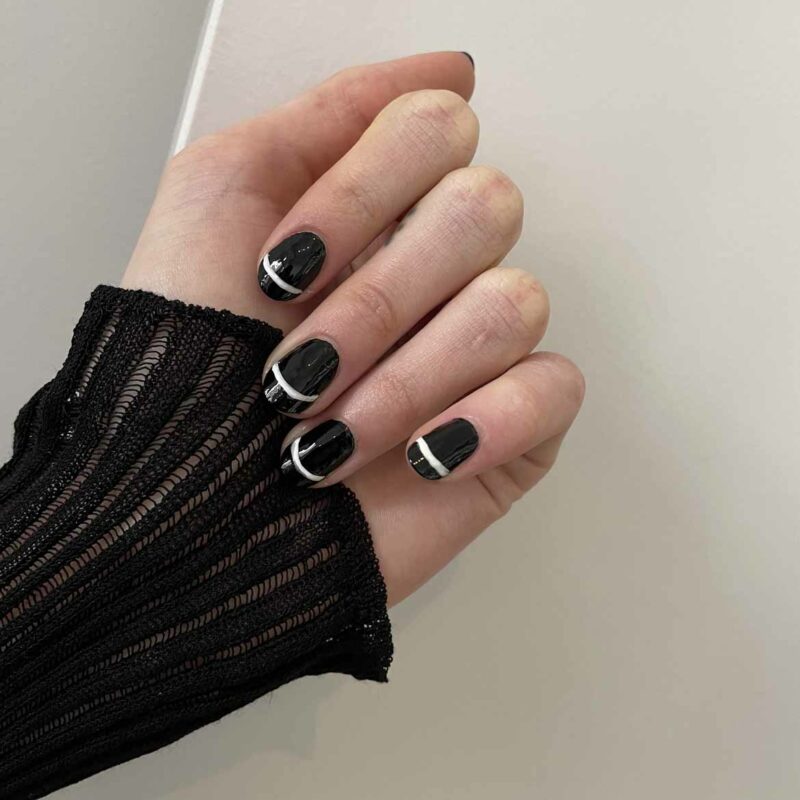 If a French manicure is your go-to, this is a great alternative! The white floating line over pure black highlights the free edge of the nail bed and creates an elongated, chic look.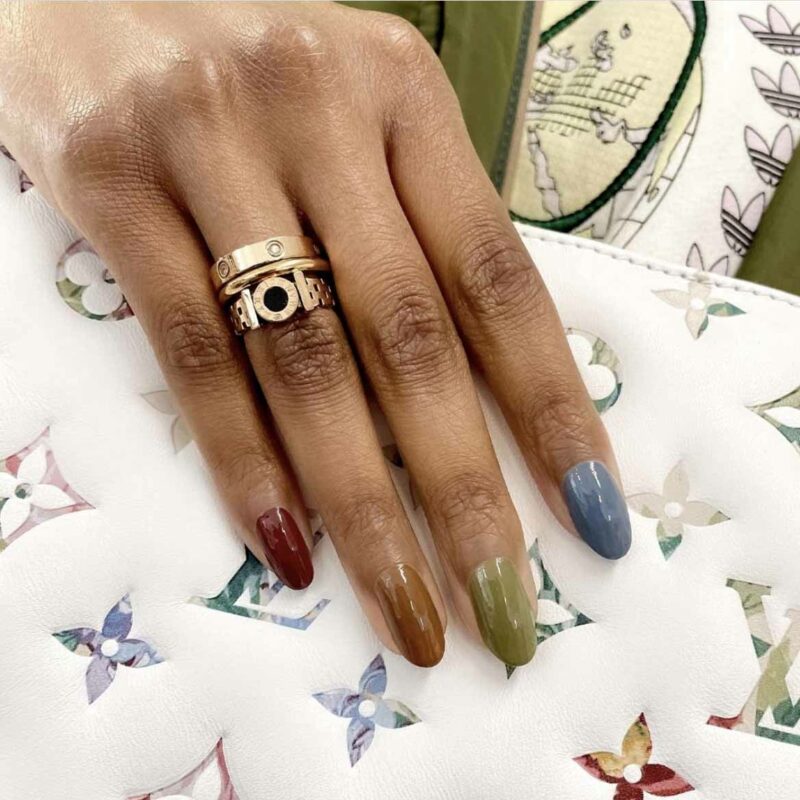 Almost fun enough to eat! Alternate these earth tones on your fingernails for an effortless nail design that makes for a great ultra-easy (and beginner-friendly) fall look.
Perfect colors for your khaki pants outfit.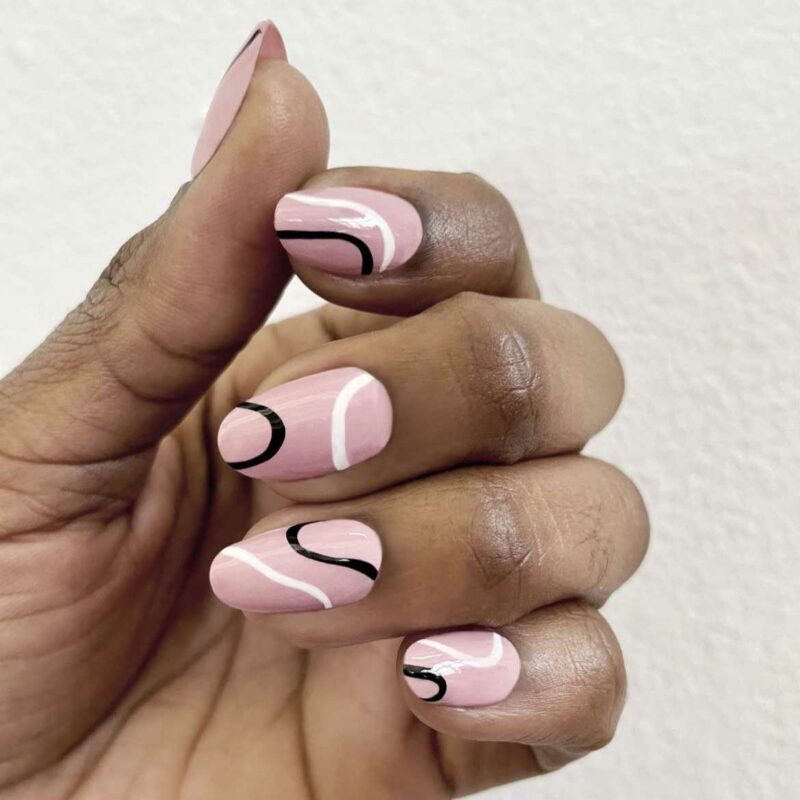 We love these fun squiggles! For a feminine yet graphic nail design, draw some curly, curvy lines over a soft pink base for an eye-catching look.
A grown-up take on your favorite sparkly nails. This earthy clay tone mixed with glossy glitter topped with a matte polish gives you an uber-stylish look.
This matches well with the shades of our best picks in suede jackets.
Inspired by classic car detailing, this nail design may seem minimalistic but will take your look the extra mile.
Not ready to give up summer yet? Neither are we!
This cool blue and green combo continues this summer's blue trend into fall by adding a secondary color, green, to usher blue into fall nail design.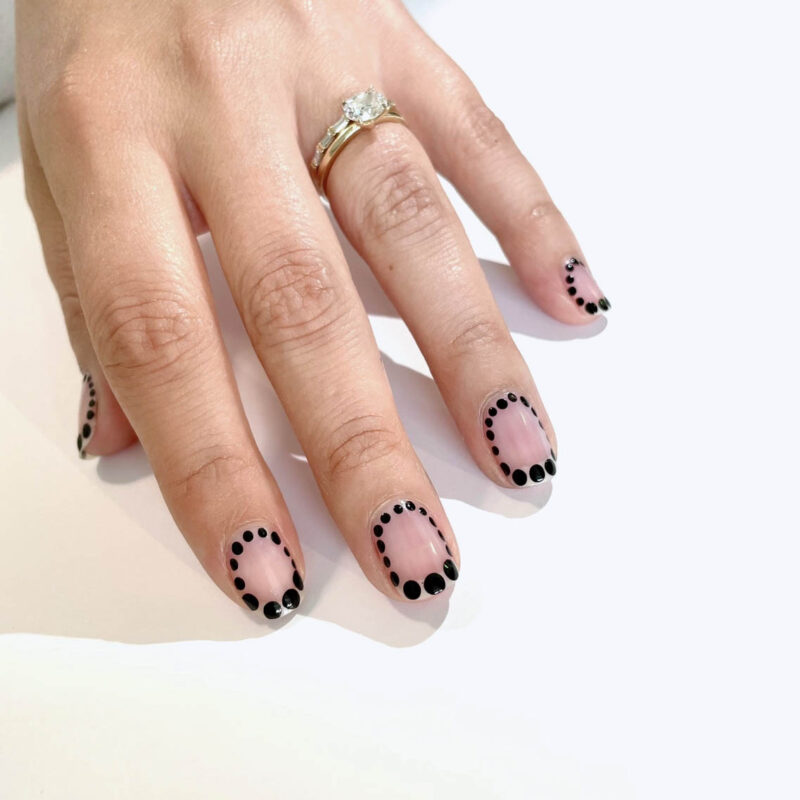 Big dots at the tip and smaller dots all around the nail make for an elegant yet edgy look. It will also adds nice details to your cozy knit dresses.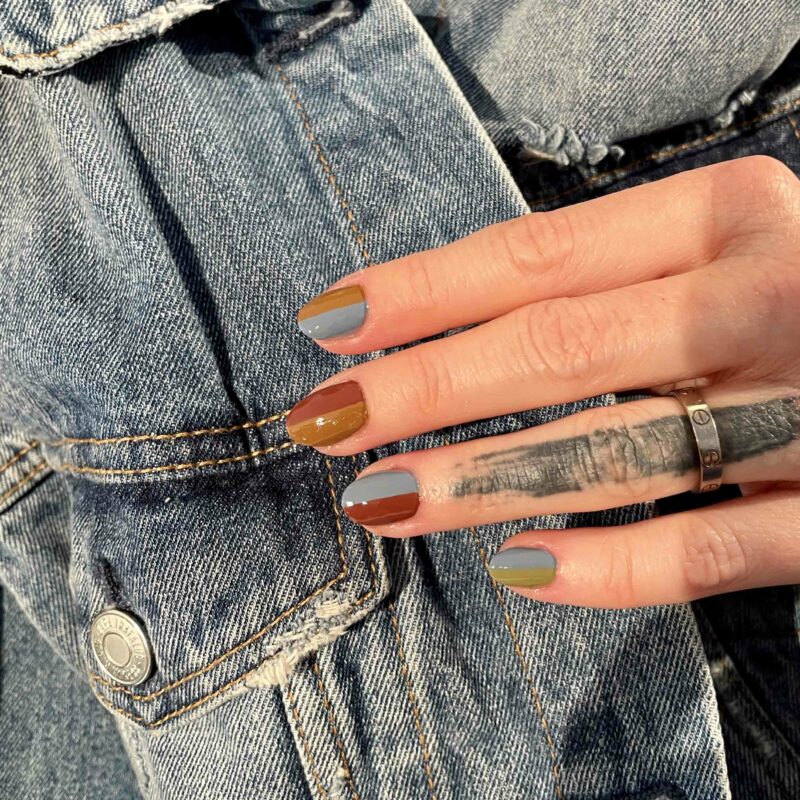 This pattern is all about the color choice you make, not only on each nail but from finger to finger. Mix and match to see how many combos you can come up with! 
Pro Tip: Check out Jinsoon's step-by-step instructions here to create perfect vertical blocks.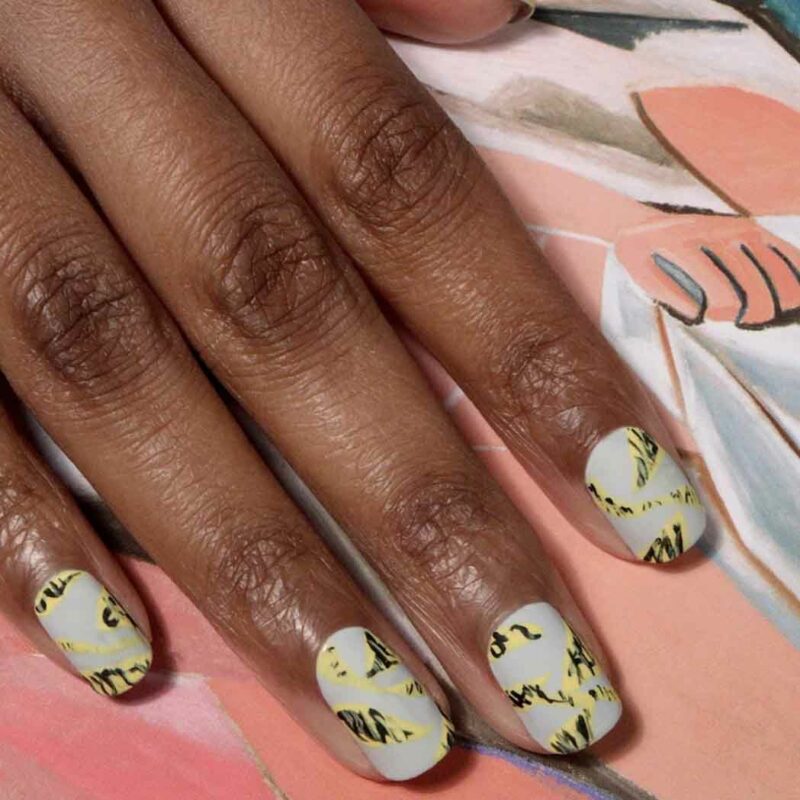 Graffiti-inspired colors with contrast and texture. A matte finish gives additional dimension to this street-style ready nail design.
The beauty of this nail design is in the uneven and whimsical nature of each wavy shape, mimicking the natural ebb and flow of water. Wear any of your favorite white sweaters to complement this stunning look.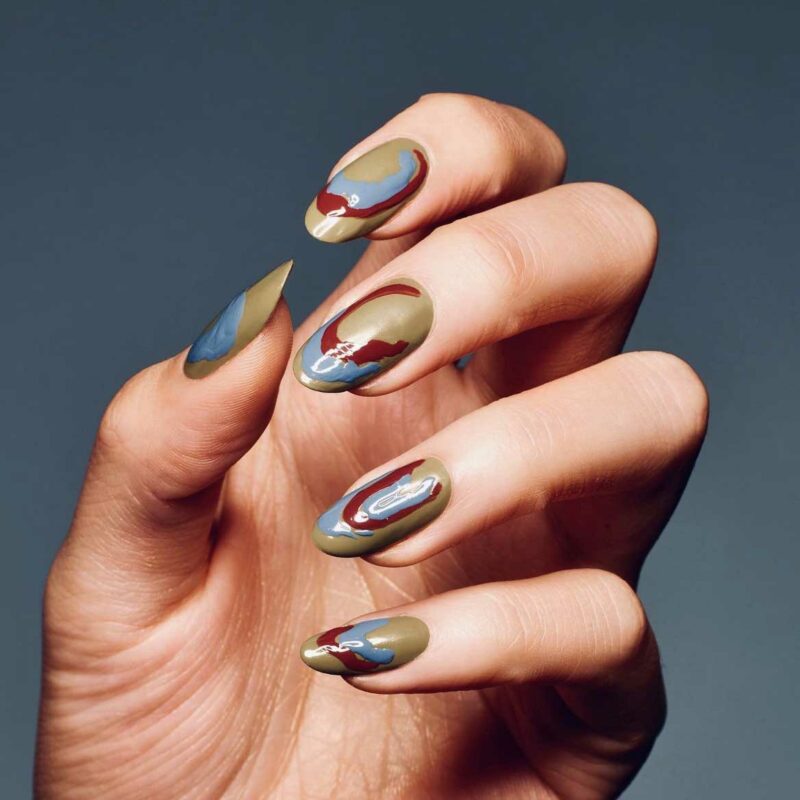 Create an abstract painting right on your nails using this trio: Green clay, Sea Clay, and Fire Clay for a balanced and calming contemporary look.
These organic shapes and colors are artistic and perfectly represent the fall mood.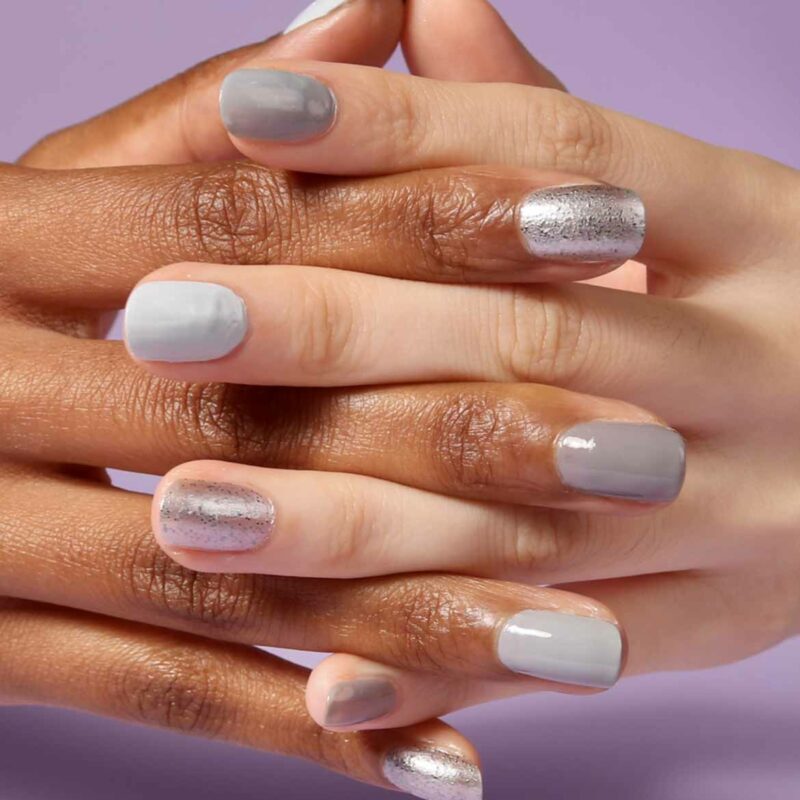 Opt for this silver and gray combination for a soft, sophisticated mix of colors for your nail designs.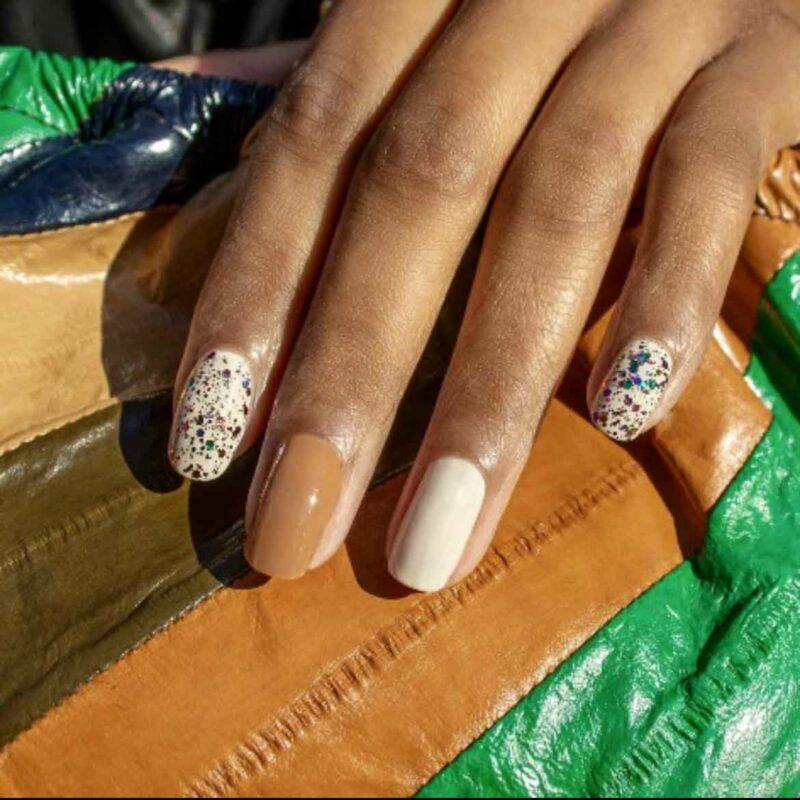 Looking to step outside of your neutral nail comfort zone?
Combine this unexpected winning trio of toffee and soft cream topped with multicolor glitter to instantly elevate any look.
Feeling bright and playful? The random swells of free-formed burnt orange outlined by white create a fun and spirited nail design for any season.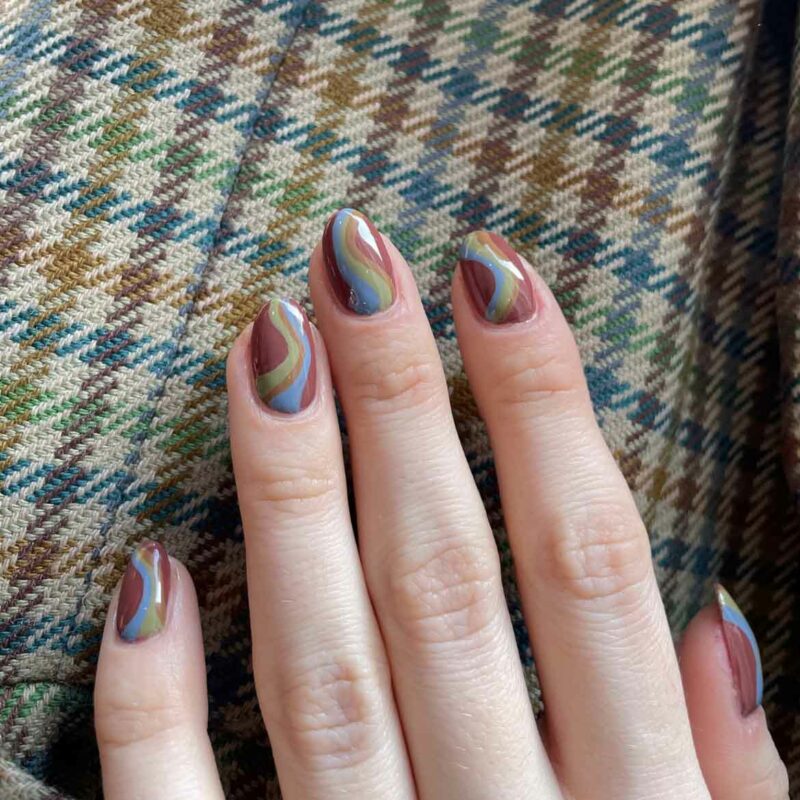 If you hadn't noticed yet, wavy nail design is having its moment among nail art and design enthusiasts. This understated wavy nail art has movement and elegance all at once. Pair it with camo pants to match!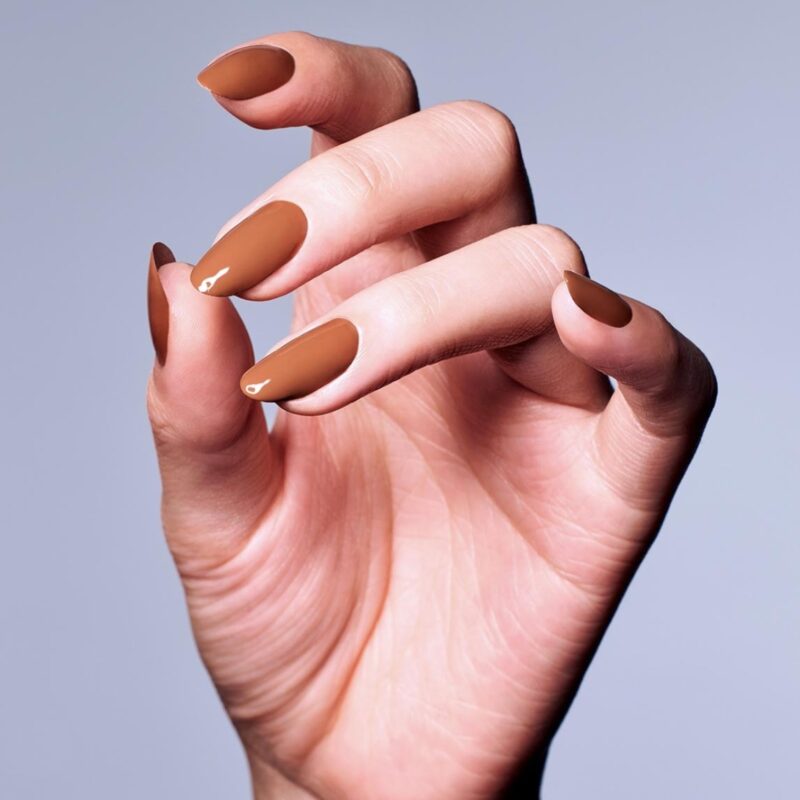 A luxurious neutral that's perfect for cold weather and any skin tone.
This orange-brown color modernizes the classic brown polish for this season. Earthy tones have a certain elegance that makes a statement without flashy designs or finishes.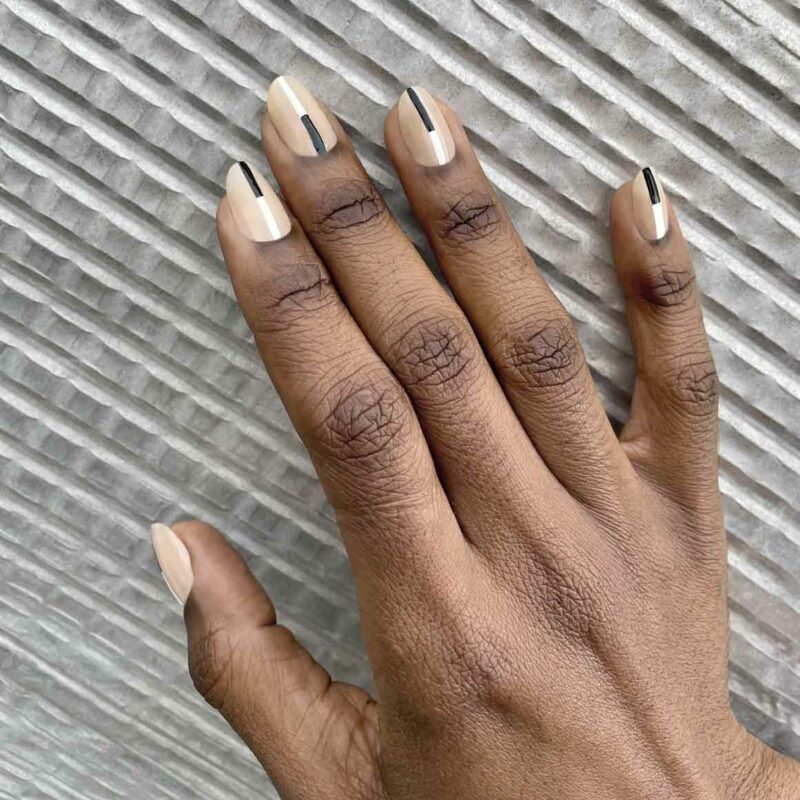 Stop traffic with this take on the dashed road mark.
The pinky-beige base paired with a sleek, geometric line not only gives ultimate cool girl vibes but also makes your nails look longer.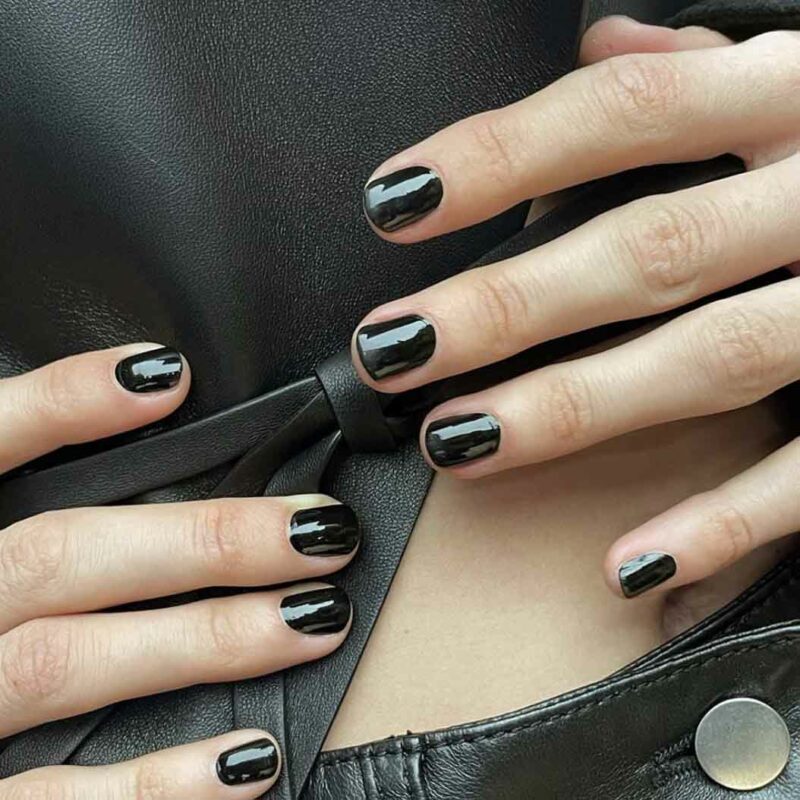 Black is an absolute must for today's enlightened fashionistas.
Coco Chanel popularized black as an essential component of women's wear in 1926 and it continues to be the very definition of high fashion.
Pro Tip: A rich, shiny black with a lustrous cream finish delivers a modern and chic nail design that makes a fashion statement.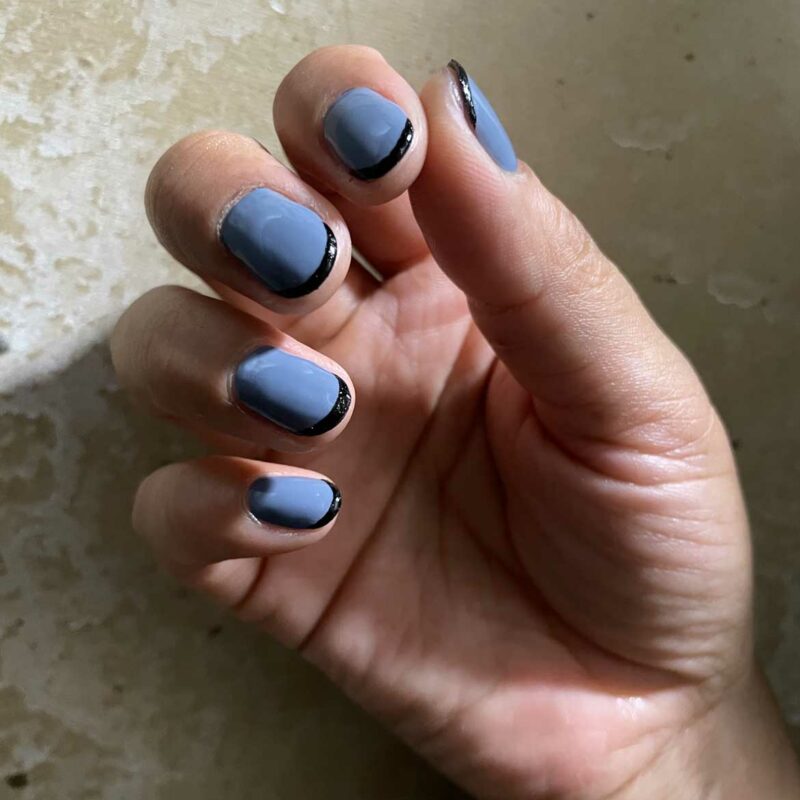 Parlons de ma génération! A French Gen-Z twist with a combination of moody blue and black delivers a modern and youthful version of a French manicure.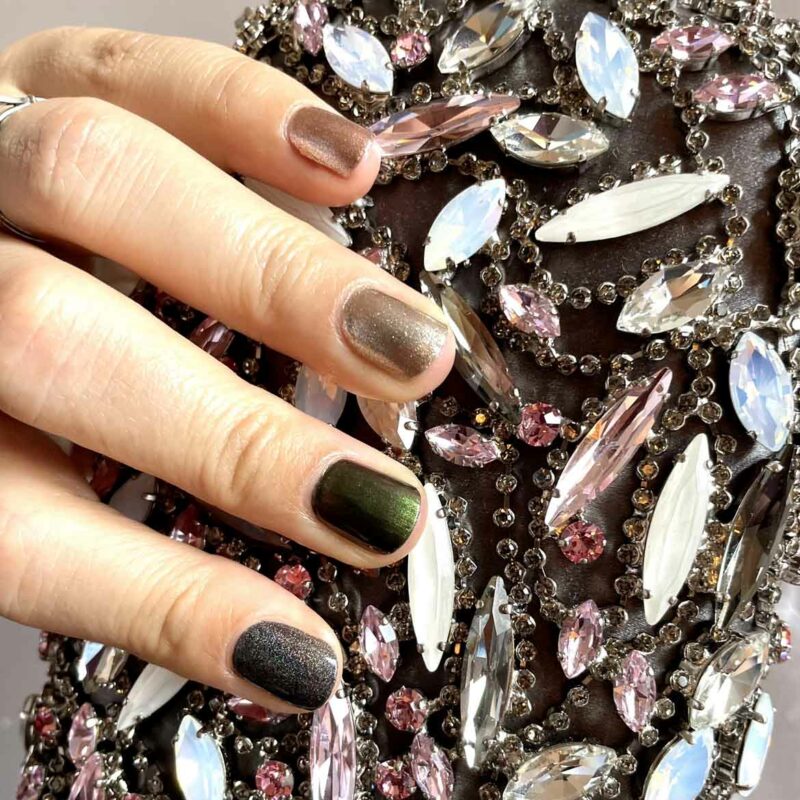 The perfect nail design for any holiday party. Mix metallic colors for a sophisticated look that pairs with all of your jewelry collection. Any color metal will always match!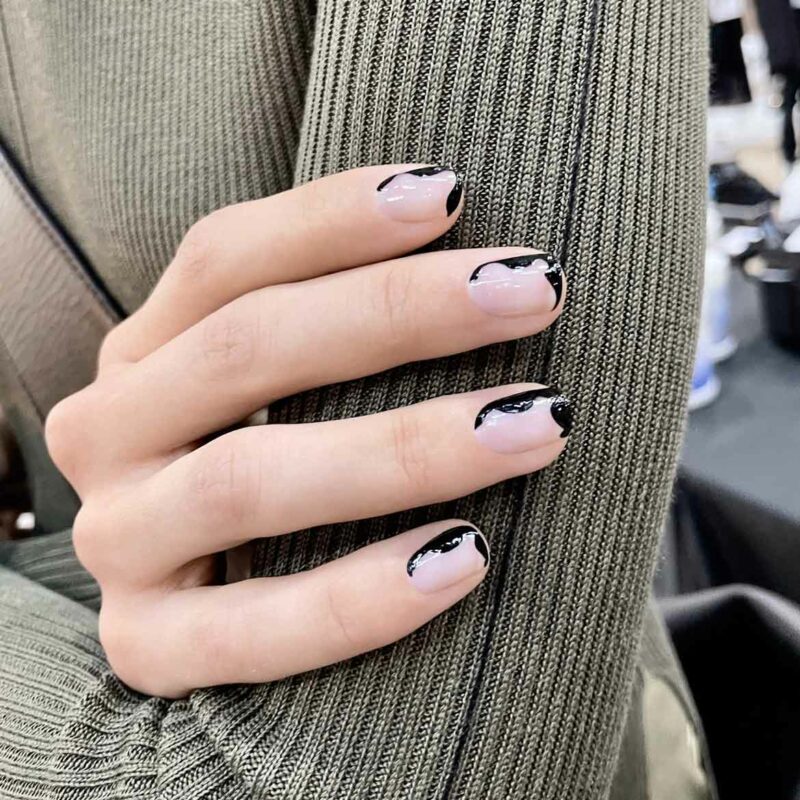 A sheer base with a free-flowing black line draped around the nail bed gives a minimalist, organic look.
Team JINSoon created this modern nail design to complement Peter Do's black and white tonal collection.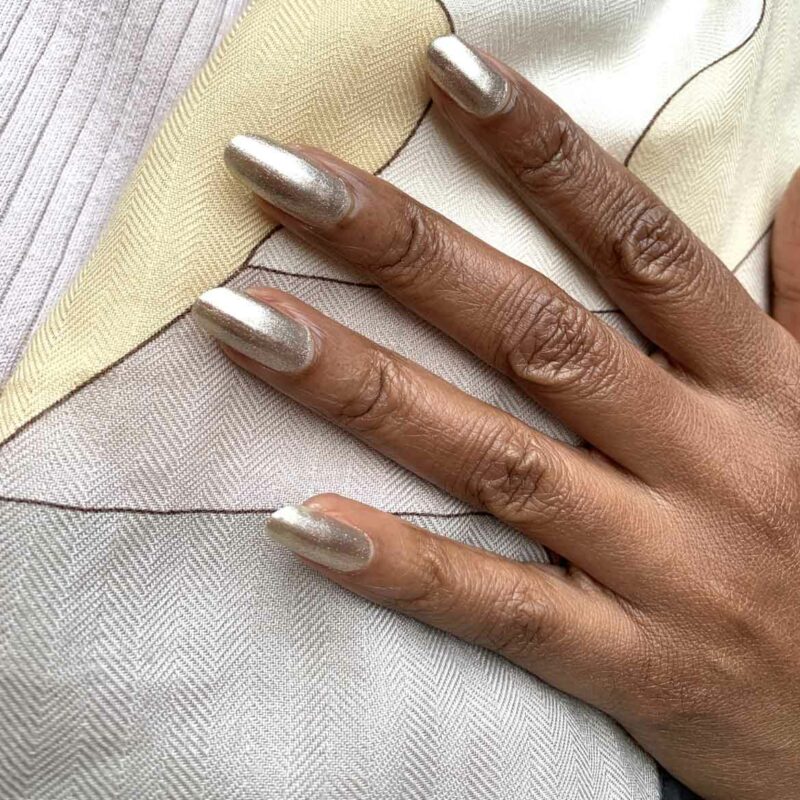 A glamorous metallic shade provides a stand-out nail design that embodies the spirit of women.
The perfect silver metallic for the free-spirited, independent woman who lives within us all.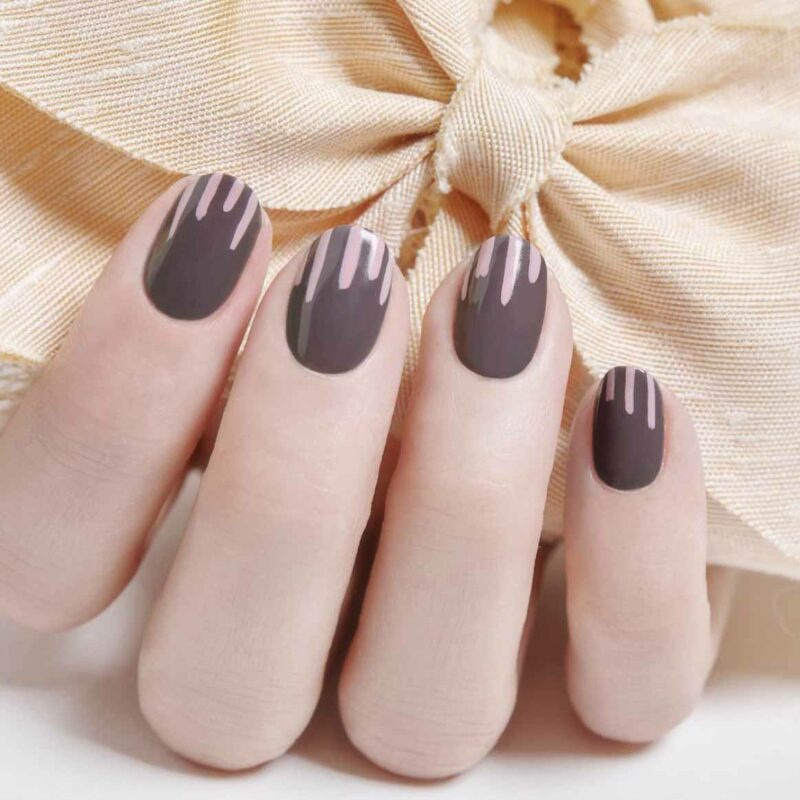 Step out of your comfort zone and try this eccentric and unique take on a two-tone manicure.
Use irregular lengths of vertical brush strokes coming from the top of the nail to create this design.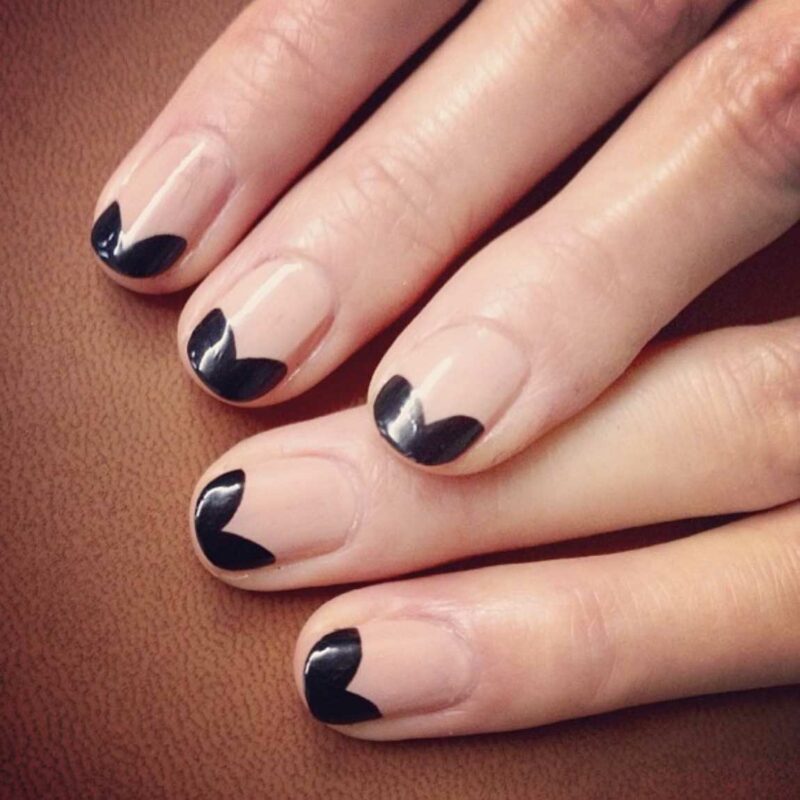 Enjoy a little gentlemanly fancy with a feminine twist with these tuxedo French nail designs.
Swipe on your go-to black polish at the tips to meet in the middle to create a bowtie for your nails.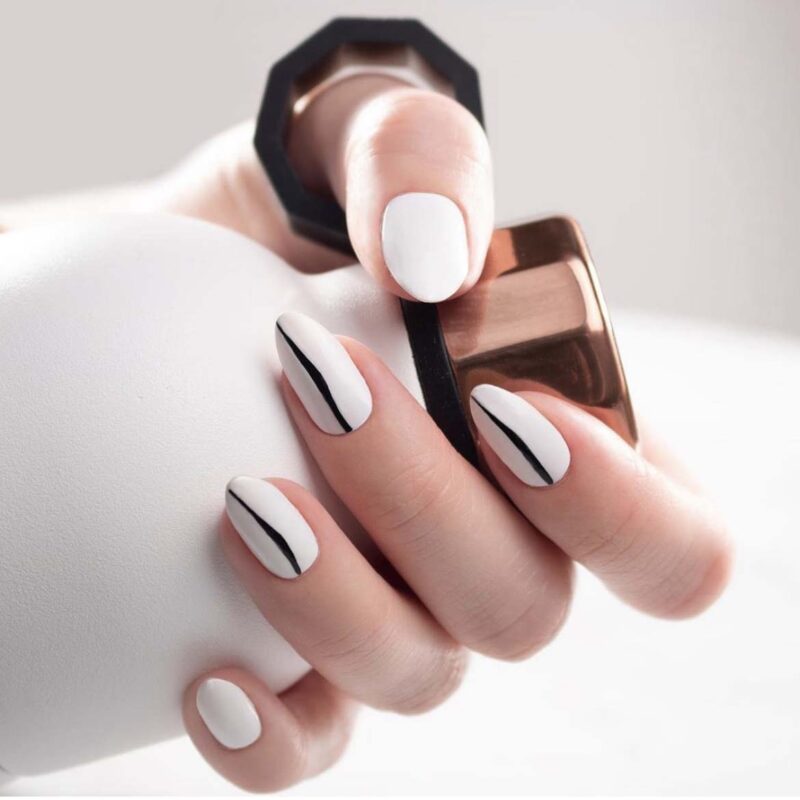 You'll be dressed to kill with this sharp, high-contrast look.
Create a base using white polish and paint a line roughly down the center of your pointer, middle, and ring fingers using black polish.
Don't worry about creating the perfect line right down the center, the beauty of this nail design is in the imperfections.
Polka dots never go out of style! Fun, chic and funky—create a three-dimensional appearance by overlapping the dots and varying their size.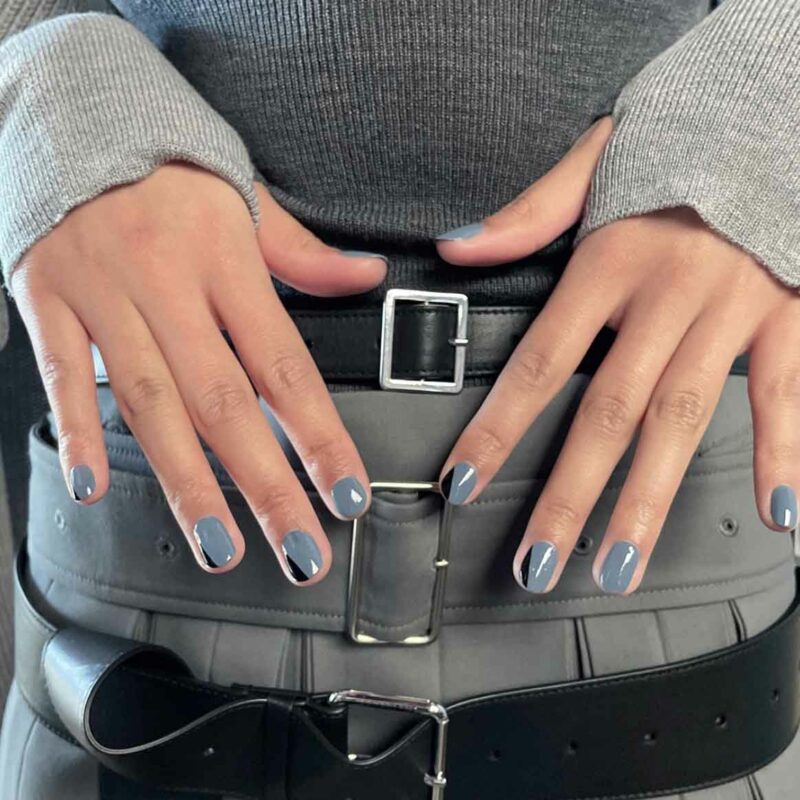 This simple yet powerful nail design using fall shades with a black contrast is straight from this season's runway.
With a touch of simple angle nail art on accent nails over a moody blue base, you get the ultimate DIY-friendly nail design using two colors that are great seasonal transitional shades.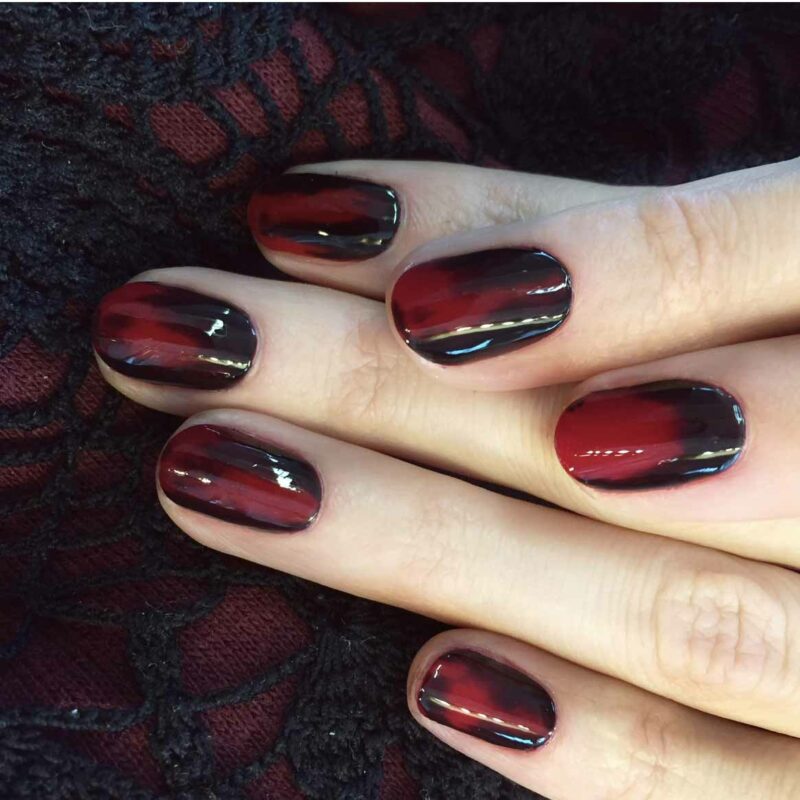 Channel your inner Wednesday Adams! Opt for a red hue with black using moody brush stroke nail design to create the ultimate vampish nails. Wear your favorite ruby jewelry for a pop of more color.
Negative space nail art and no tools required! Use the blunt end of the bottle brush to make a dot and then swipe the brush across the nail tip to make half circles.
Negative space nail design can be a real lifesaver: mistakes are easier to cover up and, if your nails grow quickly, the growth is less noticeable!
SPOTTED: An unexpected twist on the traditional leopard print! These soft, muted colors tone down the loudness of your classic leopard pattern to the pur-fect volume.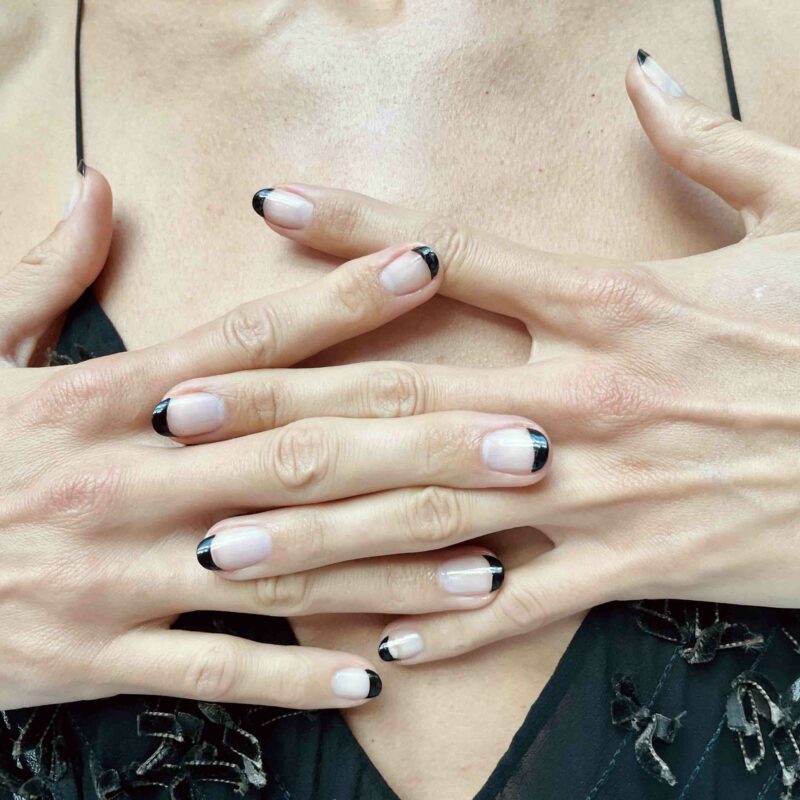 Modernize your French manicure while still keeping its time-tested refined and polished look. Use your black polish over a sheer white polish for a sleek take that is chic and stylish.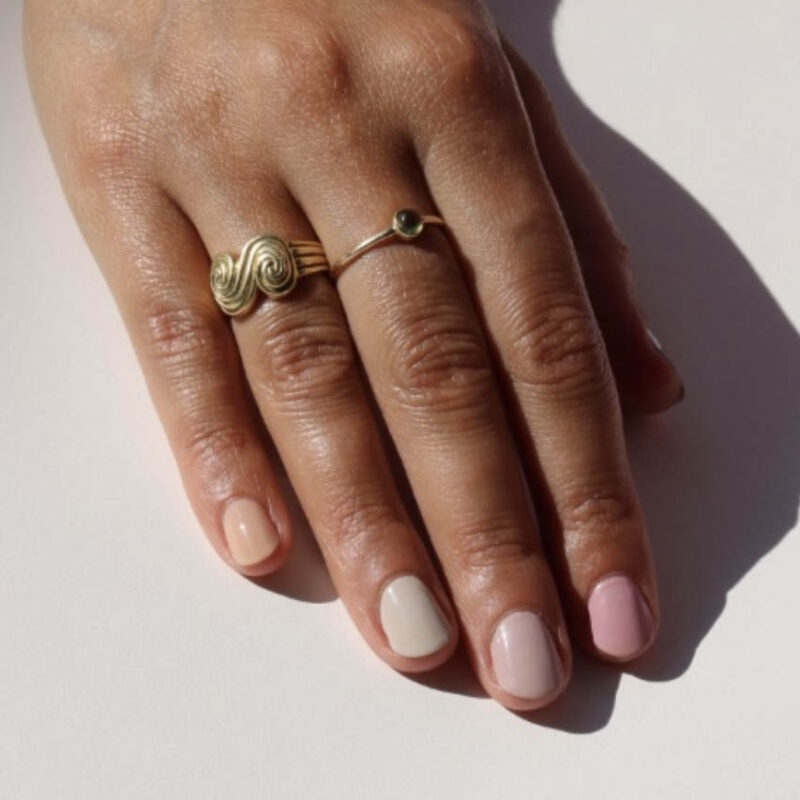 For a soft, understated nail design, use nude shades on each finger that are subtly different from the next.
The mixture of soft nudes within the same tone but different color families make this look flattering on all skin tones.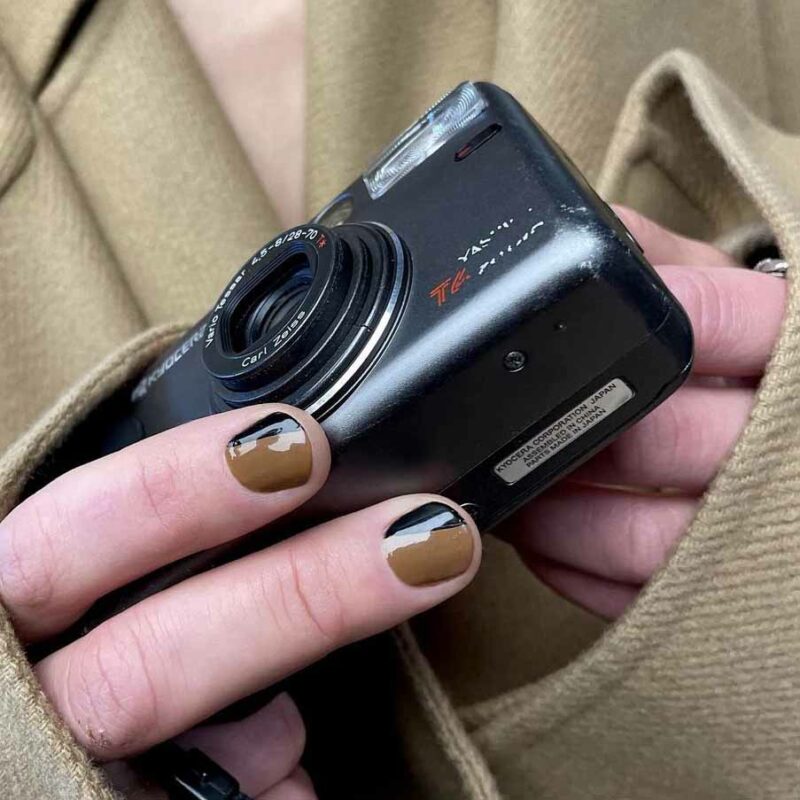 This simple yet powerful nail design using uber fall shades with a black combination from the runway is in!
With a touch of simple angle nail art on accent nails over an earthy camel, you get the ultimate DIY-friendly nail design using two colors that are great seasonal transitional shades.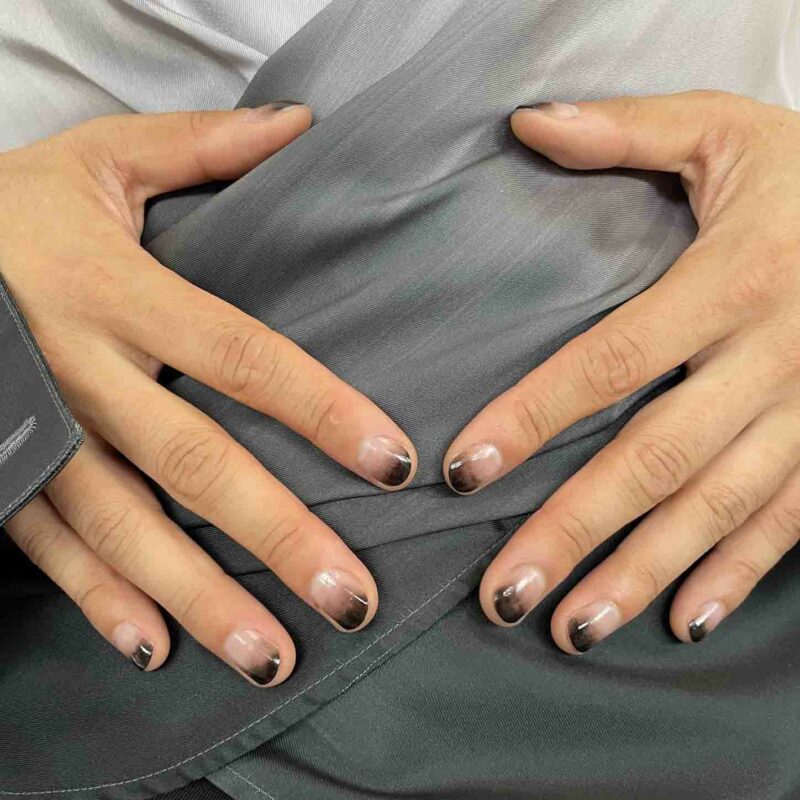 Team JINsoon created this ombre design for Peter Do's F/W 2022 runway show but it's still easy enough to replicate this high-fashion look at home.
For a beginner-friendly technique, paint your polish on a wedge makeup sponge and gently dab the sponge onto your nail until you're happy with the results.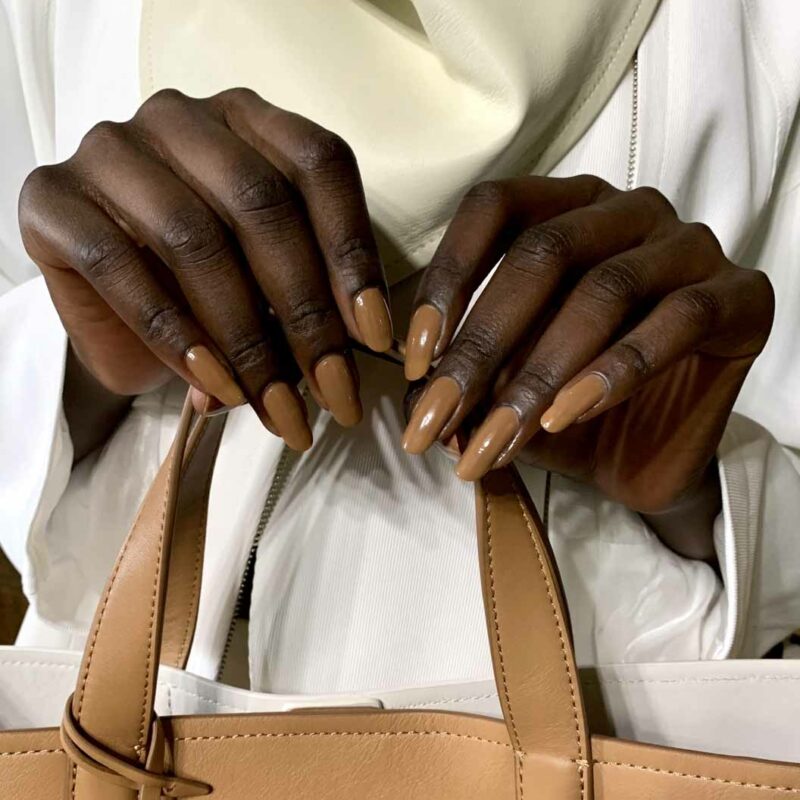 Check out how chic and glam this nude nail is! Soon to become the favorite of those that prefer a more minimalistic nail design, this nude color on long nails with dark skin tones makes it the perfect nails for fall.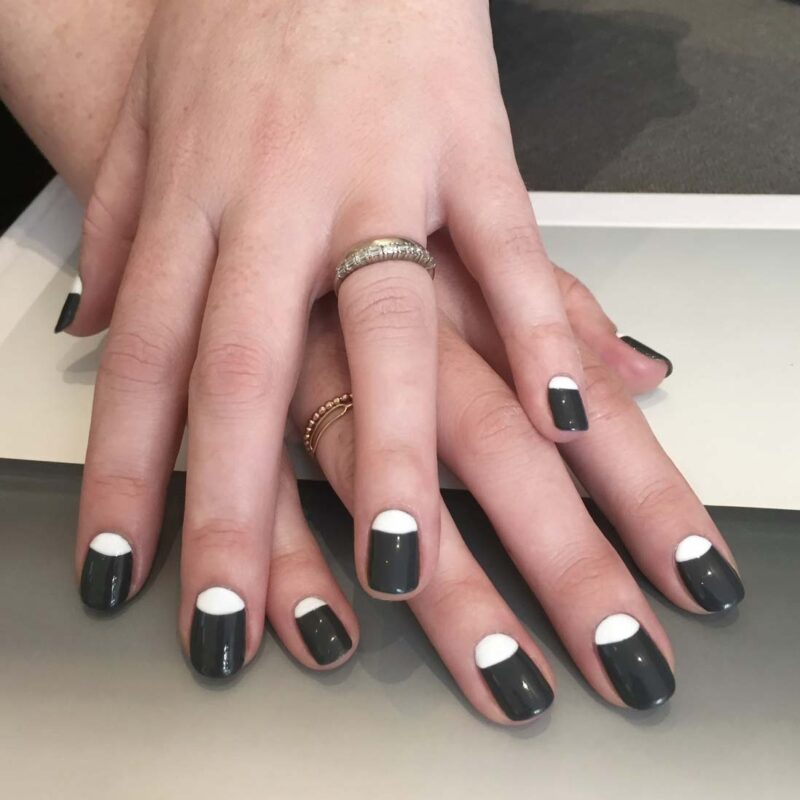 Combine white nail polish with cocoa brown to create a high-contrast twist for a cool and editorial take on a classic moon mani.
Nail decals provide a fun twist to dark nails with DIY nail art stickers, like JINsoon Nail Art Appliqués in Smiles!
When layered on top of dark polish, the stickers channel the bold colors of pop art while giving you and your nails personality!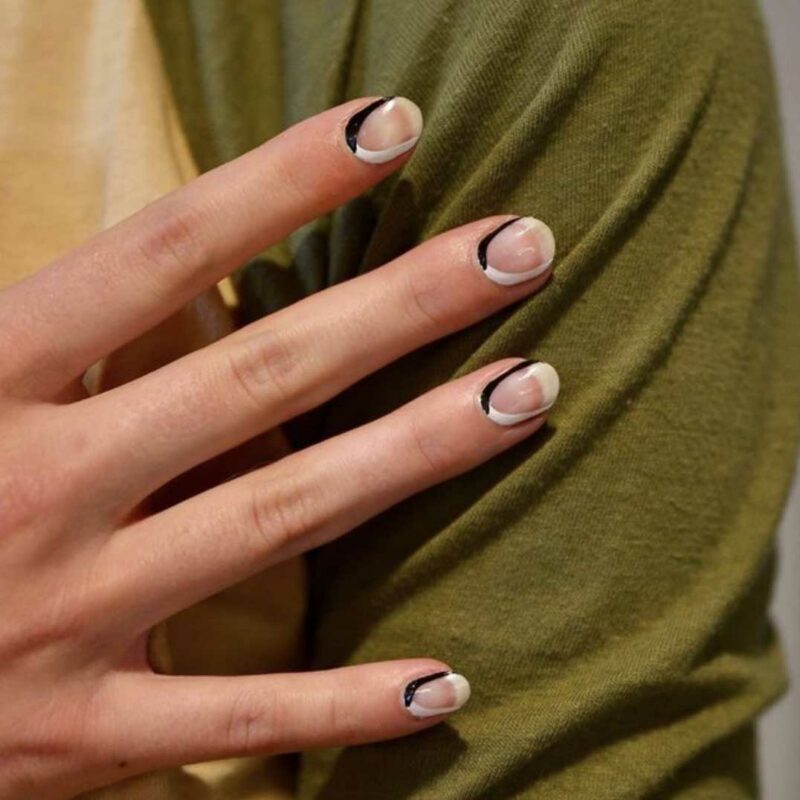 Black and white lines from the center base of the nail up along either side of the nail mimic the contour of high-fashion illustrations.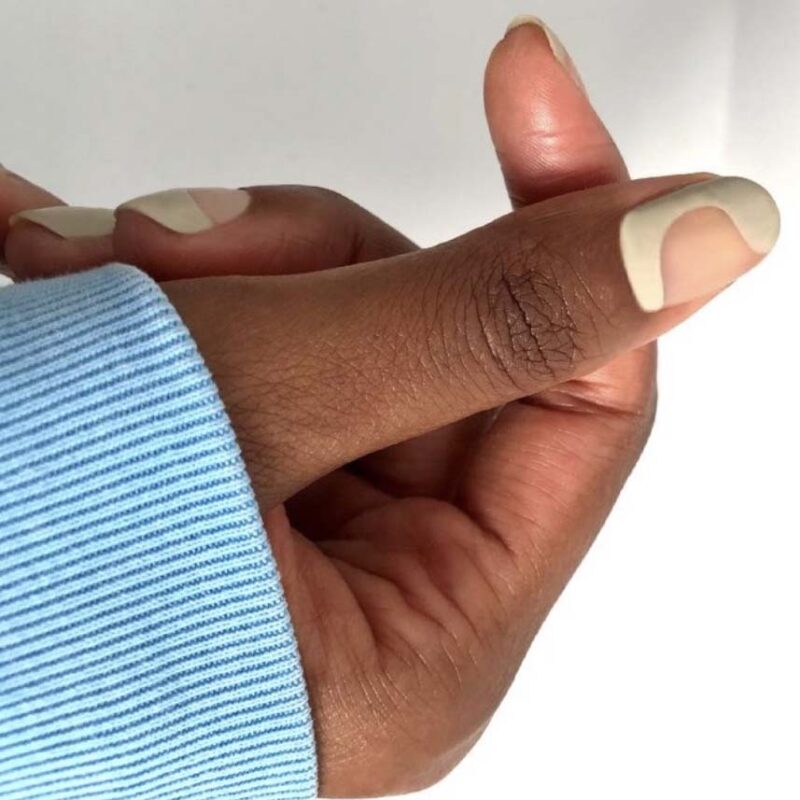 In a rush but want chic, minimalistic nails? Use the negative space created by this single-color nail design.
The curvy lines around the border of each nail gives the look more charisma.
Begin by choosing three Classic Reds: a true red, a deep wine, and a black red.  The transition between colors for your ombre manicure will be noticeable yet within the same family of colors.
Pro Tip:  An ombre manicure usually consists of two or more colors painted on each nail with colors that segue from light to dark. While ombres are typically thought of as fun and youthful, they can be sleek, refined, and elegant—it's all about the colors you choose!
Opposites attract! This nail design is perfect for those not ready to take the plunge into nail art but still want something striking. Pair these two extremely contrasting colors for a cool, edgy look.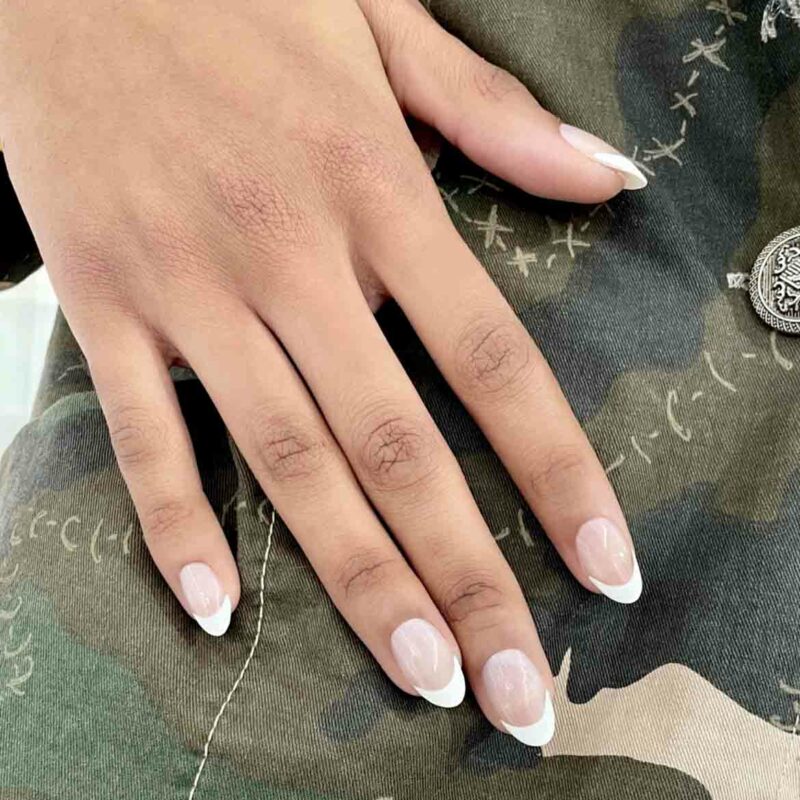 The deep curved French on an almond-shaped nail is so in right now! Fashionistas like Bella Hadid love this look and it's easy to see why.  It does it all: from glam to classic to modern.
Create a soft, deeply curved white French line using white polish for a romantic nail design.
As seen on the models at Michael Kors, this cocoa brown marks a new seasonal trend. Kors especially loves this nail color which flatters and balances warm tones in the skin.
This rich brown is perfectly fall yet somehow also timeless and on-trend.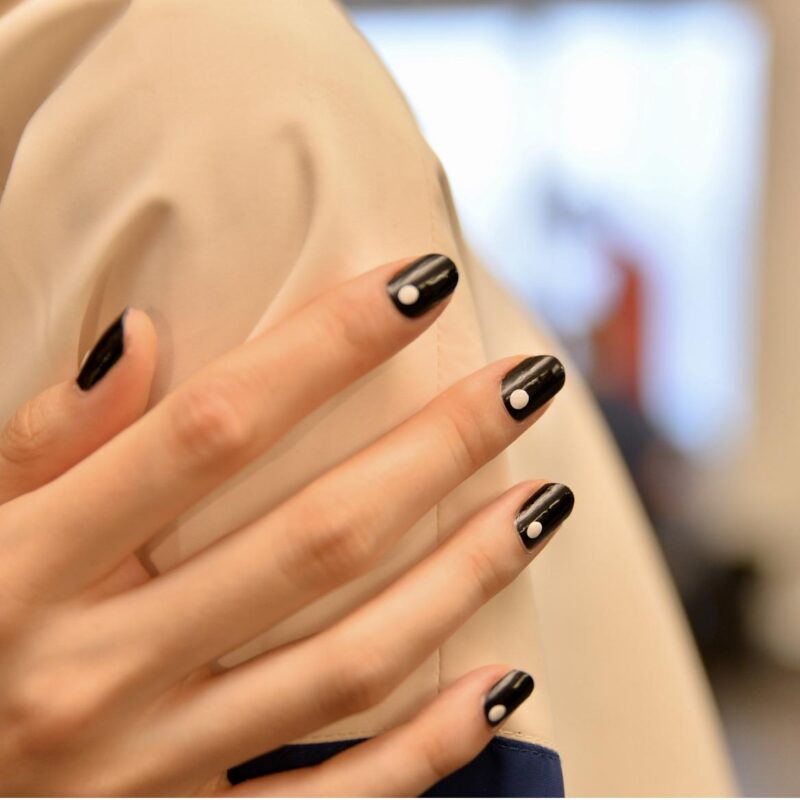 For a minimal look with maximum effect, try a dot of white nail polish over a black base coat on your nail design.
Remember, a big dotting tool is key to achieving that perfect single dot.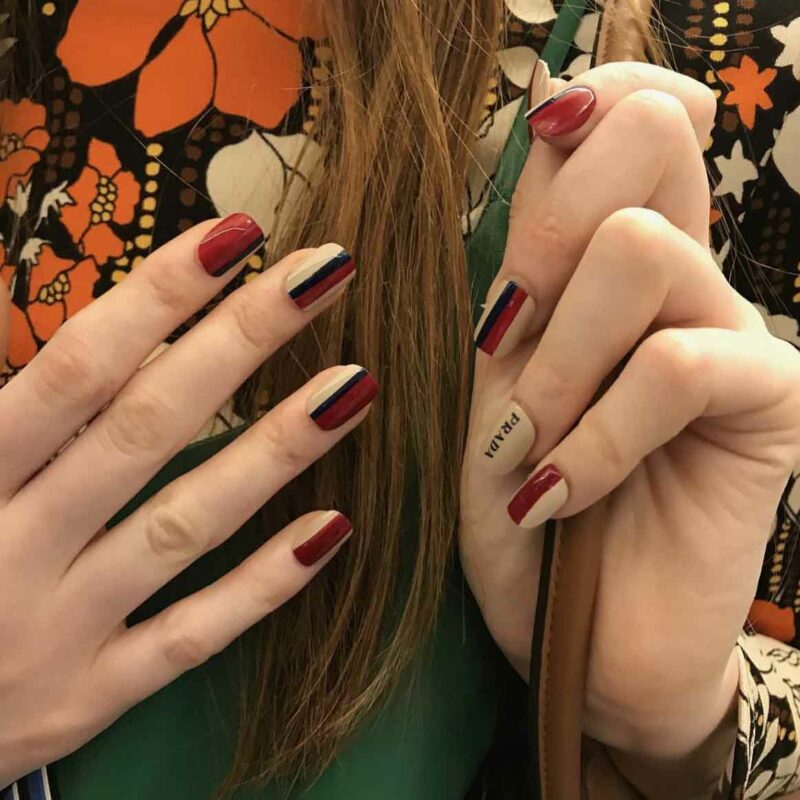 Turn heads with this race car-inspired nail design, plus the lines will give the illusion of longer nails!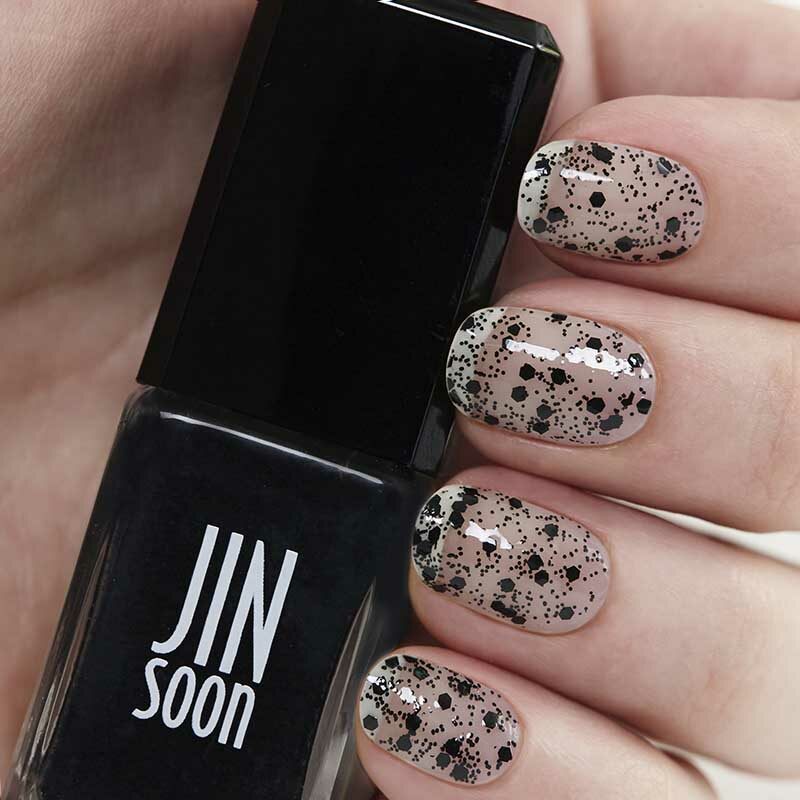 Wear alone or layer on top of your go-to manicure color!
This glitter effect pairs with all different colors to create easy nail design; simply apply it on top of your nail polish in any pattern or density you choose.
Pro tip: This nail design will become your go-to for any party, at any time of year, regardless of your style! Layer over a nude color base for an understated look, a bright color for a fun, youthful, and playful look; or a dark color to go more edgy.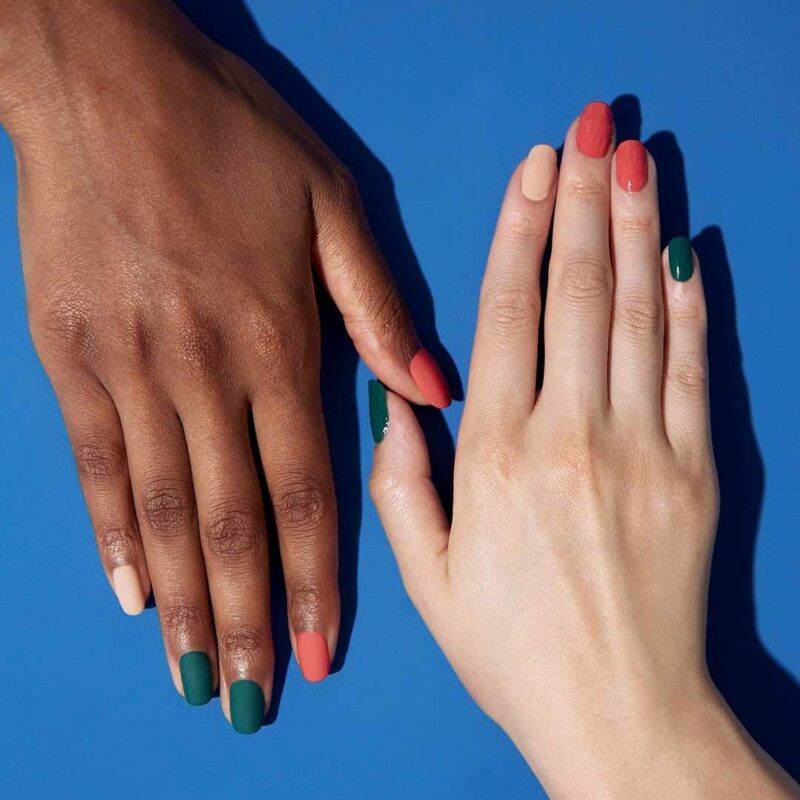 Can't decide between shiny or matte? Use a matter polish on one hand and your go-to glossy top coat on the other for the perfect fall and winter colors on all skin tones.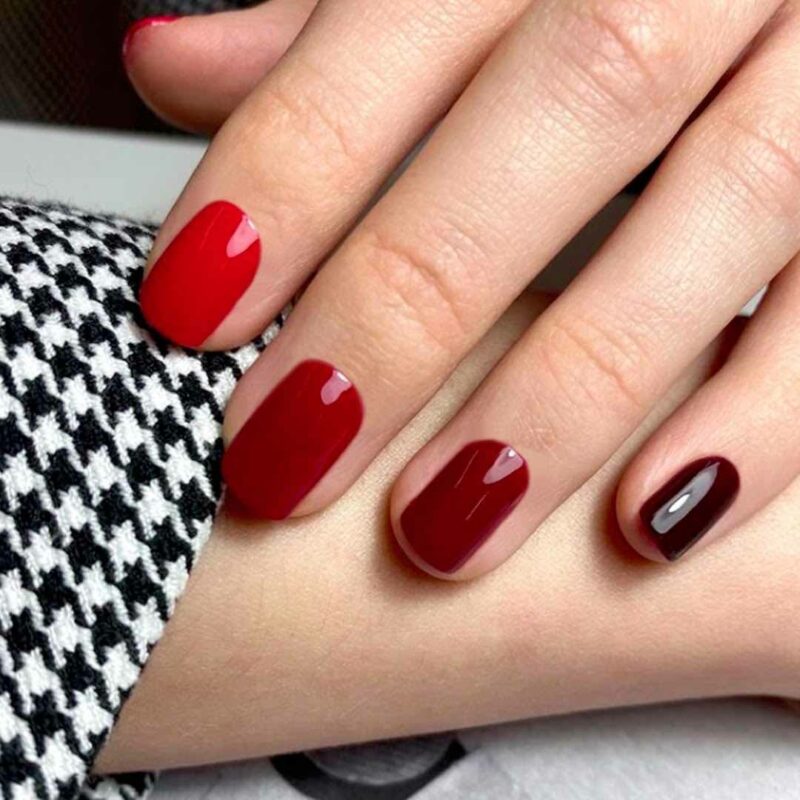 Add these timeless, must-have reds to your nail kit for a twist on the timeless red manicure, use a progressively darker red on each nail to create a gradient look.
Not sure where to start or what to add to your nail polish collection? Don't worry, we've selected our top 8 must-have colors to create this season's nail designs.
Whether you're new to nail art or a seasoned pro, these nail designs will make you fall in love with sweater weather!