Shop from five categories of rash guards for ultimate skin protection and style.
Benefits of Wearing Rash Guards
If you're planning to participate in water activities or all-day beach affairs during your summer vacation, you'll want to pack a rash guard. Rash guards are great for several reasons particularly in water-related activities.
Wearing a rash guard offers a range of benefits including sun protection, rash prevention, comfort, flexibility, quick-drying properties, versatility, durability, and style.
This is a garment made to protect your skin from the sun and other irritations, like salt water, and surf or paddle boards. By investing in a high-quality rash guard, you can enhance your outdoor water experiences while keeping your skin safe and comfortable.
Styles
However, just because something is protective doesn't mean it can't be fashionable!
Rash guards come in a variety of designs, colors, and patterns, allowing you to express your personal style. Whether you prefer a classic solid color or a vibrant pattern, there is a wide range of options available to suit your taste.
Sleeve Length
Rash guards come in various sleeve lengths, including short sleeves, three-quarter sleeves, and long sleeves. Choose the sleeve length based on your personal preference and the level of sun protection you require. Longer sleeves can offer more coverage and protection against sunburn and abrasions.
RELATED: Best Tankini with Shorts Combos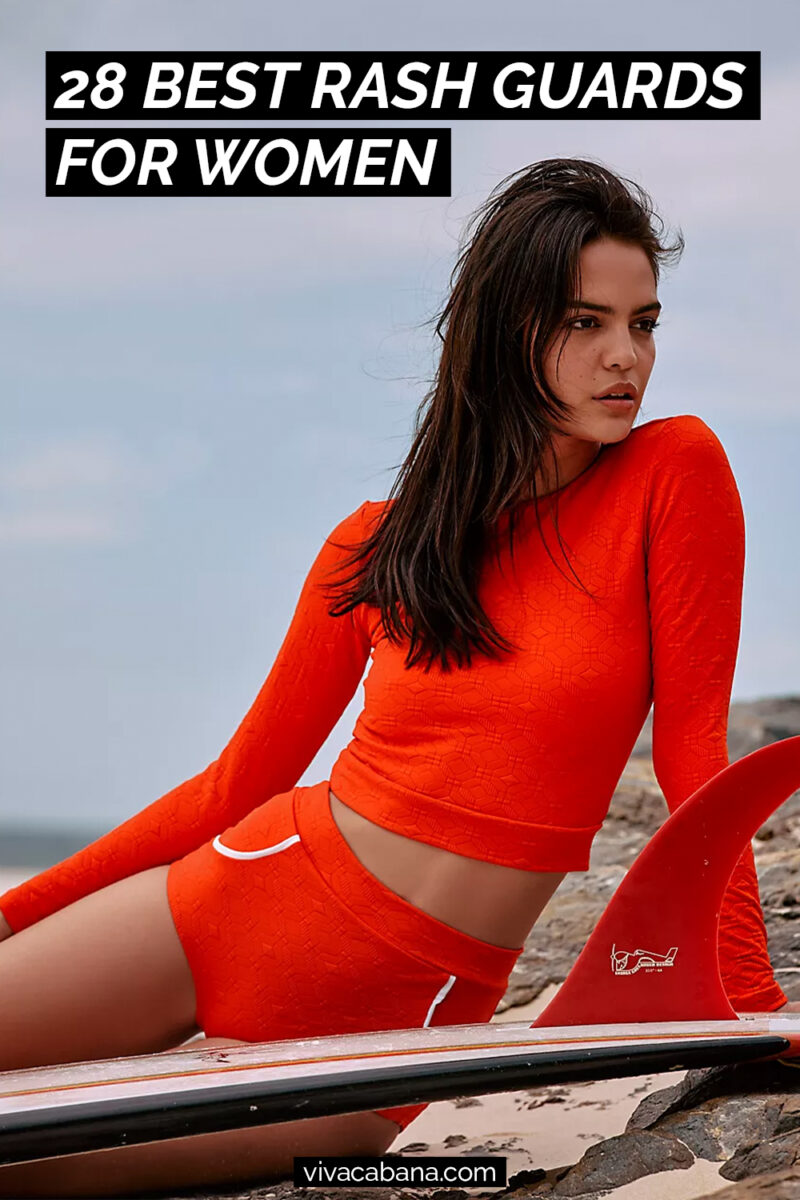 RELATED: 9 Best Places to Shop Matching Family Swimsuits
Long sleeve rash guards: great for underwater activities like paddle boarding, surfing and scuba diving.
Short sleeve rash guards: less restriction for your arm movement but still great choice for any water activities.
Cropped rash guards: gives you a trend style but still provide sun protection.
Zip up rash guards: excellent choice for easy put on and take off. Also can be layered on top of your swimsuit as cover up options.
Rash guards swimsuits: similar to your long sleeve swimsuits, no need worry about coordinating the bottom.
Here are our shopping suggestions for stylish rash guards for women.
Best Long Sleeve Rash Guards
What We Love: Rash guards with long sleeves protect your arms and keep your body warmer than short-sleeved rash guards. This will be a major benefit if you plan to be under water, especially for activities like scuba diving.
Helpful Tip! Rash guards can offer protection against stings and minor scrapes from marine life, such as jellyfish or coral reefs. The fabric acts as a protective barrier, reducing the chance of direct contact and minimizing the potential for injuries.
RELATED: 16 Packable Sun Hats for Travel
Best Short Sleeve Rash Guards
What We Love: Short sleeved rash guards will restrict your arm movement less and keep your body cooler. This is important for activities where the sun may be beating down on you.
Helpful Tip! High-quality rash guards can last for multiple seasons, making them a cost-effective investment.
RELATED: Best White Swimsuits on Trend for 2023
Best Cropped Rash Guards
What We Love: Wearing a cropped rash guard is one of the best ways to protect your skin while keeping up with swimwear fashion. Combined with a high-waisted or even a low-rise bikini bottom, you're sure to stay on trend.
Helpful Tip! Rash guards are not only suitable for water-related activities but can be used for various outdoor sports and exercises. They are commonly worn for activities like running, hiking, or yoga as well.
Best Zip Up Rash Guards
What We Love: Rash guards that zip up are an excellent choice because of their ease when putting them on and taking them off. These rash guards can be worn just like a jacket, giving you the option to wear more or fewer layers.
Rash guards are made from synthetic materials such as nylon, neoprene, and spandex. This enables the fabric to stretch and give a skintight fit, but can be difficult to put on if it's still wet.
When wet, gently roll it off your body to remove and roll it up or down to put it back on. For a one-piece, get it on your hips first and then roll up; for a top, shimmy it on to your shoulders and then roll down.

Best Rash Guard Swimsuits
Nothing beats the simplicity of a one piece, including when it comes to rash guards. There's no need to worry about coordinating colors with a rash guard swimsuit in both long and short sleeves.
How to Choose a Right Rash Guard?
Try it on and Test it out: If possible, try on the rash guard before purchasing to ensure it fits comfortably and allows for a full range of motion. If trying it on isn't feasible, carefully review the sizing information and consider customer reviews regarding the fit.
What to Look for
Sun Protection: If sun protection is a priority, opt for rash guards with a high UPF (Ultraviolet Protection Factor) rating. Look for UPF 50+ rash guards, which offer excellent protection against harmful UV rays.
Material: Look for rash guards made from high-quality materials like nylon, polyester, or a blend of these fabrics. These materials are known for their durability, quick-drying properties, and resistance to fading and stretching.
Fit and Size: Rash guards should fit snugly but not be overly tight. Consider the sizing chart provided by the manufacturer and choose the size that corresponds to your measurements. Keep in mind that rash guards with a little extra length in the torso and sleeves can provide better coverage and protection.
FAQ
What do you wear under a rash guard?
It's up to do what you'd like to wear underneath your rash guard — if anything.
Some women may appreciate wearing a swimsuit or bikini top as their first layer, especially if they rely on the support of an underwire. However, it's also fine to wear your rash guard solo.
How to care for your rash guard?
Because chlorine and sunscreen can cause discoloration, rinse your rash guard after every wear
Use gentle biodegradable soap, and never bleach or harsh chemicals
Hang to air dry instead of tumble dry, as heat can weaken the fabric
Be careful not to snag the fabric with sharp objects like rocks or long fingernails