Situated off the coast of West Africa, Tenerife is the largest of Spain's Canary Islands. This popular beach destination is home to Spain's tallest peak, the dormant volcano Mt. Teide, plus lively nightlife and plenty of water activities.
★ Best time to travel: Mar – May, Sep – Nov
Tenerife Outfits
A trip to Tenerife is always very water-centric, be it active days of surf lessons or more passive lays in the sun, so your wardrobe should be fairly waterproof.
Your after-hours looks, while a little more dressed up, should be equally easeful, like wrap dresses and slide sandals.
Women
1. Surf's Up
2. Aim for the Hills
3. Casual Evenings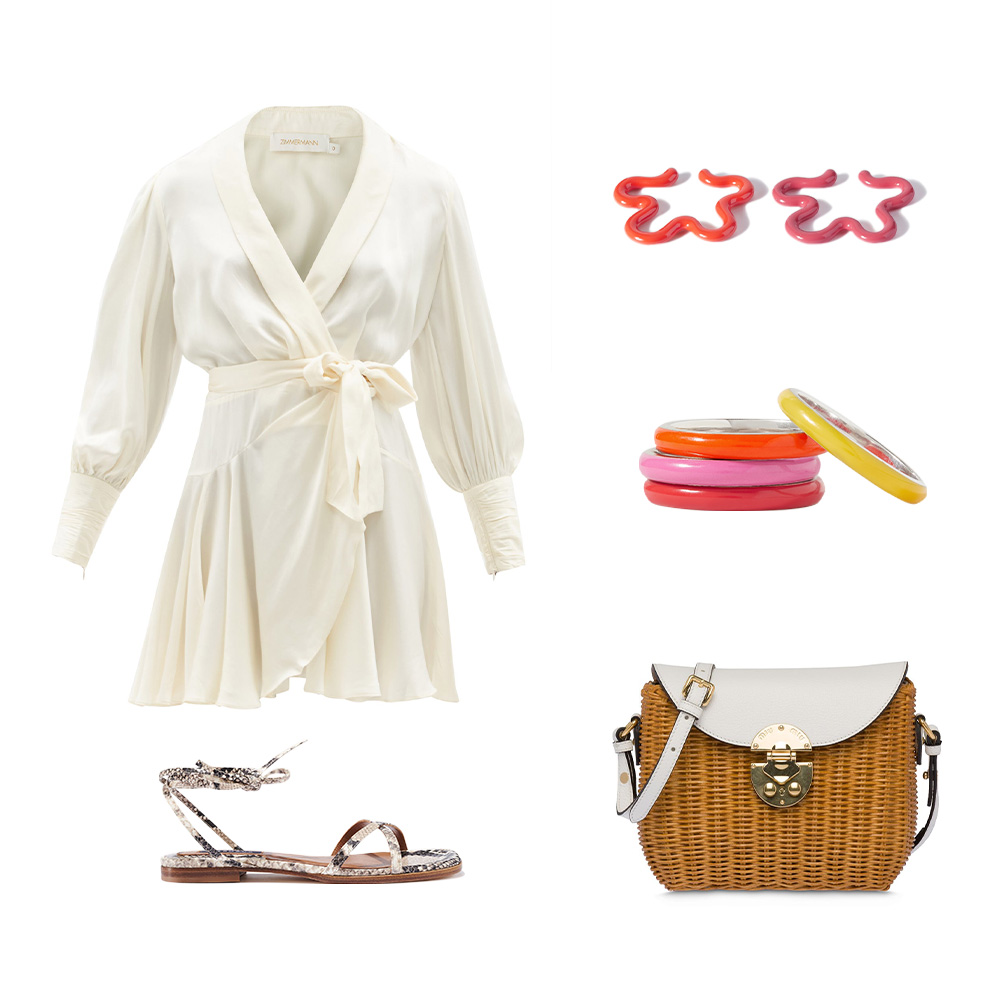 Zimmermann
Postcard Silk-Satin Mini Wrap Dress
Bea Bongiasca
Silver and Enamel Ear Cuffs
Pack layers—from beaches to hiking in the mountainous region, the temperature can swing drastically.
Top 8 Must Have for Tenerife
Restaurants in Tenerife
(4)
The Perfect Day
Girls Trip
MORNING
Ease into the day by spending the morning at the Royal Garden Villas Golden Pond Spa, where you can follow a treatment with the hydromassage showers, thermal circuit, Turkish bath, and waterbeds. Afterwards, hit Bianco for brunch. The Italian restaurant in Playa de las Americas is a scene, complete with a DJ spinning tunes and creative cocktails. Grab a seat outside for the three-course bottomless brunch with flowing Cava.
DAY
If you haven't over-indulged at brunch, spend the afternoon in surf school. Head to Red Rock Surf Academy on the island's south shore for a lesson from the pros in traditional surfing or kite surfing. Close out the day on nearby Playa de la Tejita, under a palm frond umbrella, with a beautiful backdrop of the mountains.
Family Trip
MORNING
Kick off from Barceló Tenerife, an all-inclusive resort perfect for families, with eight outdoor pools and a kayaking lake. From there, head to Flo's, an island favorite, for a healthy al fresco breakfast made with local ingredients—think acai bowls, fresh fruit-topped pancakes, and yogurt parfaits.
DAY
Make for Teide National Park. Hike one of the trails at this UNESCO World Heritage site, or take the Teide Cable Car to the summit of the park's highest peak, an active volcano. Before heading back to the resort, make time to take the scenic, coastal drive to Playa de Las Teresitas. Spend the afternoon on the popular beach, made with sand imported from the Sahara desert. The gentle waves, thanks to the breakwater, makes it a perfect, family-friendly swimming beach.
Romantic Getaway
MORNING
The combination of mountains, ocean views and lush, magical forests at Anaga Rural Park feels otherworldly. It's the perfect place to set out for a peaceful, low-key couples hike.
DAY
For lunch, dine at La Vieja for fresh seafood dishes at a table so close to the ocean you can practically feel the sea spray.
Book an afternoon jaunt with Third Element Luxury Charters to see short fin pilot whales and bottlenose dolphins from a sailboat. The sunny excursion comes with fresh fruit, snacks, and snorkel gear for exploring the ocean during stops along the route.
EVENING
Finish the day at El Rincon de Juan Carlos for a Michelin-starred meal set inside the chic, glass-walled restaurant. Take in views of the water while toasting to the perfect day in Tenerife.