The top picks for stylish and modest swimwear.
Swim Skirt
There's a myriad of options available to suit every body type and style when it comes to swimwear. But what if you want to look stylish but still want coverage? A swim skirt!
My favorite modest yet fashionable choice is the swim skirt. Swim skirts have gained popularity in recent years and have become a chic swimwear option.
How to wear
How to wear a swim skirt? Simple. Just add them overtop your bikini bottoms (or in lieu of if they have built-in shorts or liner). They can be worn with different swim tops, such as tankinis, bikini tops, or rash guards.
I've mixed and matched some swim skirts with various swimwear pieces below to create different looks and styles for all your beach needs.
Looking for stylish modest swimwear?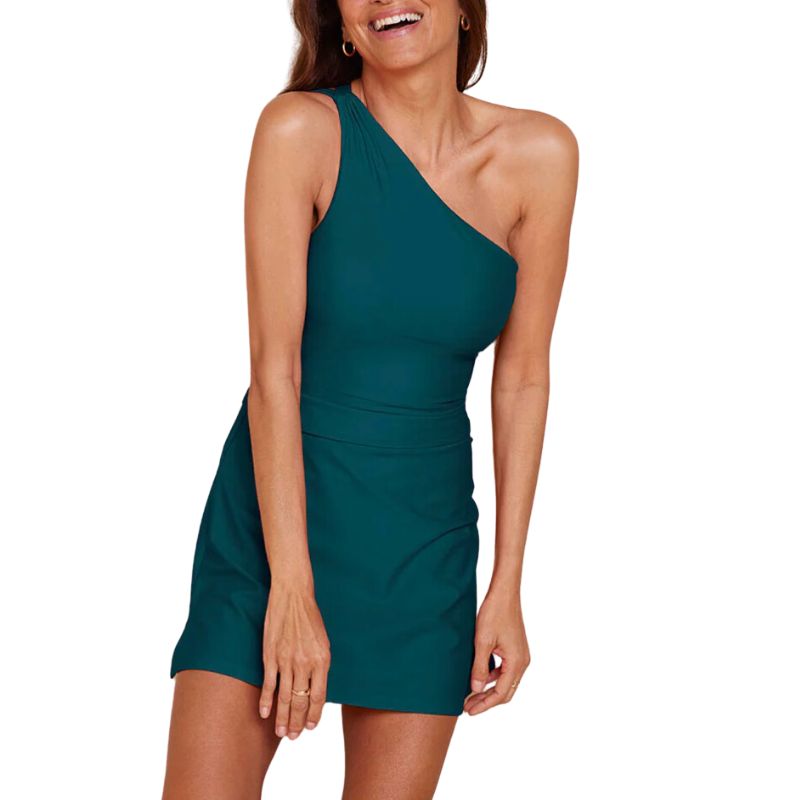 Shop a versatile A-line swim skirt for an elegant beachside look from Summersalt.
RELATED: The 26 Best Long Sleeve Swimsuits
The main purpose of swim skirts is to provide coverage and a stylish alternative to traditional swimsuits for those who prefer a skirted bottom.
Combining the femininity of a skirt with the functionality of swimwear, it is a great modest swimwear and cover-up option.
Pro Tip: what is a swim skirt?
A swim skirt is a type of swimwear designed like a skirt that can be worn as a swimsuit bottom.
Whether you're curvy, athletic, or have a petite frame, there's a swim skirt that will make you feel fabulous. 
RELATED: How to Choose the Right White Swimsuit Guide
Shop by Silhouette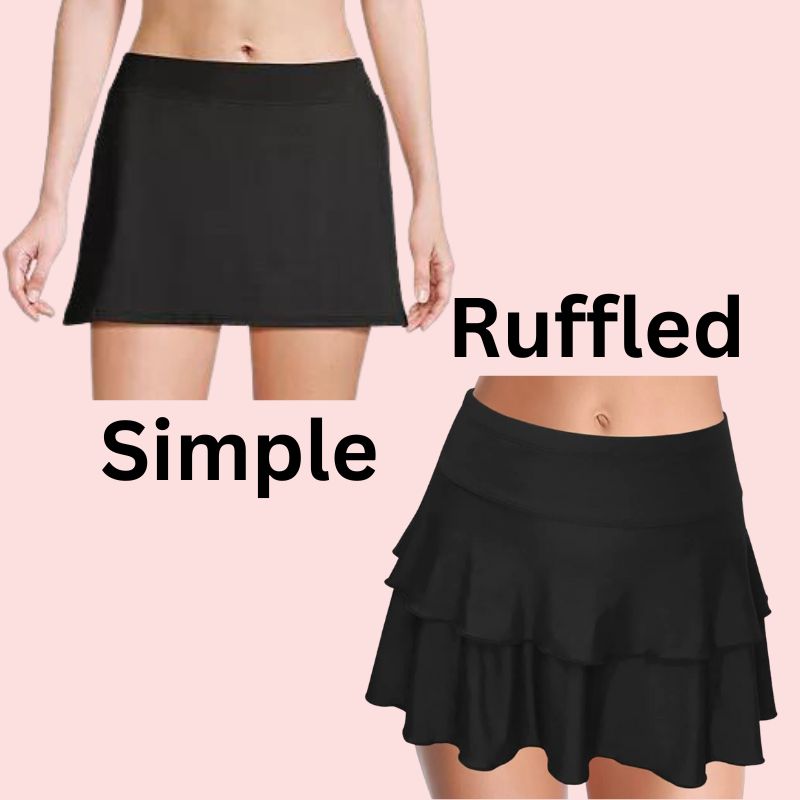 Simple and Modern: Consider an A-line swim skirt with a slightly flared silhouette. It offers a balanced look and is perfect for concealing the hips and thighs.
Playful and Curvy: If you're looking to show off your curves, a fitted or ruffled swim skirt can accentuate your figure and add a touch of playfulness to your beach ensemble.
In this comprehensive guide, I'll dive into the world of swim skirts, exploring their various styles, features, and tips for finding the perfect one.
Our Top Picks
Best Shape: A-Line Swim Skirt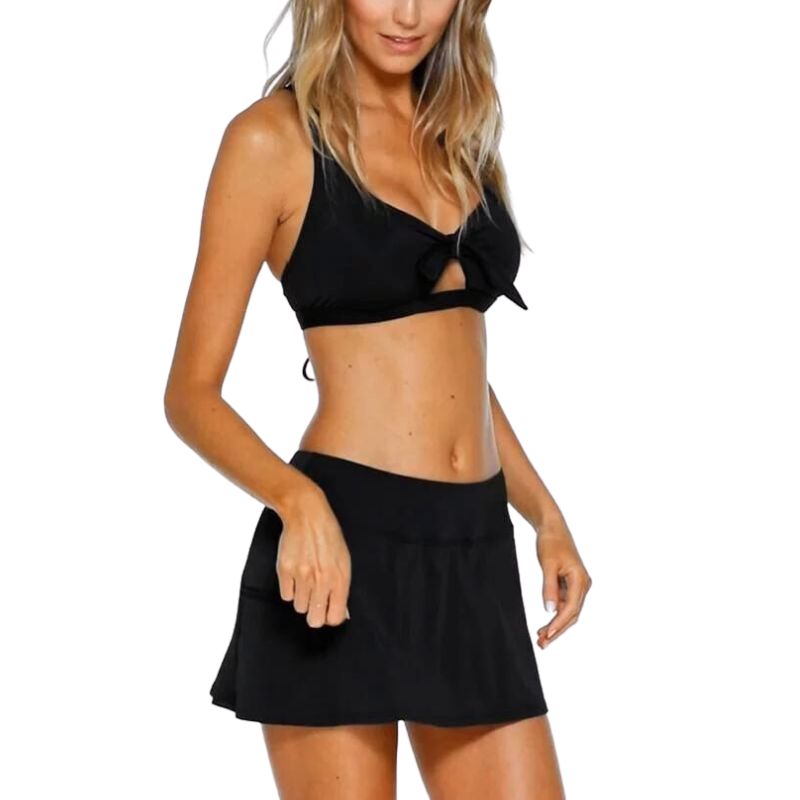 The A-line cut of the skirt is known for its flattering shape on various body types, including triangle, spoon, pear and hourglass figures.
A-Line Swim Skirts
It gently flares out from the waist, creating an hourglass-like appearance and providing a comfortable fit without clinging to the body.
Pro Tip: do you swim in swim skirt?
Yes! Most of the swim skirts are designed to be worn in the water, allowing you to swim and enjoy water activities comfortably.
Best Adjustable: Ruched Swim Skirt
The ruched detailing creates a gathered and textured appearance, which enhances the overall look of the swim skirt. It helps to camouflage problem areas and provides a slimming effect, offering a flattering fit.
Ruched Style Swim Skirts
They often feature adjustable side ties or drawstrings, allowing you to customize the length and coverage according to your preference.
Sarong Style: Wrap Swim Skirt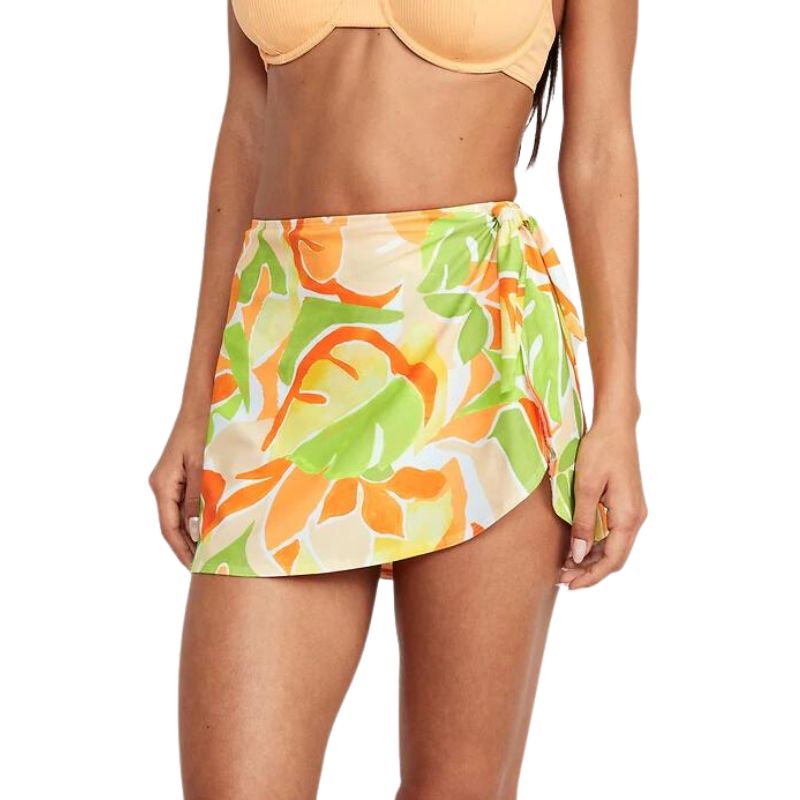 The sarong wrap design allows you to adjust the coverage of the swim skirt. You can wrap and tie it to provide more or less coverage, giving you control over your beach or poolside look.
Sarong Swim Skirts
Sarong swim skirts are simple to wear and adjust. They can be easily wrapped around the waist and secured with a tie or a knot, allowing for quick changes and a hassle-free.
RELATED: Best 16 Sarongs You Need in Rotation This Summer
Most Simple: Straight Swim Skirt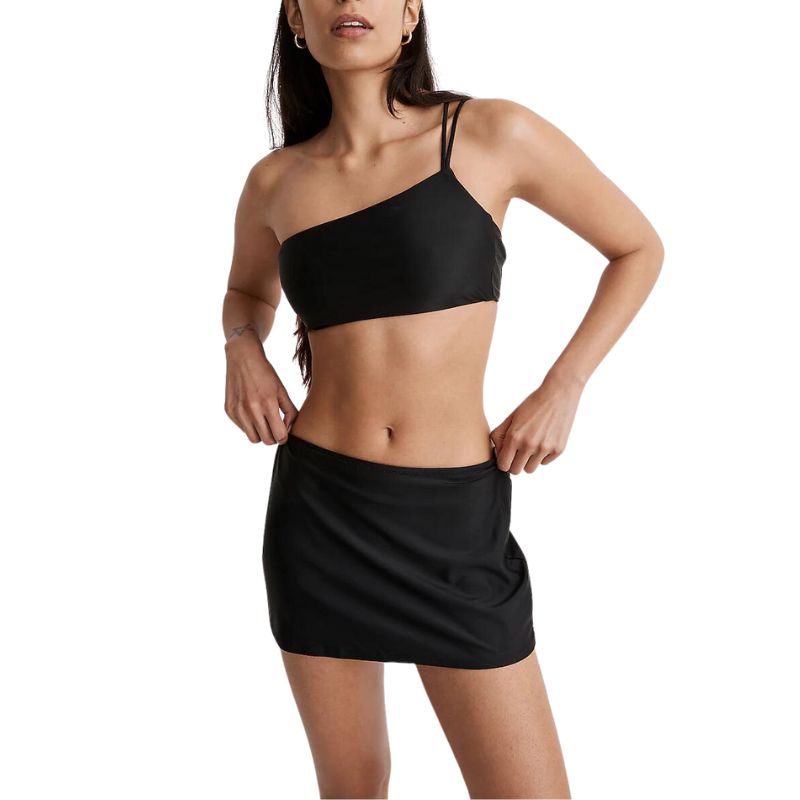 Straight line swim skirts feature clean lines and a minimalist aesthetic, offering a modern and chic appearance. They provide a sleek silhouette that complements all of your swimwear tops.
Straight Line Styles
They allow for easy movement and comfort in and out of the water while swimming, sunbathing, and all of your favorite beachside activities.
Swim Skorts
Experience the best of both worlds with swim skorts. Discover the perfect combination of a skirt and shorts in one versatile piece of swimwear.
Enjoy the freedom to swim, play, and lounge with confidence and style.
For a handy cheat sheet, check out my list below of must-haves when you shop a swim skirt:
Fabric: Quick-drying and chlorine-resistant fabrics for durability and shape retention
Coverage:

Comes with built-in shorts or briefs, for customizable coverage shop sarongs or ruched sides

Sun Protection:

UPF (Ultraviolet Protection Factor) to shield your skin from harmful sun rays

Movement:

Feels comfortable and unrestrictive when moving
How to Wear a Swim Skirt
There are seemingly endless ways to wear swim skirts to create a fashionable look that makes you feel confident.
With a variety of styles, lengths, fabrics, and patterns available, finding the perfect swim skirt to suit your body type, swimsuit collection, and personal style is easier than ever.
Pair with a One Piece Swimsuit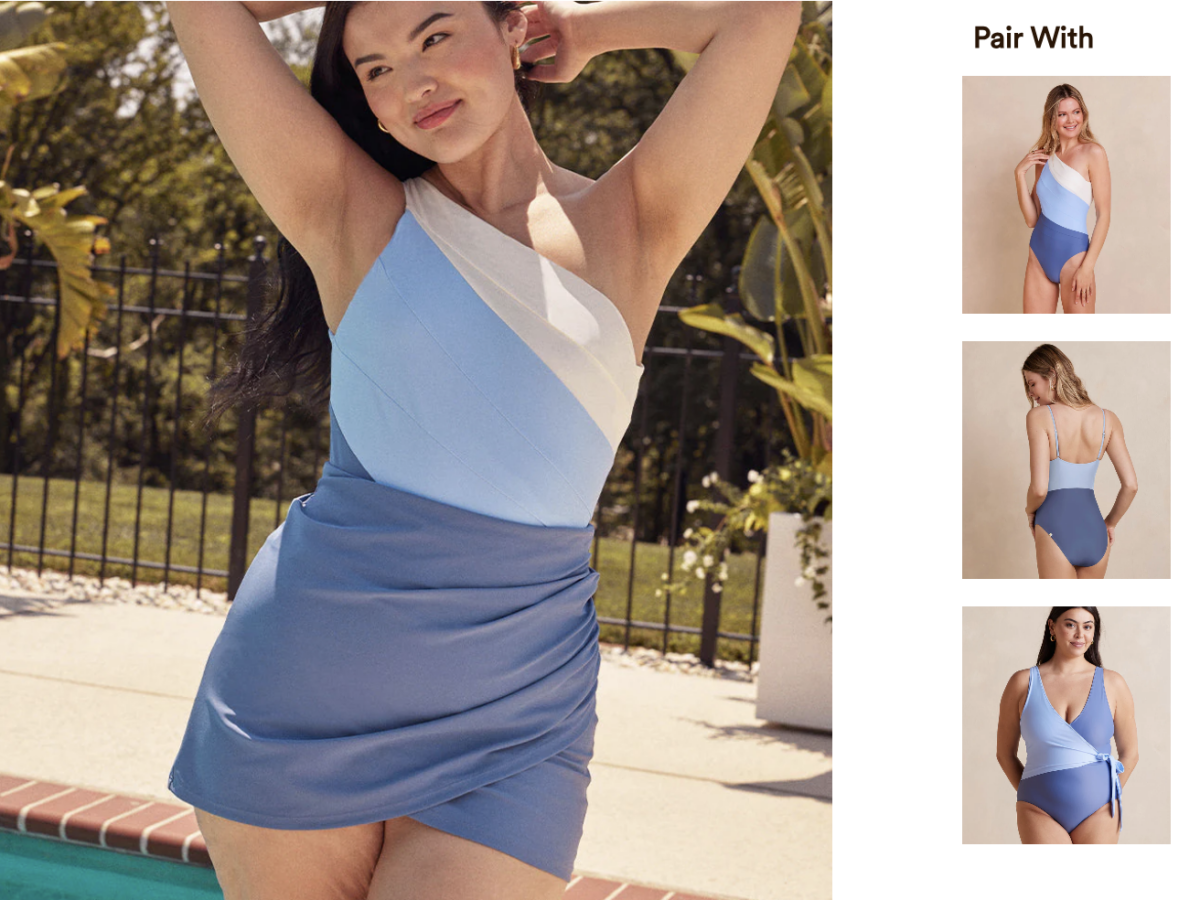 To create a balanced and coordinated swimwear ensemble, pair your swim skirt with a complementary swim top or tankini.
Style Tip! Opt for a top that flatters your body shape and matches the colors or patterns in your skirt.
Pair with a Bikini Top or Tankini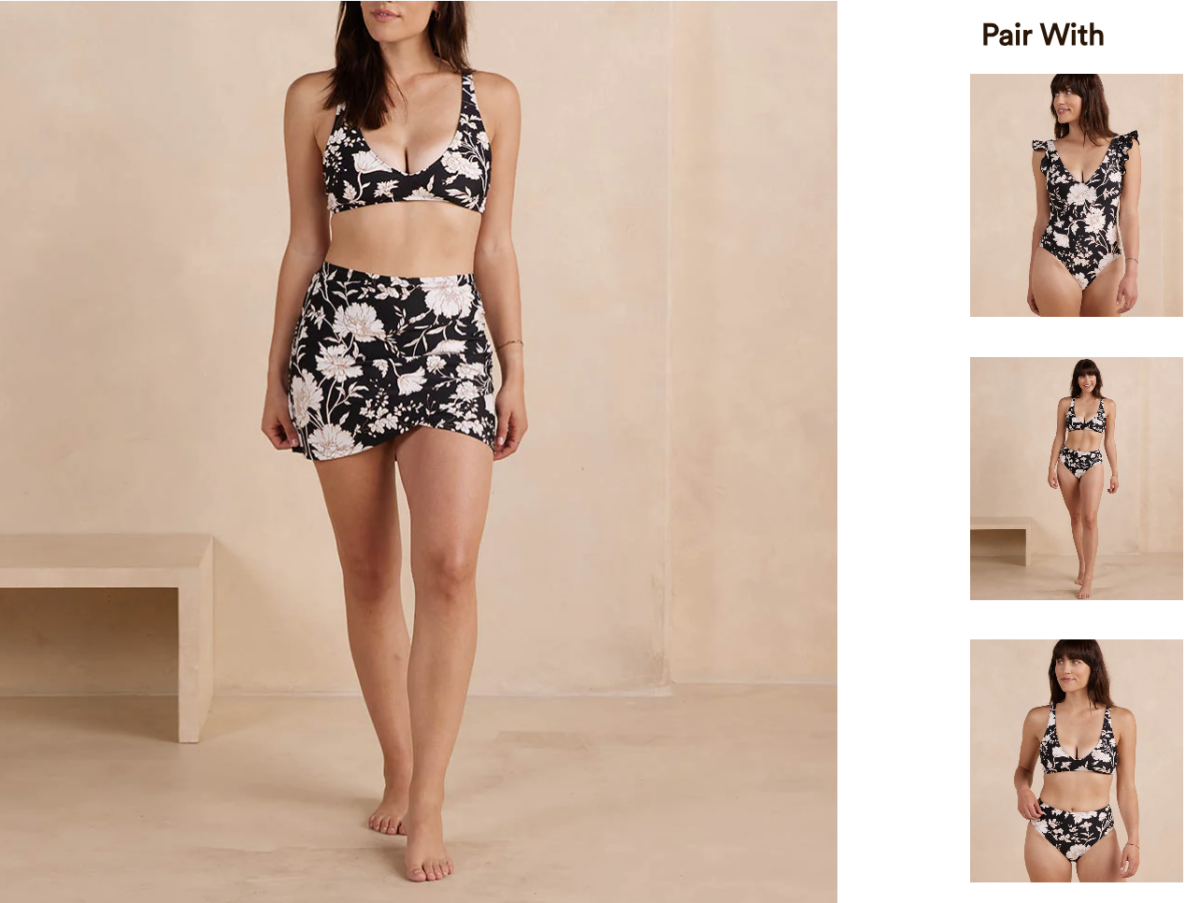 It's easy to feel too exposed in a bikini top and bottom. Adding a swim skirt to your favorite bikini or tankini top is a great way to highlight your figure without feeling like you're showing it all.
Dive into the water with confidence, make a splash, and enjoy your beach adventures with grace and panache!
Solid-colored tops often work well with patterned swim skirts, while matching sets can create a cohesive and stylish look.
Swim Skirt for Each Body Type
Swim skirts come in a range of styles to suit different body shapes and personal preferences. Below, shop your favorite swim skirts based on your body type.
Triangle, Spoon, Pear Shaped body
If you have a triangle body type (including pear and spoon-shaped), your hips are wider than your shoulders. To draw attention upward, add volume to the upper body to balance your proportions.
Answer: Look for swim skirts that are flared A-line, high-waisted, and wrap styles.
Rectangle body
For a rectangle body type, where the shoulders, waist, and hips have a similar width, the goal is to create the illusion of curves and definition.
Answer: Go for swim skirts that are pleated, ruffled, or fringed along with belted styles.
Hourglass Body
If you have an hourglass body type, your hips and waist are the same measurements with a smaller waist. The solution is to highlight your curves and emphasize your proportional figure.
Answer: Look for swim skirts that are high-waisted in pencil, bodycon, or wrap styles.
Inverted Triangle Body Shape
For an inverted triangle body shape, where the shoulders are wider than the hips, balance the proportions by adding volume to the lower body while drawing attention away from the shoulders.
Answer: Look for swim skirts that are A-line silhouette, ruffled or layered, and have a side tie.
FAQ
What do you wear under a swim skirt?
Under a swim skirt, there is typically built-in shorts or briefs that provide coverage and ensure comfort while swimming or participating in water activities.
Are swim skirts in style right now?
Yes! Many popular swimwear brands, like Summersalt, Tommy Bahama, and La Blanca, feature swim skirts as trendy swimwear options in new collections every season.