Coordinated matching family swimsuits for perfect vacation photos.
Matching family swimsuits
What could be more delightful than creating lasting memories by the water with your loved ones? Matching family swimsuits not only bring an adorable and cohesive touch to your beach or poolside adventures, but they also capture the essence of togetherness and create picture-perfect moments.
In this style guide, we'll dive into the world of matching family swimsuits, showcasing a range of stylish options for every member of your clan.
Get ready to make a splash with coordinated swimwear that will have heads turning and hearts melting.
This means you're looking for striking prints and styles that are appealing for all ages and genders.
Don't let that challenge be daunting! Here are the nine best brands to shop for matching family swimsuits, perfect for your unique family.
1. Minnow
What we love about this brand: Minnow Swim specializes in swimsuits for the whole family.
There is something so serene about this light blue "botanical block print," and combined with navy blue trimmings, these swimsuits are just what you need for nautical adventures.
RELATED: Mommy And Me Swimsuits For Your Perfect Family Vacation
Nautical Blue Matching Family Swimsuits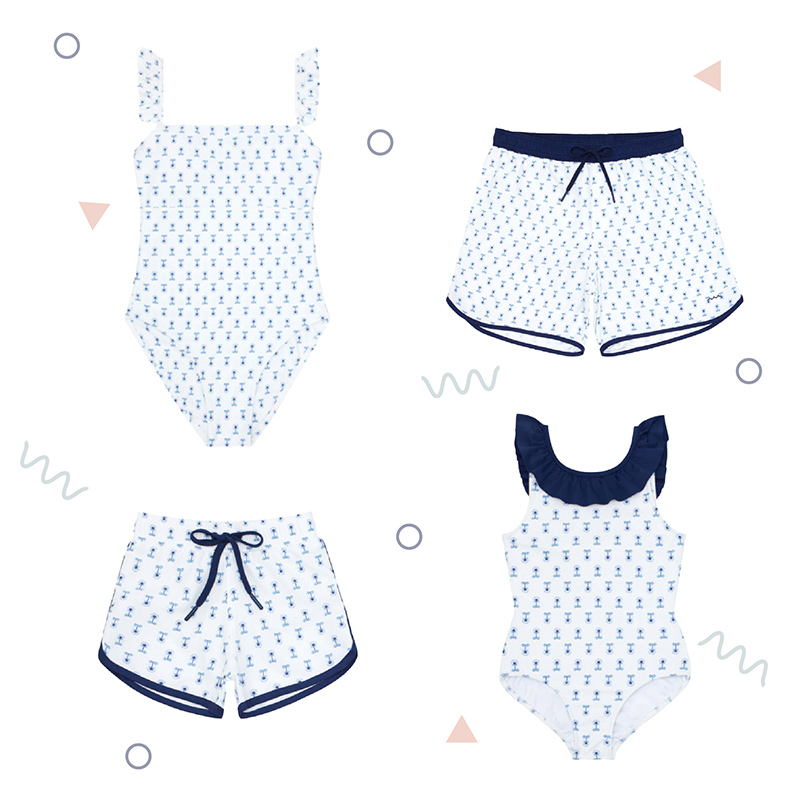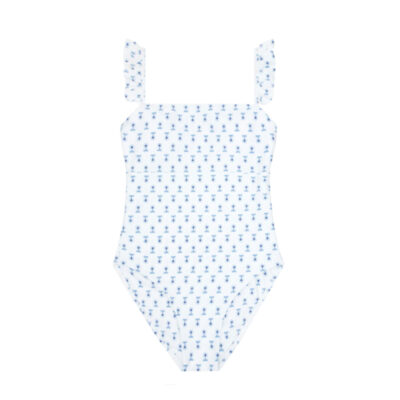 Minnow
Minnow X Petite Plume Women's Botanical Block Print Ruffle
Minnow
Minnow X Petite Plume Men's Botanical Block Print Boardie
2. Infamous & Mini Swim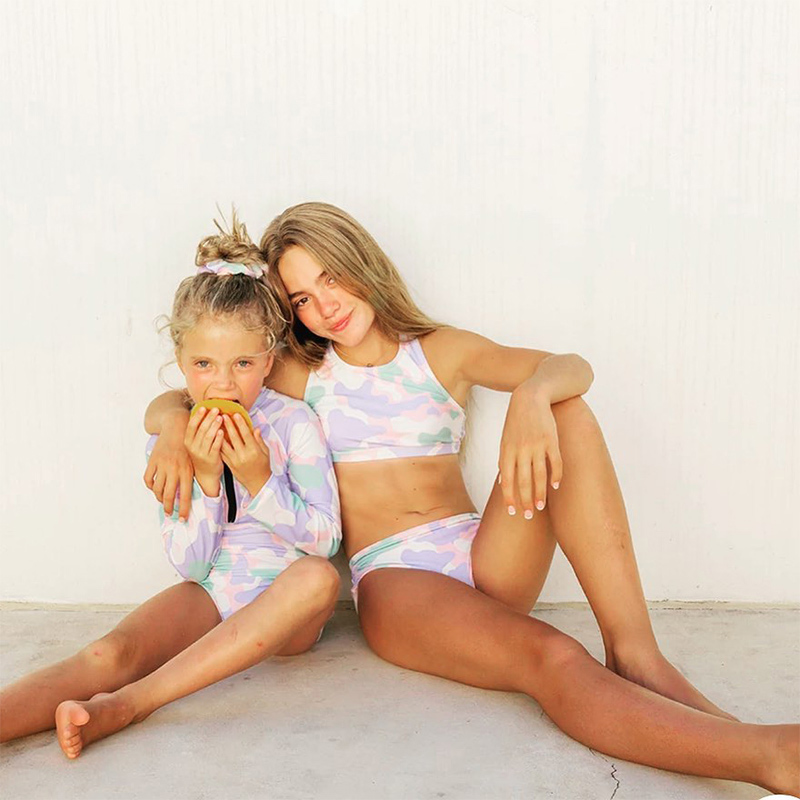 What we love about this brand: Infamous & Mini Swim is your one-stop shop for fun prints your family will love, like this pastel camo that is both sweet and masculine.
This brand has great variety for your own swimsuit, from one pieces to bandeaus and tankinis.
RELATED: 14 Best Tankini with Shorts Combos
Pastel Camouflage Matching Family Swimsuits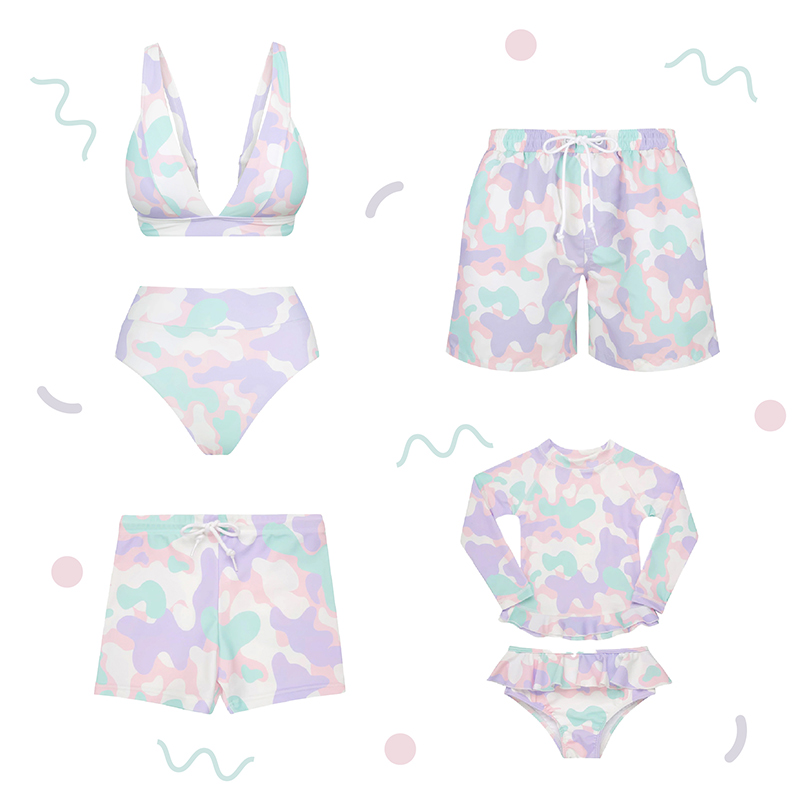 Infamous & Mini Swim
Lola Triangle Top
Infamous & Mini Swim
Ginger Bottoms
Style Tip! Choose swimsuits featuring prints that unify the whole family. Whether it's playful stripes, tropical florals, or whimsical polka dots, matching patterns across different swimwear styles create a sense of harmony and visual appeal.
3. Hanna Andersson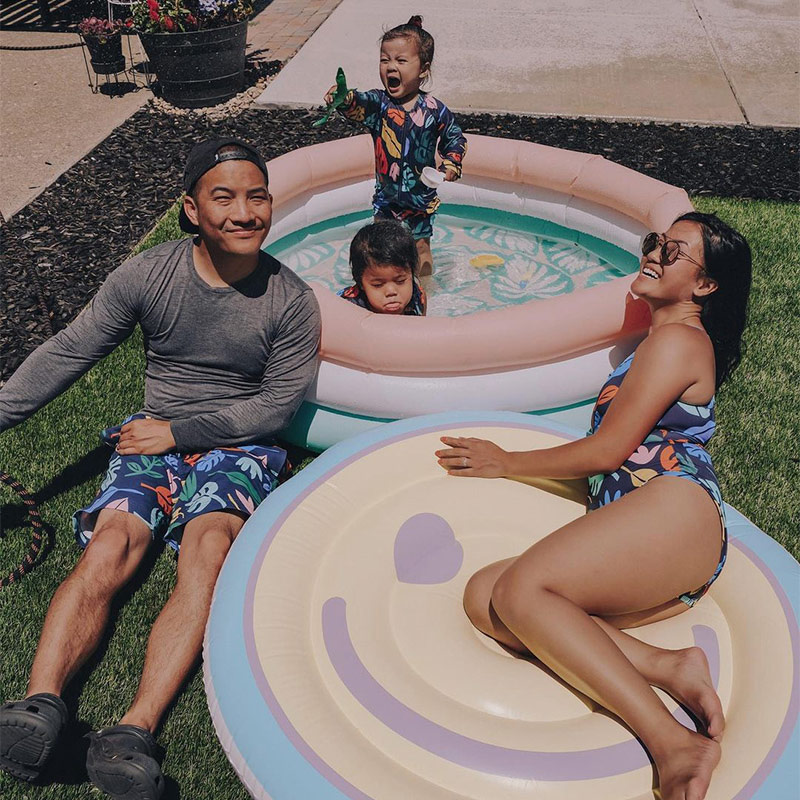 What we love about this brand: Hanna Andersson allows your family to match not only your swimsuits, but your daywear and pajamas too.
Start with these colorful swimsuits in botanical "Monstera" print.
RELATED: The 25 Best One Piece Swimsuits for 2023
Bold Botanical Matching Family Swimsuits
4. Posh Peanut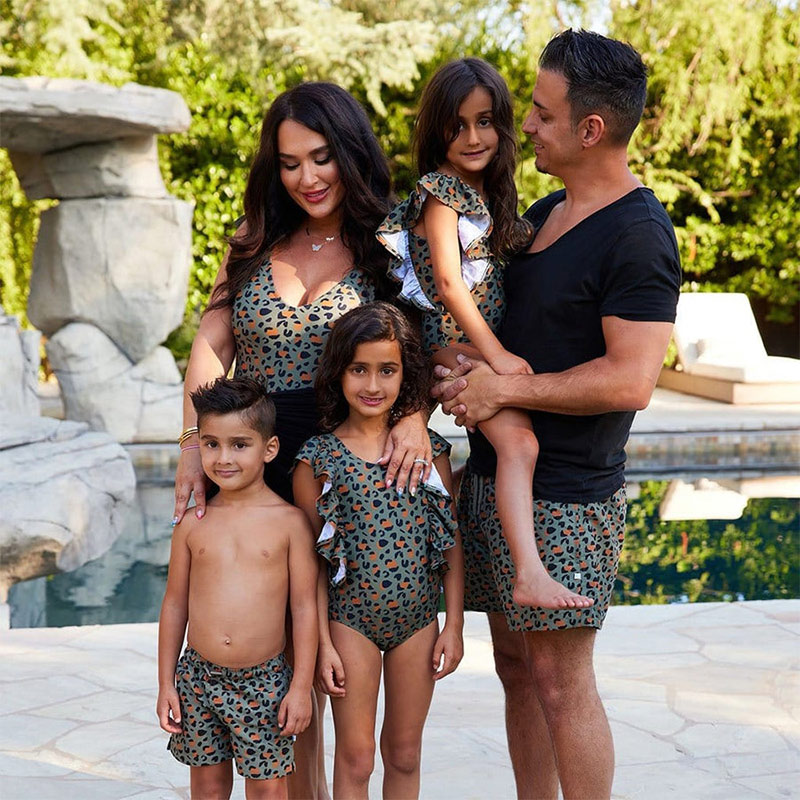 What we love about this brand: Your family is wild! Why not show it in funky leopard print matching family swimsuits?
Posh Peanut has everyone covered, and in quick-drying UPF 50+ fabric too.
RELATED: Best Swimsuit Cover Up Options for 2023
"Born To Be Wild" Matching Family Swimsuits
Style Tip! For the little ones in the family, embrace whimsical patterns, playful characters, or charming motifs. Choose age-appropriate swimwear that reflects their interests and personalities like adorable ruffles and fun embellishments.
5. Burberry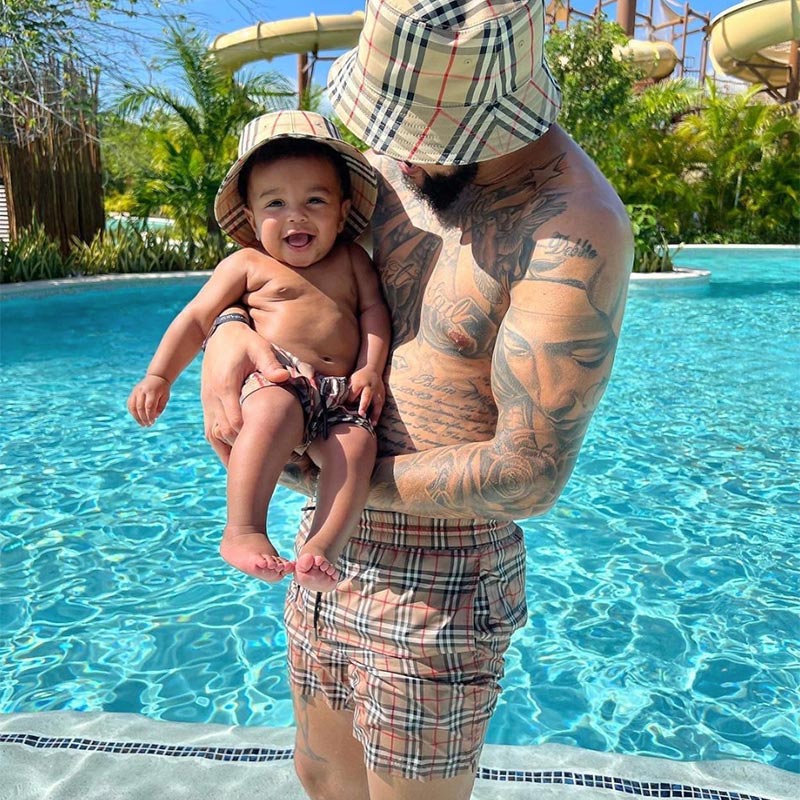 What we love about this brand: Burberry is known for its recognizable beige checkered print.
Take advantage of this timeless designer print with matching family swimsuits, which will also coordinate with your other Burberry products.
RELATED: 12 Matching Swimsuits for Couples
Classic Burberry Matching Family Swimsuits
6. Solid & Striped
What we love about this brand: Solid & Striped has lots of trendy swimwear, but it isn't just for adults!
Feel the love in matching family swimsuits featuring this retro patchwork print.
RELATED: The 26 Best Long Sleeve Swimsuits
Hippie Patchwork Matching Family Swimsuits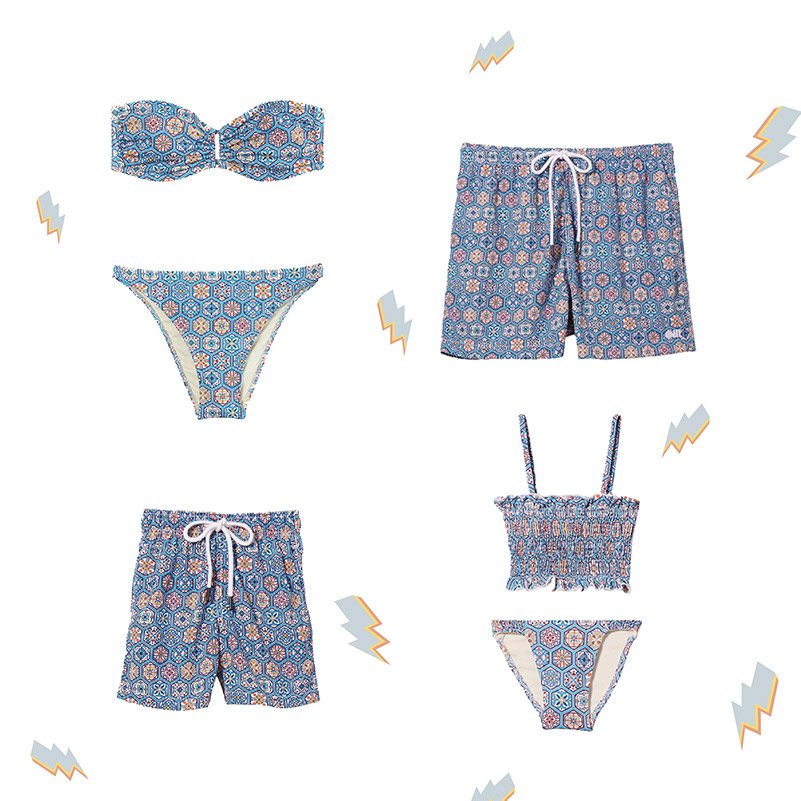 Solid & Striped
The Tati Top Patchwork Print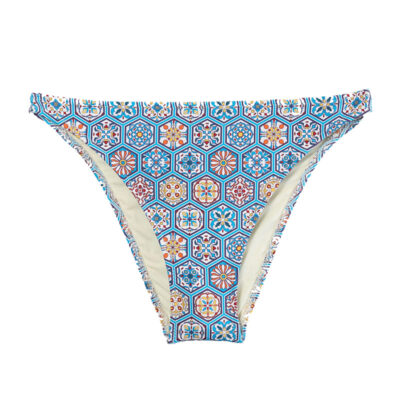 Solid & Striped
The Tati Bottom Patchwork Print
Style Tip! Opt for swimsuit styles that suit different body types and preferences within the family. From one-piece swimsuits with varying necklines and cuts to swim trunks, swim shorts, or swim skirts, there are options for everyone.
7. Old Navy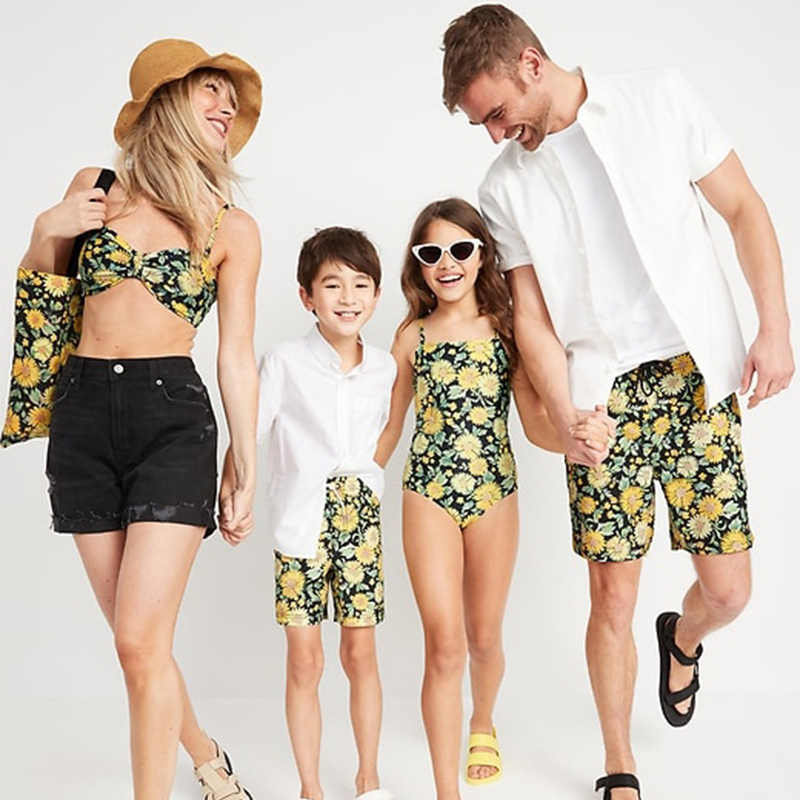 What we love about this brand: When boutique or designer matching family swimsuits don't fit your vacation budget, Old Navy has stylish and affordable options.
You'll all be smiling in this happy sunflower print. Don't forget to pack your water sandals!
RELATED: 14 Best Water Sandals That You Can Wear Anywhere
Yellow Sunflower Matching Family Swimsuits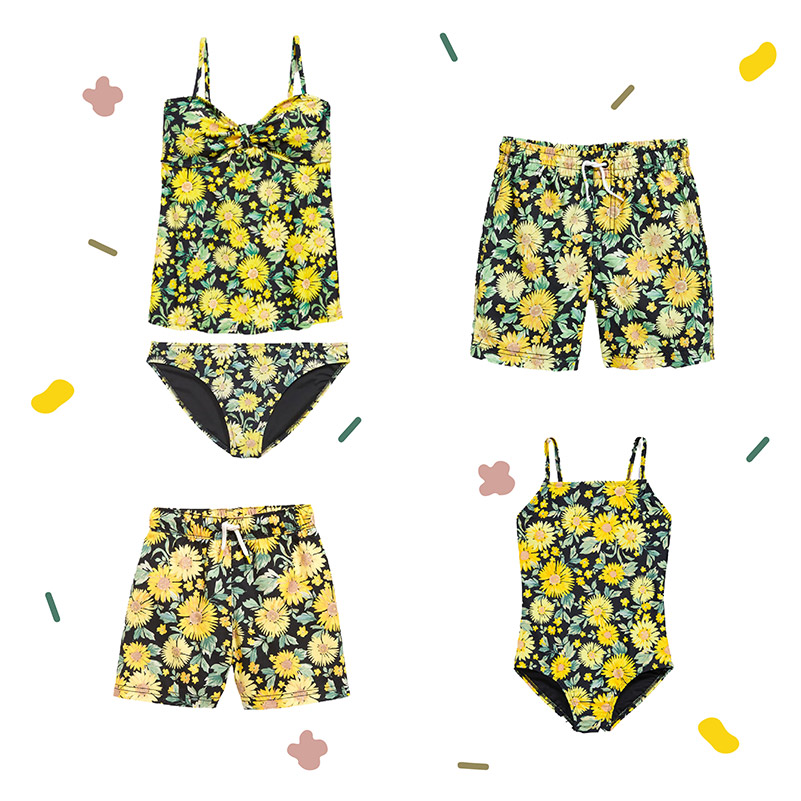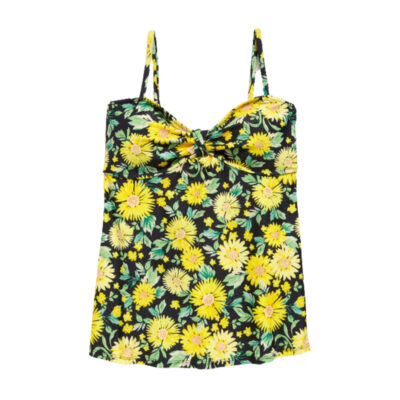 Old Navy
Knotted A-Line Tankini Swim Top for Women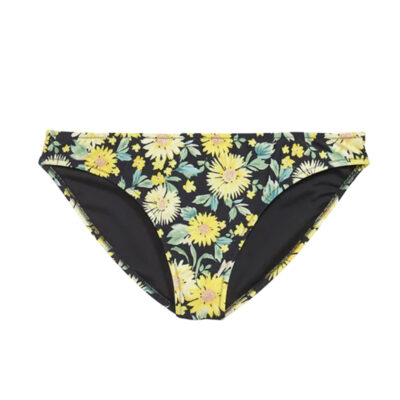 Old Navy
High-Rise Classic Bikini Swim Bottoms for Women
8. Outdoor Oasis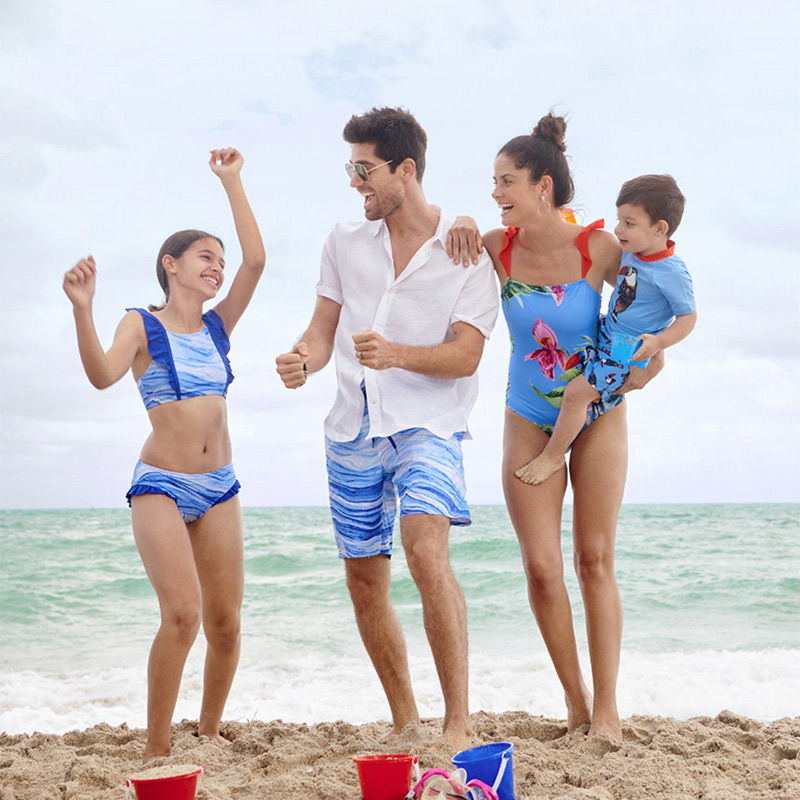 What we love about this brand: Available at JC Penney, Outdoor Oasis has a range of sweet, classic swimwear for your family.
This white tropical print is both fun and refreshing.
Serene Tropical Matching Family Swimsuits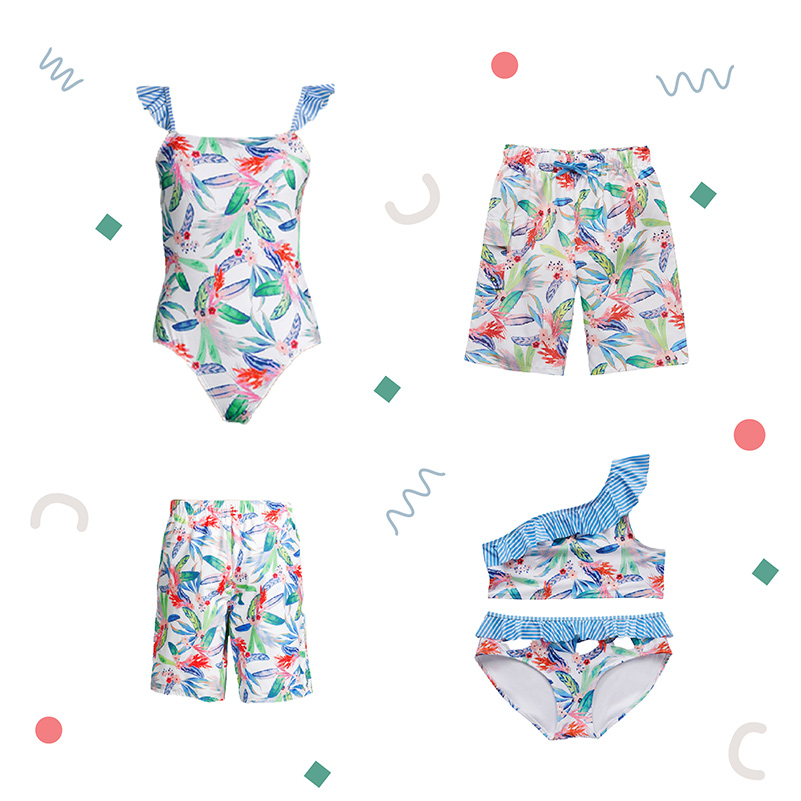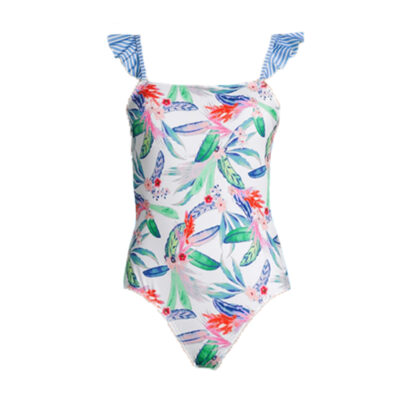 Outdoor Oasis
White Tropical Womens One Piece Swimsuit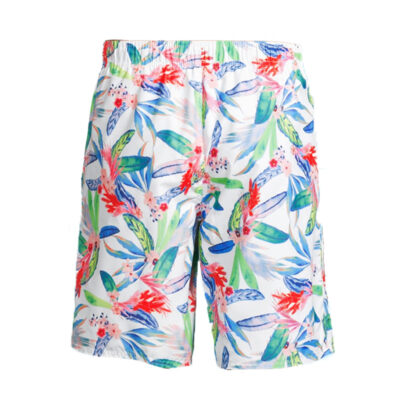 Outdoor Oasis
White Tropical Mens Swim Trunks
9. Swim Zip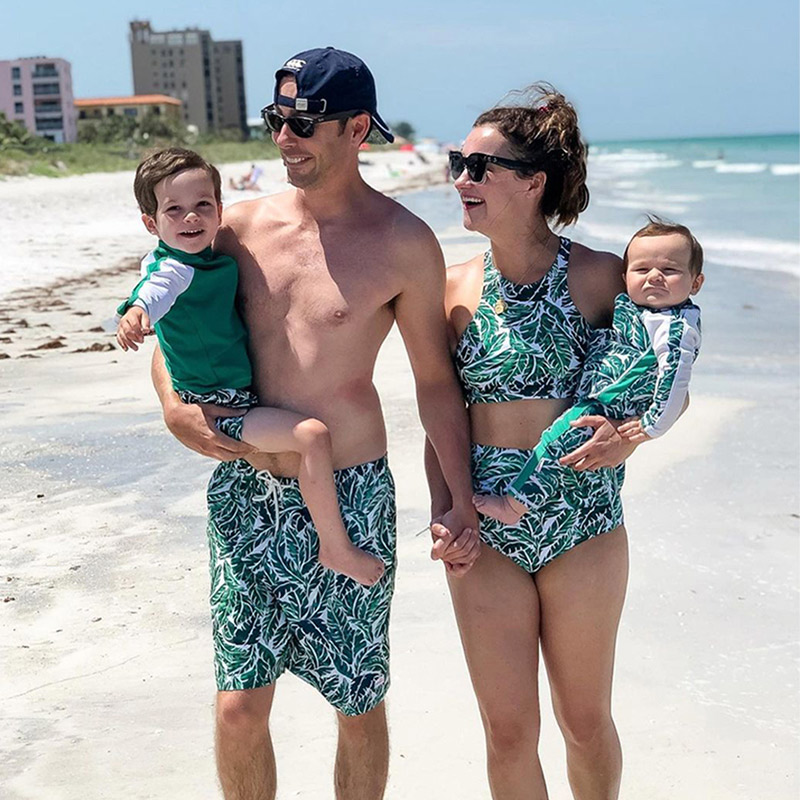 What we love about this brand: Swim Zip has exciting swimsuits for men, women, children, and babies.
This "Palm Leaf" print is an instant classic that will look good on everyone.
RELATED: Best 14 Cut Out One Piece Swimsuits to Try
Leafy Greens Matching Family Swimsuits
If you're hesitant about feeling too matchy-matchy, consider mixing some complimentary solid colors into your family's swimsuits.
Or perhaps choosing one print for the girls and another for the boys!
Matching family swimsuits bring joy, unity, and style to your beach or poolside adventures. By choosing prints, colors, and styles that coordinate with one another, you'll create a cohesive and visually appealing look that reflects the spirit of togetherness.
Whether you opt for coordinated prints, colors, or mix-and-match styles, remember to prioritize comfort, versatility, and individual expression.
Embrace the summer fun, make a splash, and create lasting memories as you and your loved ones enjoy the sun, sand, and sea in style.