Switch your tried and true little black dress for a modern little white dress.
White dresses for Summer
When it comes to summer fashion, nothing exudes fresh elegance quite like a white dress. Versatile, timeless, and endlessly chic, a white summer dress is a wardrobe staple that easily captures the essence of the season.
From casual outings to formal soirées, we have curated a list of 26 stunning white dresses that cater to every occasion. Prepare to embrace the summer heat in style and radiate an air of effortless sophistication.
This summer, instead of reaching for your staple floral dress during the day or LBD in the evening, brighten up your summer wardrobe with some white dresses.
RELATED: 14 Best White Beach Dresses with Styling Tips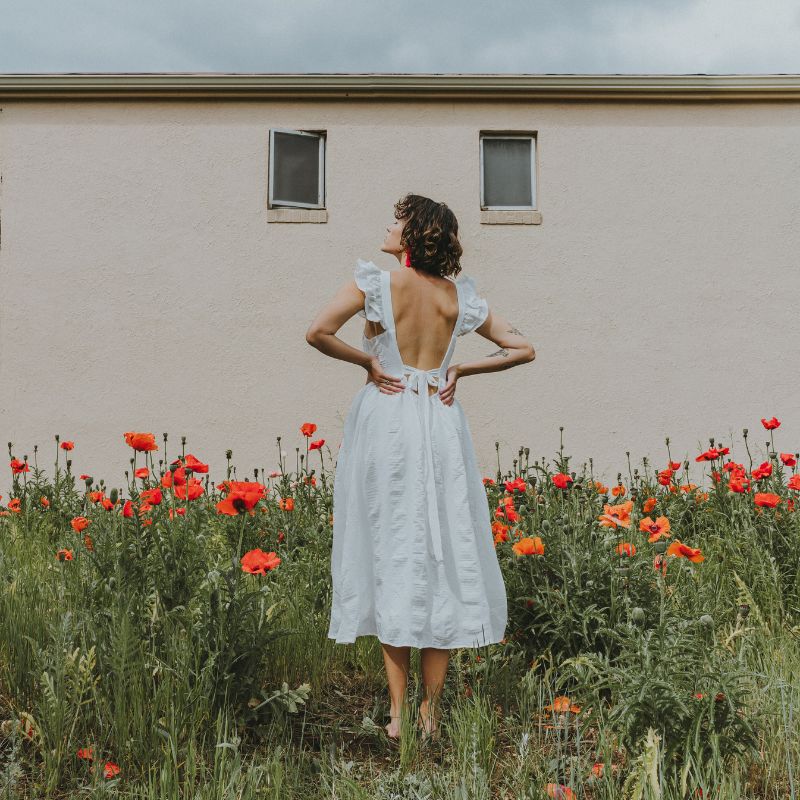 The Options
The best white summer dresses come in a variety of styles and materials: your tried and true midis and maxis, cool linens, retro minis, fun cut out styles—and the vacation favorite—beach dresses.
The Right White Color?
White not your color? Try experimenting with different shades of white, like ivory, off-white, eggshell, cream, snow, porcelain… the list goes on.
If you have a warm and rich skin tone or complexion, start with warmer shades like off-white. And for lighter skin tones or blue undertones, lean into pure whites like snowy or cool ice whites.
RELATED: 24 Best White Midi Dresses with Styling Tip
Shop the best white dresses in every length and style whether it be for day or evening, the beach or the office.
Our Top Picks
How to Style A White Dress?
A white dress is a blank canvas that lets your personal style shine. Whether you prefer bright pops of color, neutral accessories, glam metallics, or a classic red lip, the possibilities are endless.
If you prefer to layer and accessorize, stick with a tailored white sheath dress (unless you're a maximalist!).
If you want to let the sweet and romantic vibes be the center of your outfit, opt for a dress with a stand-out detail: like a crochet or eyelet dress, or even one with full sleeves and a billowing maxi skirt.
White Flowy Dress
White Mini Dress
Style Tip: when and where to wear a white dress
White isn't just reserved for beach or summer picnics, they're available in endless silhouettes for every occasion.
White cotton shirt dresses are perfect for a day at work to dinner and drinks al fresco. Go bold with a white cut out dress for a night out or try a retro dress for your BFF's birthday brunch.
What to Look for
Material: Opt for breezy cotton and linen white dresses for summertime. Or for a sleek (and breathable) office dress, look for viscose.
Fit: Lots of white summer dresses are flowy, meaning they have a looser fit. But if you prefer something more fitted, there are still plenty of options, from entirely body-conscious silhouettes with cut outs to fitted bodices.
Size: Stick with your usual size, unless the reviews say otherwise! You could potentially size up if you wanted to fully embrace the romantic flowing look.
If you're worried about stains, apply makeup after putting on your white dress and carry a stain remover pen in your purse to treat any spots ASAP.
While white dresses are obviously great for the summertime, they also make fantastic transitional looks by adding a chunky sweater and combat boots. Add a white dress to your wardrobe for an all-season staple.
FAQ
What color shoes to wear with a white dress?
That's the best thing about white dresses, anything goes! If you're looking for a monochrome look (hello summertime White Parties!), opt for white heels. Or if you want to add some color, wear your go-to summer shoes, be it platform sneakers or strappy sandals.
Is a white dress good for a night party?
A white dress is the perfect unexpected color for a nighttime bash. A white sheath or cocktail dress will give you the same fun going out look as a darker color dress.
When should I wear a white dress?
They're appropriate for year-round wear. While styling them in spring and summer feels like second nature, add a pair of tights, statement boots, and a statement jacket in the fall and winter.
RELATED
14 Best White Beach Dresses with Styling Tips