Try this new way to wear your favorite denim dress this season.
Denim Dress
You love your jeans…and love your dresses…but have you ever thought about marrying the two? Likely not. Until now. This summer, try out a denim dress. You might never go back.
In this article, we will let you know the variety of denim dress (also called a jean dress) styles and how to wear them with very helpful tips!
How to Shop
You may think of denim as being thick and heavy, but denim dresses are often crafted of a lighter weight and softer fabric making them durable, comfortable, and fashionable.
If you want to stick with the sturdy material of your favorite jeans, opt for a shorter hemline so you stay cool.
RELATED: Best 15 Work Dresses: Stylish and Comfortable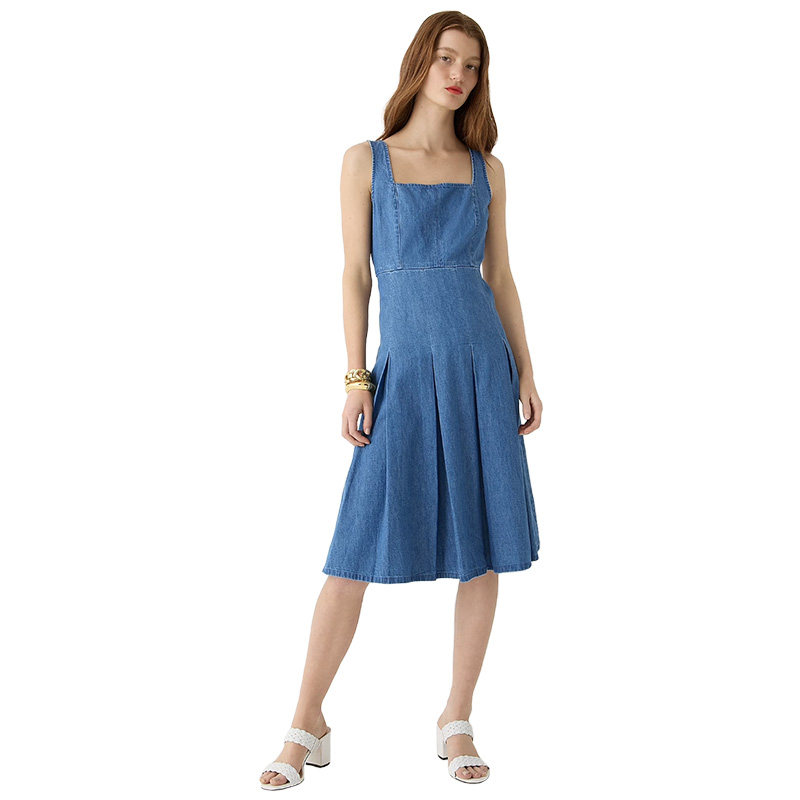 We love this denim dress from J.Crew.
Perfect length to wear to any where. Plus, it's on sale now!
Denim Dress Styles
Denim is one of the most versatile and classic materials, so denim dresses run the gamut. The same styles of summer dresses are available as denim dresses, like shirt dresses, minis, and slips, but with traditional denim characteristics, from heavy topstitching to acid washes.
While the material is casual at its core, there are many designers that have accepted the challenge of crafting cocktail party ready frocks out of the heavy cotton weave that will rival your go-to LBD.
What to Wear with A Denim Dress
Denim is ubiquitous in virtually every style from prep to grunge. Add your own personal flair with your favorite espadrilles for a flirty summer look, combat boots for an edge, or white sneakers for a laid-back vibe.
Style Tip: the variety of fits
There are still denim dresses aplenty with a slightly looser fit, easeful silhouette, or casual vibe for your everyday wear.
RELATED: Best T-Shirt Dresses You'll Live in All Summer
From structured corsets from Oscar de la Renta to slip dresses from Zara—all crafted of denim, we've gathered our favorite denim dresses to make finding the right weight and style to make your shopping easier.
Our Top Picks
White Denim Dresses Under $150
What to Look for
Material: Look for a mid-weight denim dress for most silhouettes. It will allow your dress a bit of movement, while still retaining structure.
Fit: Opt for your favorite silhouette—just in denim. Structured corsets, tiered shift dresses, you name it!
Size: Much like jeans, denim will stretch, so keep that in mind when shopping. As such, you might want to air on the smaller side. Just make sure the garment feels comfortable and fits well.
Make sure that the denim isn't too heavy, as you want your denim dress to move a bit more than, say, a pair of jeans. Mid-weights work best for their ability to move  but also hold its structure.
Mix in a little denim dress from time to time this summer. Swap out those jeans for their fun and flirty sister.
FAQ
How to style a denim dress?
Most denim dresses style themselves. While some offer a pinafore or jumper style, under which you can layer a bright white tee or the like, most are perfect just the way they are.
Denim dresses are quite casual and best when paired with sneakers or flat sandals. There are a few special favorites that are fit for a party, paired with heels or dressed-up flats.
Are denim dresses in style for 2023?
Yes! It's totally in. Denim dresses have been a lesser-chosen relative to your beloved jeans, no matter the year or the season—until now.
They've been trending on the runway, from Alexander McQueen to Carolina Herrera, and with your favorite celebrities (think Ashley Graham's distressed denim illusion maxi dress).
This summer, see what all the buzz is about: it's time you try it out for yourself.
What kind of jacket should you wear with?
You can fashion a Canadian tuxedo of sorts by pairing your denim dress with a denim jacket in a contrasting wash, or opt for a totally different material with a cropped wool lady jacket or buttery soft leather biker.
RELATED
16 Summer Ready Linen Dresses To Keep You Cool