Stylish and comfortable looks for visiting Italy this summer!
★ Best time to travel: Apr – Oct
What to Wear In Italy?
When it comes to what to wear in Italy for your summer vacation, it's important to keep a balance between style and comfort. Italians take great pride in their fashion sense, and you'll often find locals dressed impressively.
To blend in and embrace the Italian style, opt for elegant summer dresses, skirts, or well-tailored pants with fashionable blouses. Let's keep it casual but not sweat shorts and flip flops casual!
As always, you can incorporate your personal style and preferences into your summer wardrobe in Italy, and enjoy the beautiful sights, culture, and cuisine while staying comfortable and fashionable.
Style Tip! Remember to dress respectfully when visiting religious sites or more conservative areas, covering your shoulders and knees. Carry a lightweight wrap or scarf if you want to visit a cathedral or church to cover yourself while inside but it's too hot to wear sleeves and pants.
What to Pack
Be mindful of the weather and pack accordingly, whether it's a packable sun hat and sunscreen for sunny days or a lightweight jacket for cooler evenings. Showcase your personal style while appreciating the country's fashion-forward culture.
If you are looking for complete packing list for your travel, check these out!
For travel essentials: 21 Travel Essentials You Can't Live Without
For travel toiletries: 14 Top Toiletries for Your Packing List 2023
Continue to read and discover the complete outfit suggestions and what to wear for your summer vacation in Italy!
Wondering what to wear in Italy? We have put together various style outfits (with shopping links) for you below. There are some items used multiple times so you can easily mix and match the same items to create different looks!
RELATED: 14 Best Summer Skirts for Warm Weather Style
Summer Dress for Italy
Summer dresses are perfect for Italy's warm climate. Choose flowy and lightweight styles in vibrant colors. Maxi dresses, sundresses, and midi length can be versatile options for both daytime explorations and evening outings.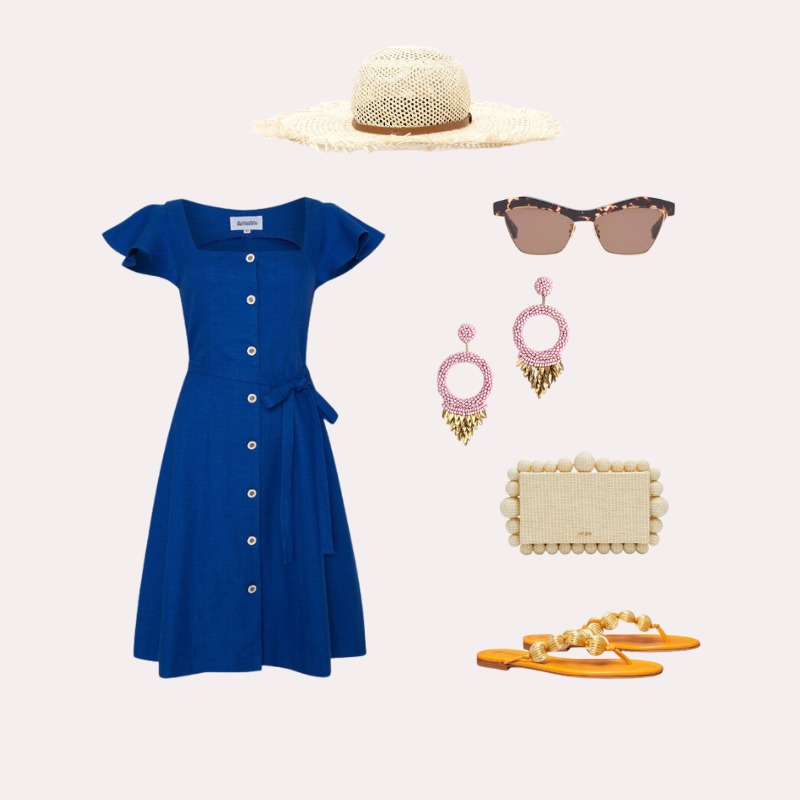 Wearing a blue dress in Italy can be a stylish choice that complements the vibrant atmosphere of Italy.
Here are some tips on how to wear it with confidence:
Choose the right shade of blue: Opt for a blue hue that suits your skin tone and personal style. Shades like royal blue, navy, or cobalt can create a striking impact.
Opt for footwear that complements your dress. Neutral-toned shoes like nude pumps or black sandals can create a timeless and elegant look.
Helpful Tip! If you're feeling adventurous, you can experiment with a pop of color or patterns in your shoes.
Shop the Outfit
White Pants for Italy
Whether you're exploring the streets of Rome or enjoying a seaside getaway in the Amalfi Coast, a well-styled white pants outfit can give you an effortlessly chic and timeless look in Italy.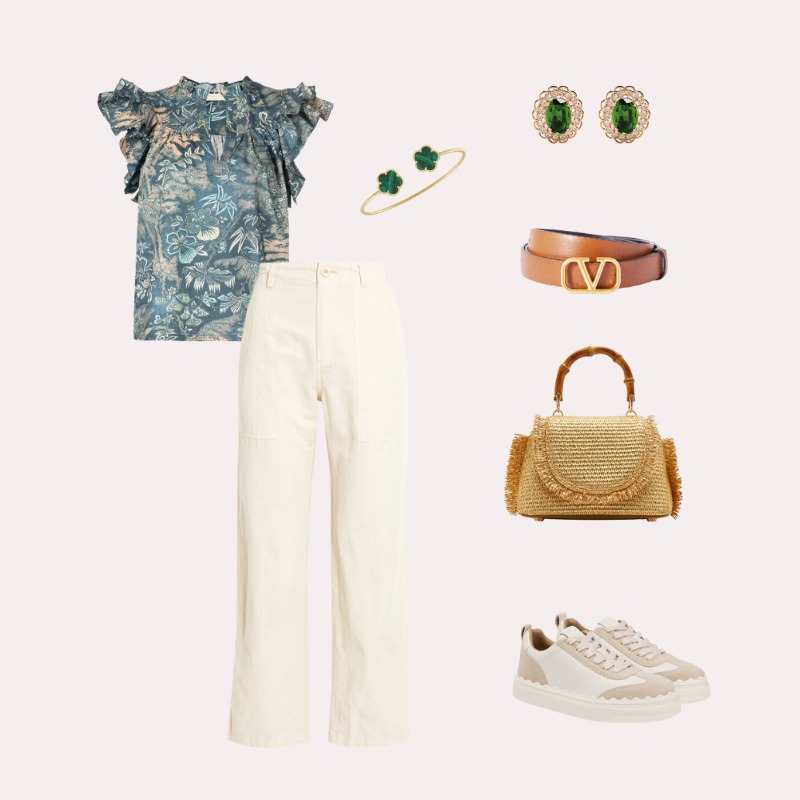 Here are some tips to help you put together a chic ensemble:
Opt for well-fitted white pants that flatter your body shape. Consider the occasion and weather when selecting the fabric—lightweight cotton or linen pants are great for warmer months.
Embrace patterns and prints: White pants provide a neutral canvas that can be paired with patterns and prints. Try a striped shirt, a floral blouse, or a geometric-patterned top.
Choose footwear that matches the occasion and style of your outfit. For a casual look, opt for sandals or canvas white sneakers.
Helpful Tip! Choose a handbag or clutch that complements the color palette and style of your ensemble.
Shop the Outfit
Skirt Outfit for Italy
When you're exploring the colorful streets of Florence or enjoying a coffee in a charming café, a floral skirt outfit in Italy can be a fashionable and delightful choice that captures the country's romantic and vibrant atmosphere.
Consider a midi or maxi length for an elegant and timeless look.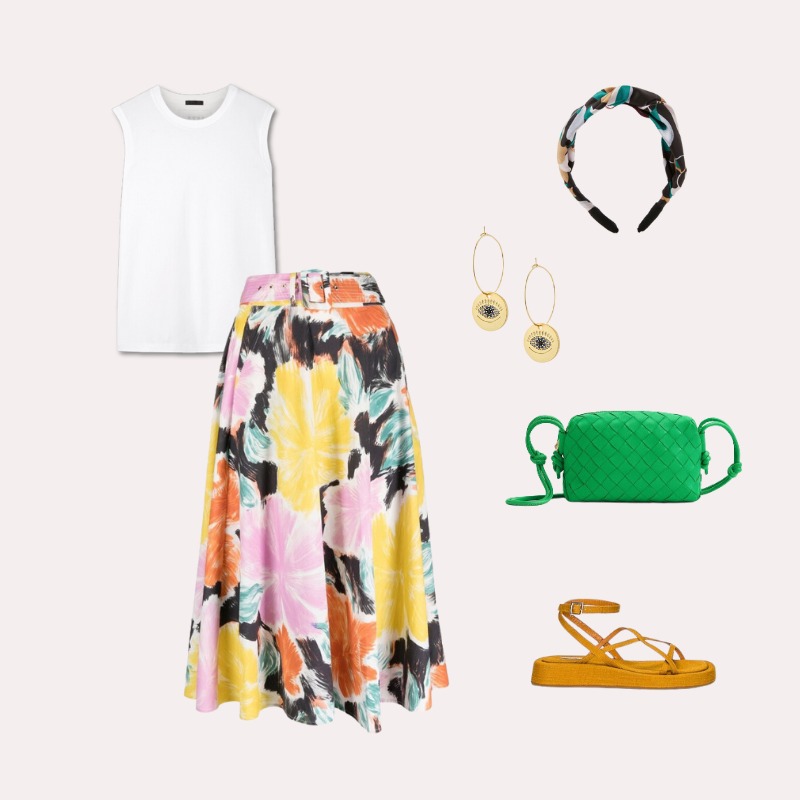 Here's how you can create a stylish look:
Pair it with a solid-colored top to balance the boldness of the floral skirt. Wear a blouse, a fitted t-shirt, or a sleeveless top. Classic choices include white, black, or a color that matches one of the hues in the floral pattern.
Layer with a lightweight jacket or cardigan: Depending on the weather, layer your floral skirt outfit with a lightweight jacket or cardigan.
Select accessories that enhance your outfit without overpowering it. Opt for simple and elegant jewelry or a stylish handbag. Consider adding sunglasses for a chic and practical touch.
Shop the Outfit
Shorts for Italy
Shorts and lightweight pants are a must for summer. Pack a few pairs of shorts in different lengths, such as mid-thigh or knee-length for casual and comfortable outfits.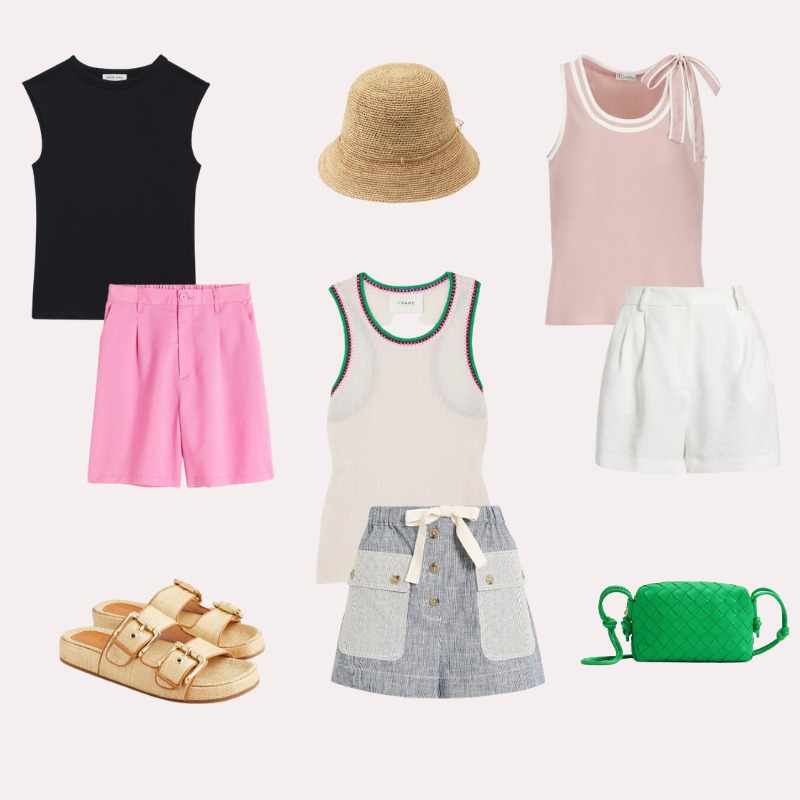 Style Tip! Lightweight pants like linen or cotton trousers can provide a stylish alternative to shorts while keeping you cool.
Shop the Outfit
Blouse and Tops for Italy
For casual Italy outfits, choose lightweight tops such as loose-fitting t-shirts, tank tops, or breathable blouses. Look for tops in airy fabrics and summery prints.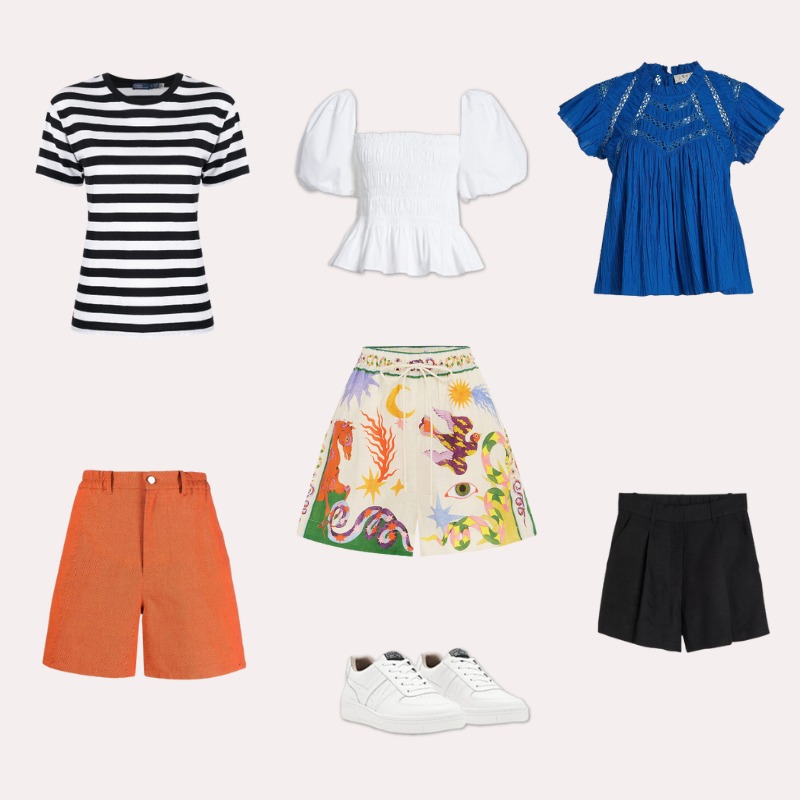 Style Tip! Off-the-shoulder styles or tops with delicate details like lace or embroidery can add a touch of elegance.
Shop the Outfit
What are the best swimsuits for Italy?
When it comes to swimsuits in Italy, there are a few factors to consider, such as local fashion trends, personal style, and the specific location you'll be visiting.
However, pick a swimsuit that makes you feel comfortable, confident, and reflects your personal style while enjoying the beautiful beaches and coastline of Italy.
Swimwear and cover-ups: If you plan to visit Italy's beautiful beaches or enjoy poolside relaxation, pack stylish swimwear. Don't forget to bring a cover-ups for when you're not in the water.
Shop the Swimsuits
Colorful Swimsuit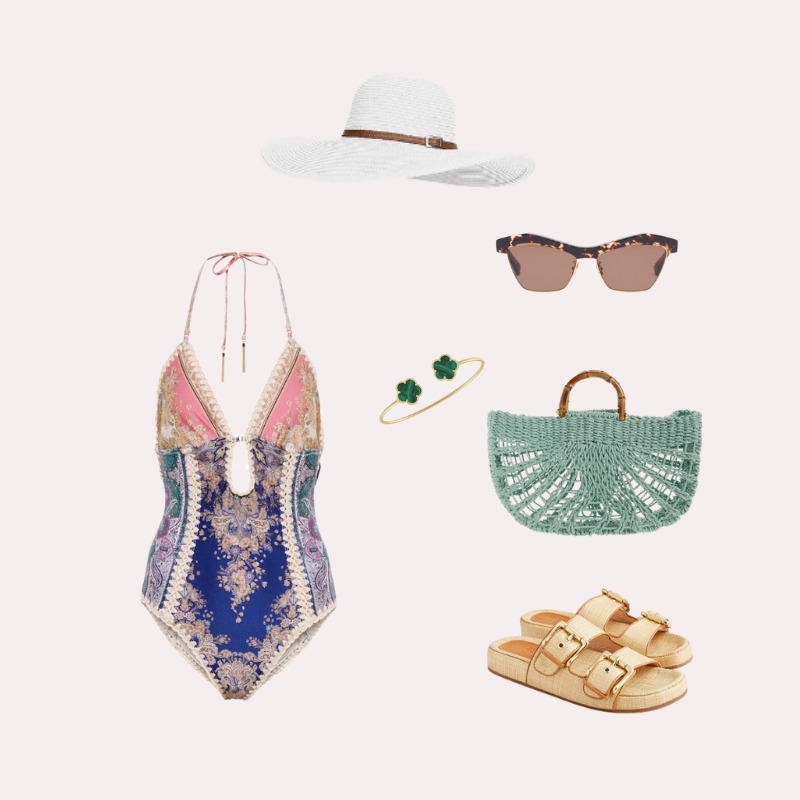 Consider one piece swimsuits! It's a versatile and stylish option in Italy. Look for designs with interesting details like cut-outs, plunging necklines, or wrap styles. They can offer a sophisticated and flattering look while still being comfortable.
Shop the Outfit
Black Chic Swimsuit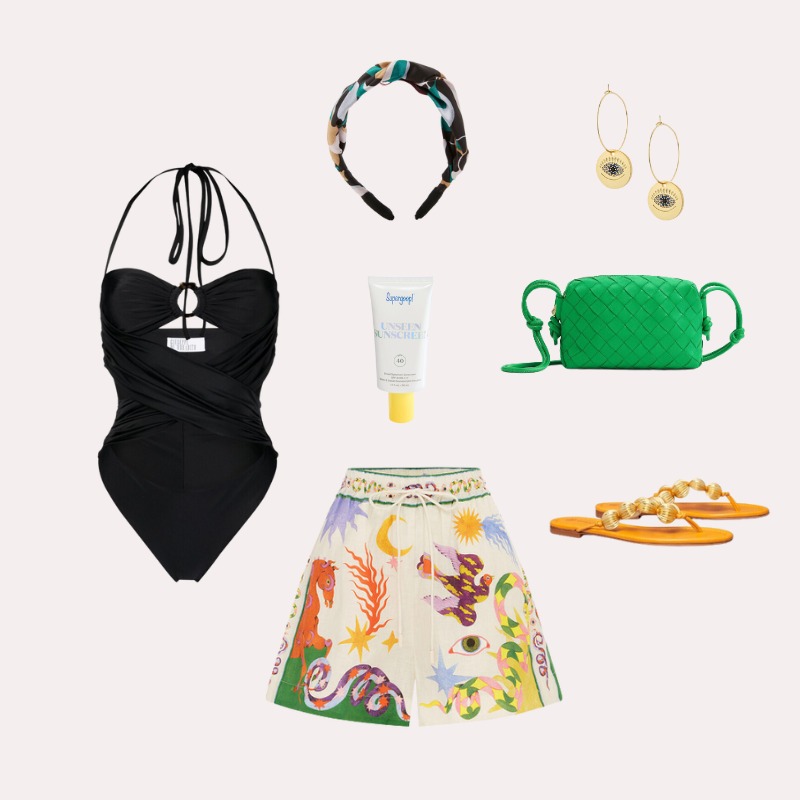 Embrace a sophisticated and chic style: Italians tend to favor a more refined and elegant beachwear look. Choose swimsuits with clean lines, classic silhouettes, and timeless colors. Solid colors like black, white, navy, or neutral tones are popular choices.
RELATED: A sleek Black Bikini is Your Summer Staple
Shop the Outfit
Floral Red Swimsuit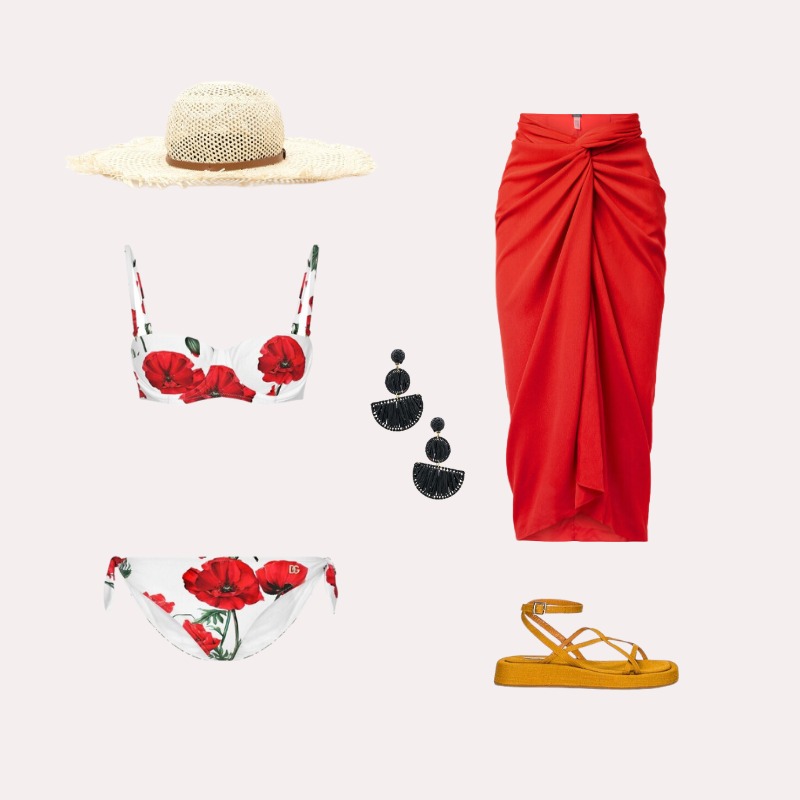 Play with patterns and prints: While solid colors are a safe choice, you can also experiment with subtle patterns or sophisticated prints. Classic patterns like stripes, polka dots, or simple floral designs will fit the bill. Avoid overly bold or flashy prints for a more elegant look.
Style Tip! Lightweight and breezy cover-ups like kaftans, sarongs, or linen shirts can provide both sun protection and a fashionable touch
Shop the Outfit
What are the best shoes for Italy?
Don't forget to pack comfortable footwear. Italy is known for its cobblestones, so opt for comfortable yet stylish footwear for walking around Italy's charming streets.
Sandals, espadrilles, or canvas sneakers are excellent choices. Avoid heavy and closed-toe shoes that may cause discomfort in the heat.
Best Handbags to Wear in Italy
In Italy, selecting the right bag can complement your outfit and enhance your overall style. Here are some bag options that are popular in Italy:
RELATED: 14 Best Belt Bags and Fanny Packs 2023
Crossbody bag: A practical and stylish choice for exploring Italy's cities. Opt for a medium-sized crossbody bag that can comfortably hold your essentials while keeping your hands free. And keep the bag in front of you to avoid pickpocketing.
Tote bag: A spacious tote bag is great for carrying everything you need for throughout the day. Choose a well-structured tote made from high-quality materials that can hold your belongings and still look sophisticated.
Leather handbag: Italy is famous for its leather goods. While you can pack one from home, wait until you get there to buy one (or two) to wear right away! Look for a timeless design, such as a classic satchel or a structured shoulder bag.
Small shoulder bag: If you prefer a smaller bag for a night out or a more refined look, a small shoulder bag can be a great option. Choose a design with a chain strap or a statement hardware detail to add a touch of elegance to your outfit.
Straw or woven bag: If you're heading to the coastal regions or beach towns in Italy, consider a straw or woven bag for a summery and relaxed vibe. These bags are lightweight and add a touch of beachy charm to your outfit.
Tip! Look for classic designs in neutral colors or unique shapes with embellishments to make a statement.
To save some space in your trunk, pick the footwear that goes with most of your outfits. Pack one flat sandals, one pair of sneakers—and if you have space—your most comfortable pair of heels.
Top 8 Must Have for Italy
Packing Tips for Italy!
Lightweight and breathable fabrics: Opt for clothing made from breathable materials such as cotton, linen, or lightweight blends. These fabrics will help keep you cool and comfortable in the heat.
Sun protection: Don't forget to protect yourself from the sun. Pack a wide-brimmed hat, sunglasses, and sunscreen. Lightweight scarves or shawls can be useful for covering your shoulders or providing extra sun protection.
Accessories: Don't forget to accessorize with a chic handbag and tasteful jewelry.
Best Restaurants In Lake Como
(4)
Best Restaurants on Amalfi Coast
(4)