Take a Roman holiday with espadrilles that will make you feel like Audrey Hepburn!
Espadrilles
One of the best aspects of the "Roman Holiday" costumes from Audrey Hepburn was her espadrilles. Her skimmers slipped on and laced up her leg, meeting her full-skirted bottom at about mid-calf.
They were casual, yet elegant; classic, yet cool-girl all at the same time. And guess what? You, too, can master that look this summer.
But what are espadrilles exactly? You may think of the braided fiber sole, but what distinguishes them from other shoes? Or you may have heard the term alpargatas, but how does that relate to espadrilles?
Pro Tip: what is a espadrille shoe?
Espadrilles, or alpargatas, are the same shoe, just in the term in French and Spanish.
Historically, they were flat shoes worn by men and women with a sole made of an esparto rope that's made from the coarse, fibrous grass of the esparto plant and a canvas or cotton upper material.
RELATED: Easy Slide Sandals That Look So Chic
The Modern Take
Modern espadrilles aren't far from their traditional counterparts, using a hemp or jute braided rope sole with rubber secured to the bottom for comfort and support while extending the life of the shoes.
The textile upper can be made of anything from cotton canvas to felts and fleeces.
Style Variety
The classic espadrille is still in very high demand. They are flat and either slip on with a simple backed silhouette, or they lace up the ankle.
That said, more modern styles have come to be in recent years that have taken the iconic favorite to new heights. Some sneakers now feature that signature braided jute sole, while others elevate you to flatform heights.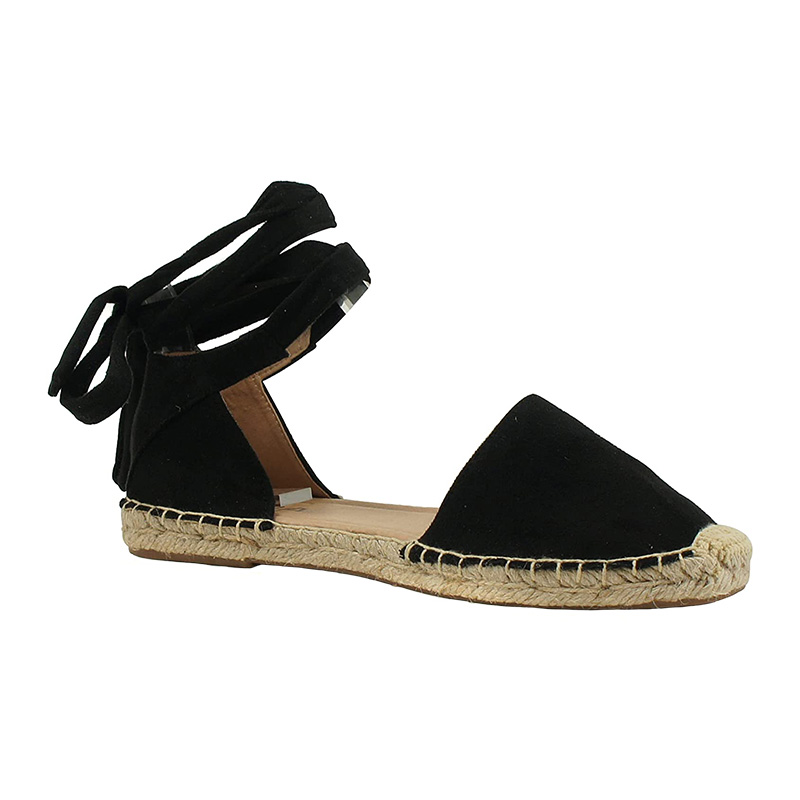 Best classic lace up espadrilles. Affordable and comes in 4 different colors!
We guarantee we've found the espadrille version of your favorite shoe.
Espadrille sandals are a fantastic alternative to the usual summer sandals and slides that are just as effortless but add extra style to any look.
RELATED: Our Favorite Designer Slides for Women
The world is your oyster, just make sure to dip your toe into the hemp base of a summertime espadrille this season and beyond.
Our Top Picks
Espadrille Sandals
Outfit Variations
There's a reason why espadrilles have been around for nearly 4,000 years. They're effortless, comfortable, and fashionable.
Office style: Instead of a sandal this summer, try a mule or Mary Jane style with your favorite white work shirt or work dress.
Beach vacation: When you pack your beach sandals and sneakers, opt for an espadrille wedge or platform espadrille for your outings instead of a pair of heels.
Every day looks: Swap your slides for a classic flat espadrille or your sneakers with their espadrille counterpart.
Whether you're throwing on your favorite jeans or linen dress, they're guaranteed to add extra summer style to every look.
How to Pick
If you're looking to add your first pair of espadrilles to your shoe collection, opt for a style you already know and love, be it a flat shoe or trendy platform Mary Jane.
What to Look for
A hemp sole is the signature of an espadrille. Better yet with a rubber base for durability and elongated wear.
Material: Most espadrilles are made of a heavy-weight canvas, though the material can certainly vary.
Fit: At first espadrilles might fit quite snugly, though they will all stretch.
Size: There is no one espadrille size. Some lace up, others slip on; the classics are slim skimmers, while more modern versions feature high heels or even flatforms.
Shop espadrilles with a rubber sole to preserve the natural jute sole of your espadrilles.
Whether you're styling yours with a dress or skirt like Audrey Hepburn once did, or keeping them casual with a pair of Daisy Dukes, stock up on espadrilles of every color, shape, and size this summer.
FAQ
What is an espadrille shoe?
Traditionally, an espadrille shoe is a canvas shoe with a braided hemp or jute sole. The sole itself has expanded in recent years to marry with the designs of sneakers and mules alike, so that classic definition has changed ever so slightly as of late.
What are the benefits of espadrilles?
Espadrilles are super durable. Many classic styles are sustainably natural, and they offer that carefree retro look that is still quite timeless.
Are espadrilles comfortable for walking?
While espadrilles are among the most comfortable of shoes, it must be noted that there is very little, if any, actual support in the shoes. So they might not be the best option if you're planning a day of walking or even hiking.
What happens when espadrilles get wet? How do you clean them?
Espadrilles are very difficult to salvage when they get wet. Because of their braided jute soles, they take an awfully long time to dry and often warp when they do so.
What's more, keep in mind that the canvas upper will shrink as they dry, so you should keep them stuffed while drying them out.
RELATED
14 Best White Sneakers for Women 2023