When planning your West Coast vacation, be ready to move around a lot and try out everything that the city has to offer—even if they're miles away from one another.
★ Best time to travel to Los Angeles: Anytime
Los Angeles OUTFITS
Los Angeles is a city unlike any other. It is vibrant and lively and moves a mile a minute. Unlike it's East Coast sister, NYC, a trip to LA calls for many more prints, colors, and a more easeful dressed-down approach. Check out the most stylish Los Angeles outfits here.
Women
1. Los Angeles Outfits: Casual Cool
2. Los Angeles Outfits: Matchy-Matchy
3. Los Angeles Outfits: All Day, Every Day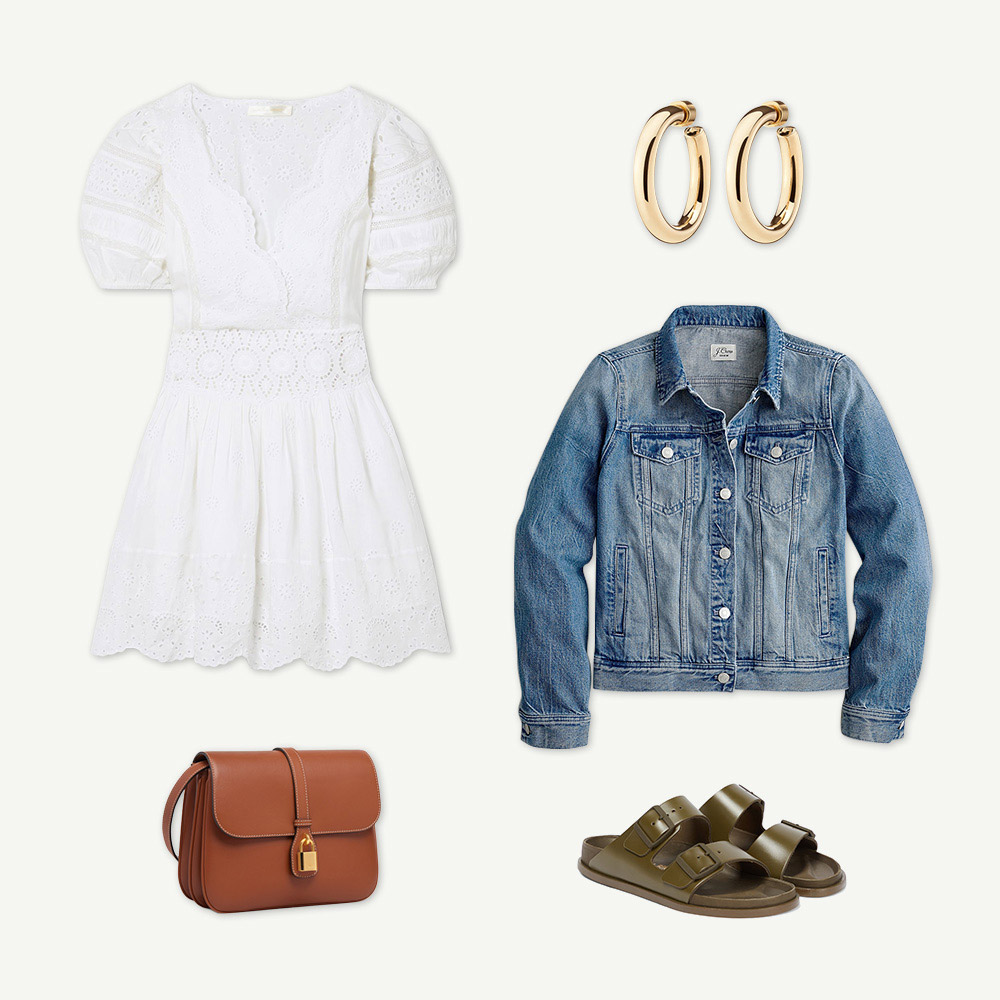 Loveshackfancy
Valente Crochet Trimmed Broderie Anglaise Modal Mini Dress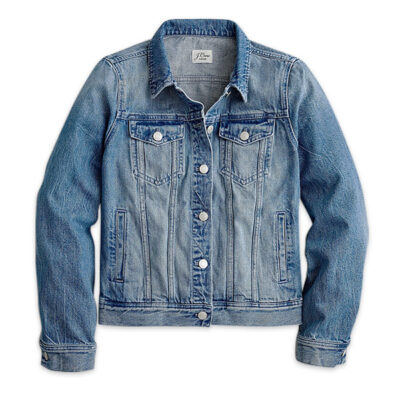 J.Crew
Classic Denim Jacket
Men
1. Los Angeles Outfits: The Uniform
Kids
1. Los Angeles Outfits: Mini Me
The city is totally spread out so it's a great place to rent a car to around with ease (or as easily as you can in LA traffic!)
RELATED: Easy Slide Sandals That Look So Chic
Best Restuarants in Los Angeles
(4)
Things to do in Los Angeles
Girls Trip
MORNING
Wake up early and start off with a group class at Erika Bloom Pilates. No matter what the day has in store, you'll feel better about yourself after a little sweat session—we guarantee it. Brunch at Sqirl is a must (Best brunch in Los Angeles). Sometimes vegan, mostly health-conscious, always hipster Los Angeles brunch will serve up everything from rice bowls with poached eggs to sugar-coated scones and piled-high sandwiches alike.
DAY
Start off your day with a can't miss stroll down Rodeo Drive to get all that high-fashion shopping out of the way in one fell swoop. After? Treat yourselves to a spa package at the Beverly Hills Hotel Spa.
EVENING
Grab drinks at Harriet's Rooftop and watch the sun set with outdoor seating that rises hundreds of feet above the city. While you can certainly order light bites or even a full dinner, the colorful cocktail list is where it's at.
Family Trip
MORNING
Fuel your whole family at Bea Bea's in Burbank. Best breakfast spot in Los Angeles. A classic diner, they offer more than 60 different kinds of waffles, pancakes, French toasts, and more carb-centric favorites.
DAY
If you have a few days to kill and want an all-day event, head to Disneyland for the most epic day of your little children's dreams. If you're looking for more of a come-and-go activity, Santa Monica Pier and the surrounding beach is always a favorite for hours of ever-changing fun. And, for a truly unique experience, head downtown to OUE SkySpace, which is at the top of the city's highest skyscraper. There, you will not only find sweeping views of the city, but also their Skyslide, which is glass-bottomed, giving you the illusion of flying 1,000 feet over the city for at least a short time.
EVENING
Finish off your day with dinner and hanging at Everson Royce Bar. While you, yourself, might grab a beer, your little ones can chow down on burgers and fries, run around the colorful back patio, and even try their hand on the bocce court.
Romantic Getaway
MORNING
Stay at the Sunset Tower Hotel. Sleep in and, after some coffee in bed, head to The Tower Bar. You can grab a bite and morning cocktail either inside or poolside, but no matter what hour of the day, we suggest starting at the cocktail bar and then moving to a table outside before taking a dip in the pool.
DAY
Rent a convertible and drive along the Pacific Coast Highway. While you could simply drive for hours, wind blowing in your hair, plan to make a mid-day stop at the Getty Villa, Part of the J. Paul Getty Museum, this specific location is focused on ancient Greece, Rome, and Etruria. But the building and property itself is quite a sight to be seen, constructed as a replica of an ancient Roman country house.
EVENING
Go for a special dinner out at Sushi Note. While you can surely sit at a table and order à la carte, we highly recommend sitting at the sushi bar and ordering the full omakase offering.