While Napa Valley is surely known for its wineries, the culinary scene is just as top-notch, so it's surely going to be a trip filled with some of your best dining moments, no matter who you're traveling with.
★ Best time to visit Napa Valley: Spring & Fall
Winery OUTFITS
People ask what to wear to a winery. Especially when they are going to Napa Valley. Napa Valley is all about the easy-breezy, but you still want to look chic. You know? Think: breezy flowing dresses with sneakers, jeans with eyelet tops, silk midi skirts with classic cotton tees. After all, you're going to spend most of your days tasting a myriad of wines, right? Go forth and pack for the occasion. Here are the best winery outfits for you and your whole family!
Women
1. Winery Outfits: The Perfect White Dress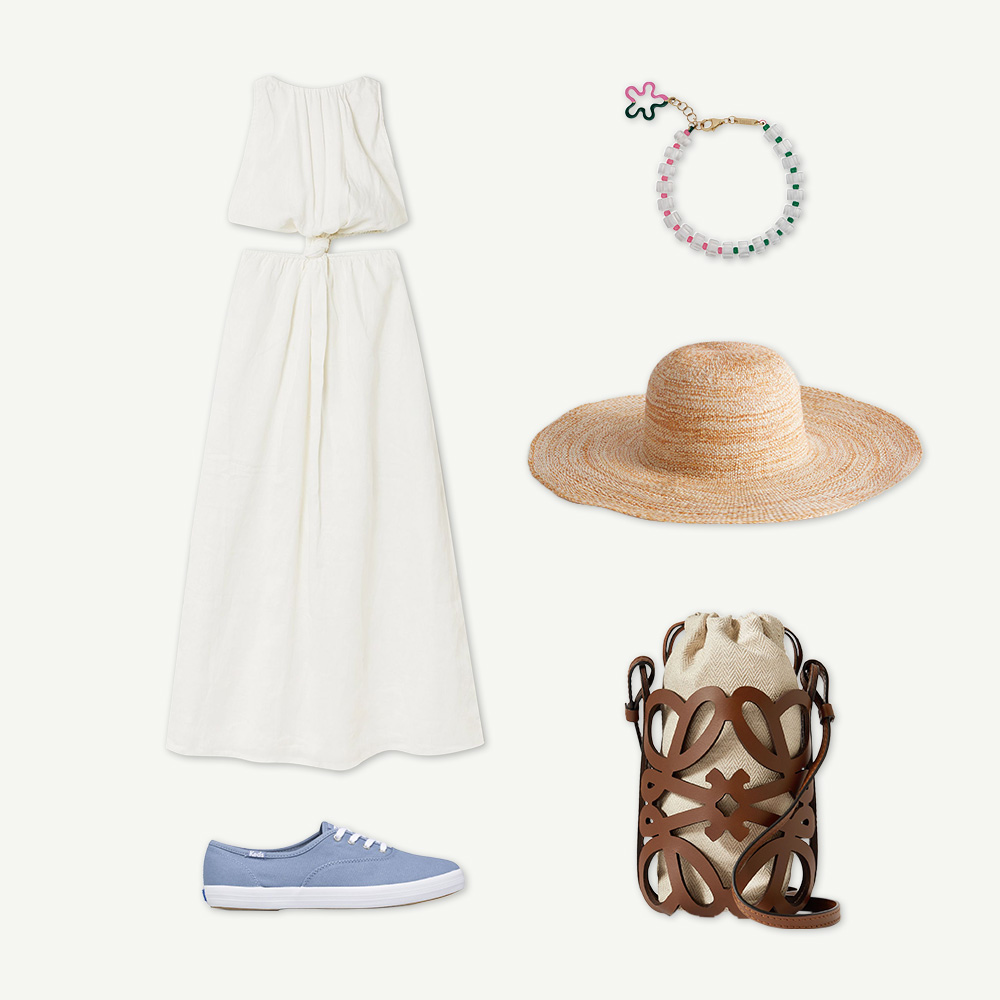 Faithfull the Brand
Zeta Cutout Linen Midi Dress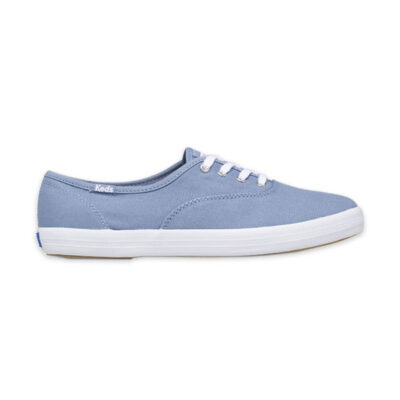 Keds
Champion Feat. Organic
2. Winery Outfits: A Little Crop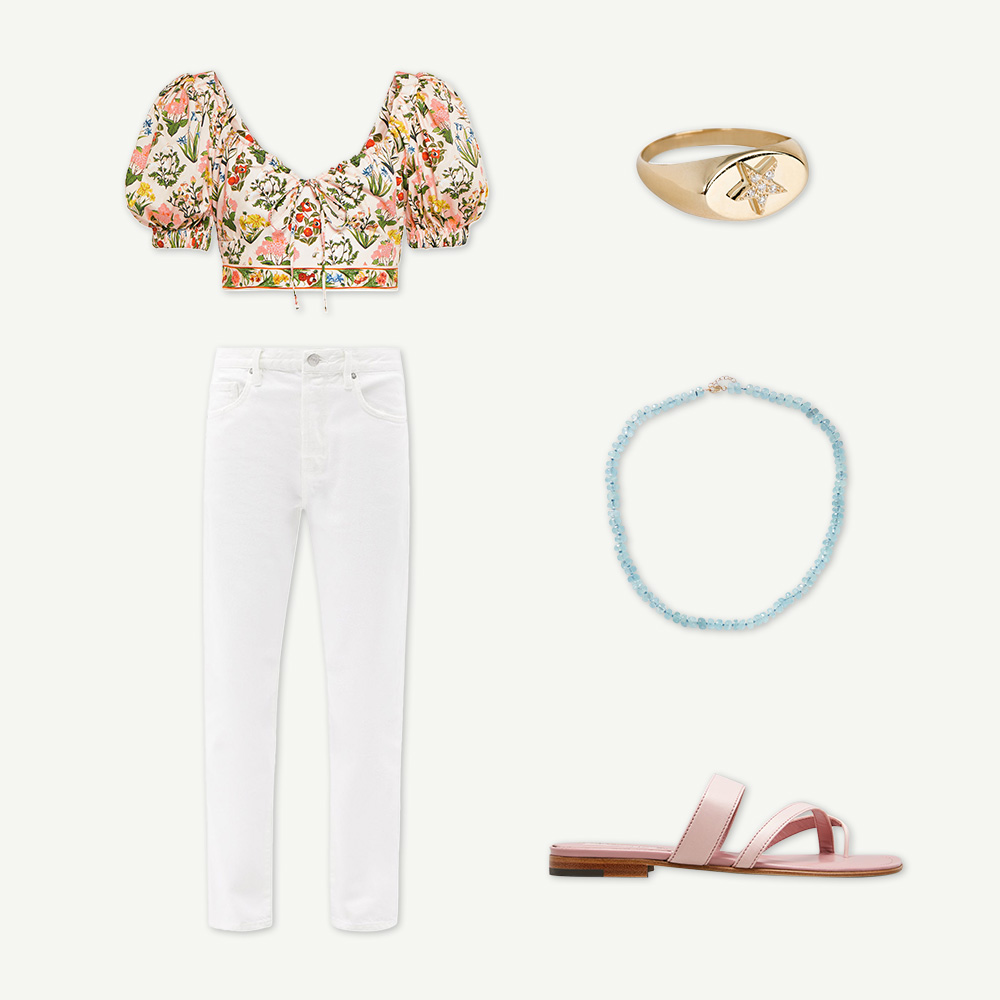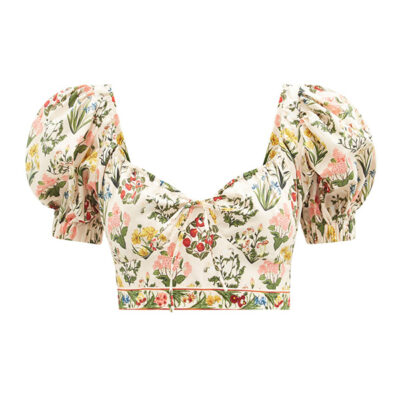 Agua by Agua Bendita
Palmarosa Magdalena-Print Cotton Crop Top
Frame
Le Original Straight-Leg Jeans
Men
1. Winery Outfits: Golf-Inspired
Kids
1. Winery Outfits: Scalloped Days
If you're planning to spend your days hopping from winery to winery, make sure to hire a car and driver so you don't have to worry about appointing a DD in the group.
Top 8 Must Have for Winery Outfits
Napa Valley Restaurants
(4)
Things to do in Napa Valley
Girls Trip
MORNING
Because your night before was likely a wine-filled event, load up on carbs for breakfast before, well, starting it all over again. The Model Bakery has the best English muffins in town—and likely beyond—and they use them as the base for every breakfast sandwich on the menu.
DAY
Hire a car and driver, or choose a designated driver from the group and set out on a day of wine tastings and vineyard visits. After all, that's why you came all the way to Napa, right? One of our favorites is Bryant Family Vineyard.
EVENING
Head to Farmstead at Long Meadow Ranch for dinner. With a farm-to-table menu, it's a restaurant and winery all rolled into one, so you don't have to worry about choosing. It's casual, but has a menu that will knock your socks off. Not to mention all of their wines!
Family Trip
MORNING
Start off at the Connolly Ranch. Your children can experience the animals on the farm like a petting zoo, but the ranch takes care to educate all who visit about the working farm and the importance of understanding where your food comes from.
DAY
Take a walk through the Oxbow Public Market, where you'll find a variety of local retailers, grocers, and restaurants. If you're heading out for a drive around the countryside, make a pit-stop at Kelly's Filling Station. An old fashion garage at its core, you'll find local snacks and drinks (including wine, of course!) that you would never believe. The soft serve is a must.
EVENING
Bring even your children to this more casual Thomas Keller dining experience at Ad Hoc + Addendum, where you can enjoy the famous chef's fare without heading over to The French Laundry. The menu changes daily and each meal is a four-course family-style meal with wine parings for the adults.
Romantic Getaway
MORNING
Start your day a little late with brunch at Zuzu, a popular Spanish tapas bar in town. The day is about to begin with a long wine tour (or maybe a few!) that will likely bleed into the evening hours, so there's no need to go crazy and head out early. Enjoy yourself…sleep in!
DAY
If you don't want to go the traditional vineyard route, go for casual rolling wine tastings at a few select wineries that strike your fancy as you're driving around. Make sure to stop at Auberge du Soleil, however, which is not going to be one of the best lunches you will have all weekend, but offers the most stunning sweeping views of Napa as a whole.
EVENING
After a day of wine tours, keep it going in a more casual (and closer-to-home) manner by heading to Cadet Wine & Beer Bar. While the menu is more drink-focused, they have added a small amount of food items over the past few years as well.