From what to wear to where to go for après ski in 2023.
Après ski
As the snow settles in the world's best ski areas: it's time to swap out your old gear and hit the slopes, and get ready for après-ski season.
After all, your trip isn't complete without après-ciating all the mountain has to offer. Après ski isn't just about drinking and partying.
Many towns have plenty of options, like shopping and playing pool. And the most important thing: what to wear to enjoy après ski.
Après ski Meaning
"Après-ski" literally translates into "after ski," which took off in the 1950s in the Alps and now it's a tradition honored around the world.
Today, it's an umbrella term for the social scene and entertainment after a long day on the slopes.
It starts just after the final ski run (even if it's the middle of the afternoon), après ski marks the shift from coasting down slopes to hitting the best local spots with friends and family.
Whether you're new to the scene or a seasoned skier, here's your go-to guide to making the most of your après ski experience from where to go, what to eat and drink, and what to wear.
What to Wear to Après?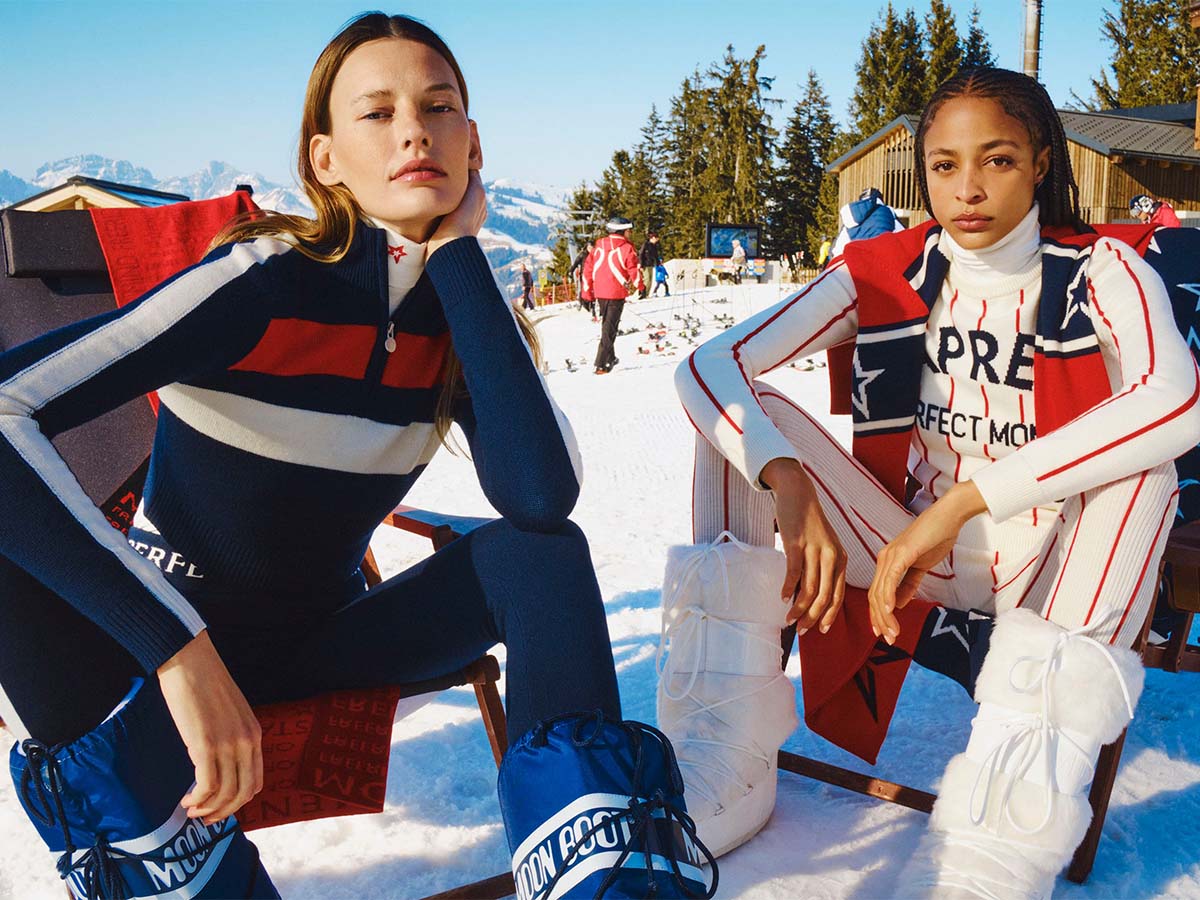 Après ski outfits
There's no set dress code, but just like the après ski scene, it varies by destination or dining spot.
It's common for the outfit you wore on the slopes to double as your après-ski outfit, especially if you're sipping hot cider around a flaming fire pit—with a few quick swaps.
However, it is worth heading back to the hotel to spruce up if you're planning on a more gourmet après or staying at a posher location.
Swap your helmet for a beanie, ski goggles for sunglasses, and ski boots for après ski boots (waterproof!) we've got you covered.
Make sure you check if ski boots are allowed wherever you choose to après. Some places want to keep the mountain outside.
1. Apres Ski Outfit: St. Anton, Austria
2. Apres Ski Outfit: St. Moritz, Switzerland
3. Apres Ski Outfit: Chamonix, France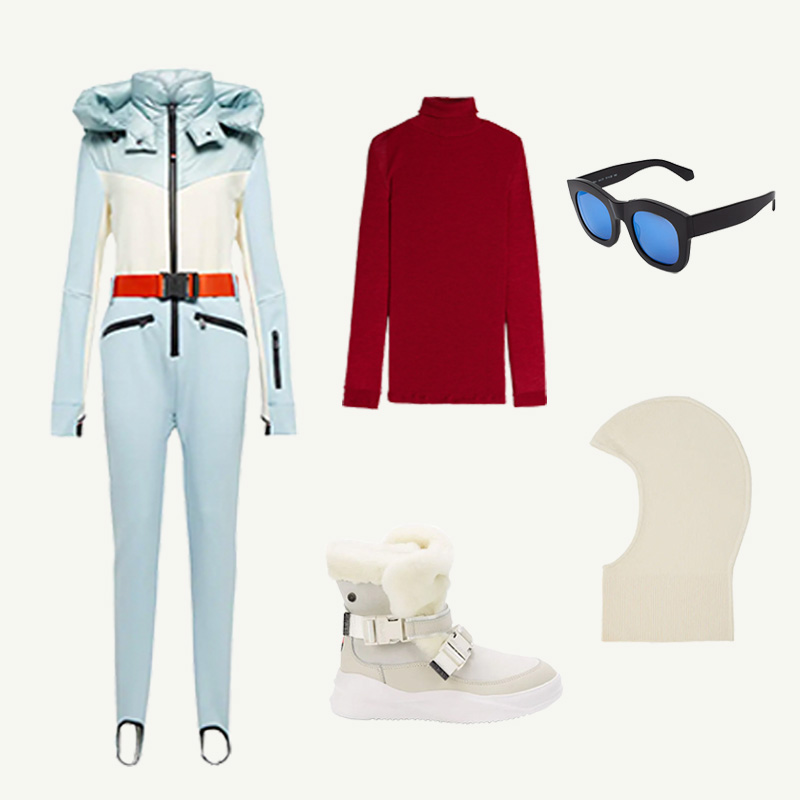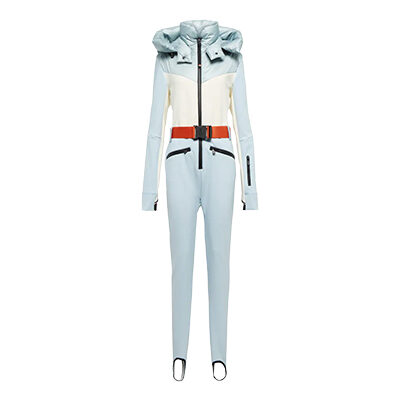 Moncler Grenoble
Down-Padded Performance Jumpsuit
Intimissimi
Long-sleeve High-Neck Tubular Top in Wool and Silk
4. Apres Ski Outfit: Courmayeur, Italy
5. Apres Ski Outfit: Stowe, Vermont
6. Apres Ski Outfit: Aspen-Snowmass, Colorado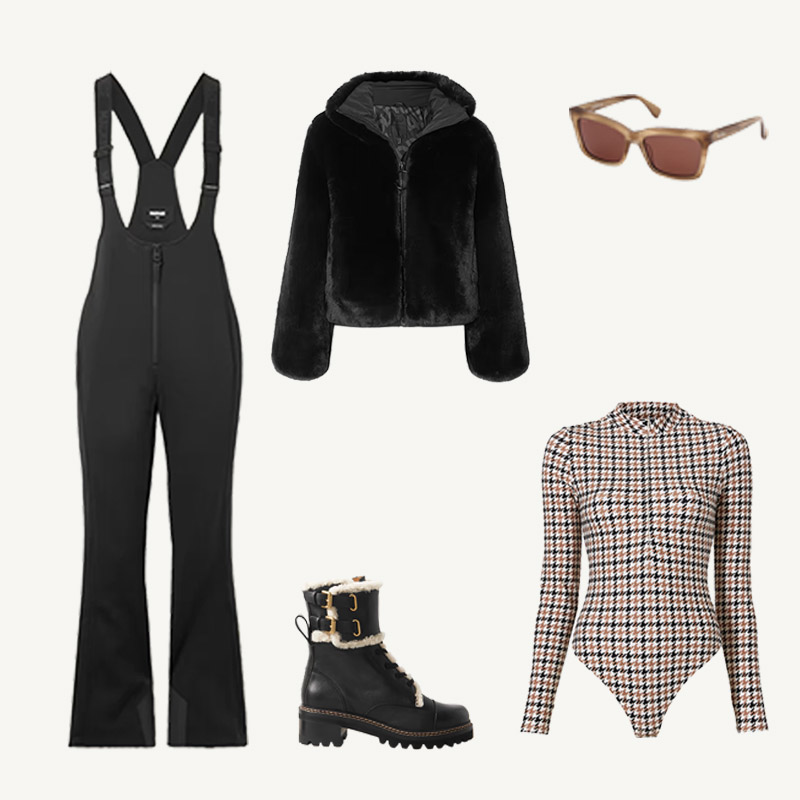 Mackage
Gia Stretch Salopettes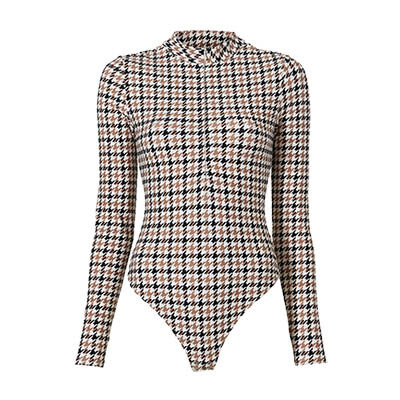 All Access
¼ Zip Bodysuit
7. Apres Ski Outfit: Park City, Utah
8. Apres Ski Outfit: Whistler, British Columbia, Canada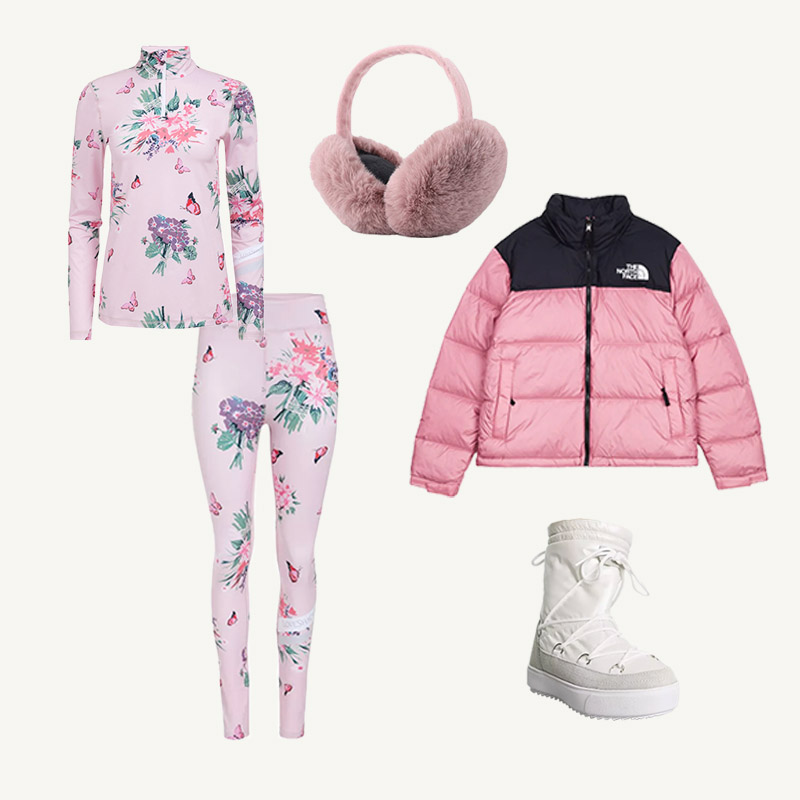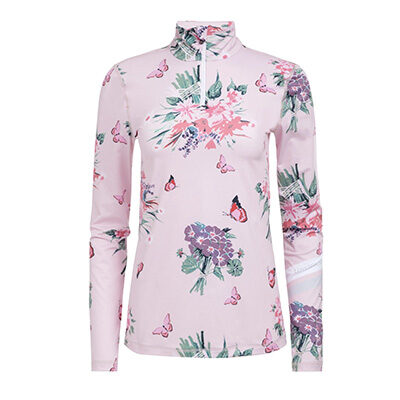 LoveShackFancy x BOGNER FIRE + ICE
Ilvy Quarter Zip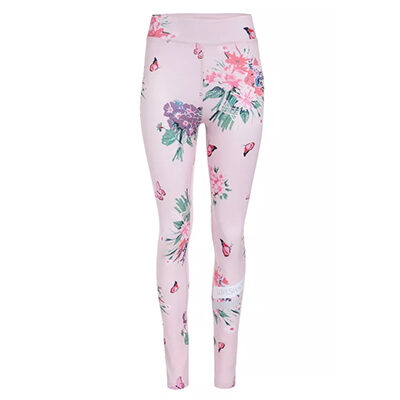 LoveShackFancy x BOGNER FIRE + ICE
Love Legging
9. Apres Ski Outfit: Portillo, Chile
10. Apres Ski Outfit: Queenstown, New Zealand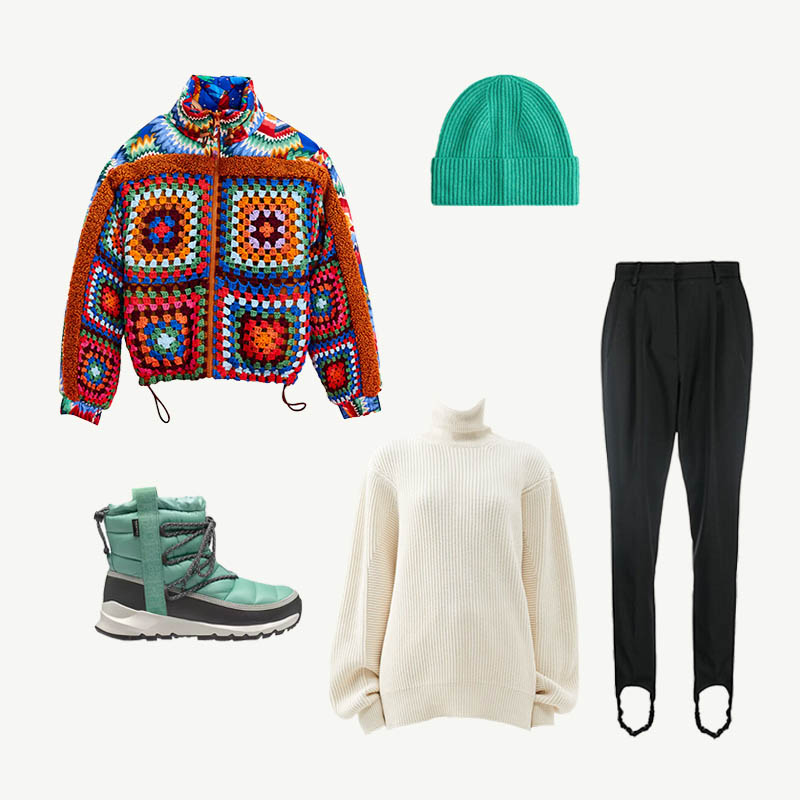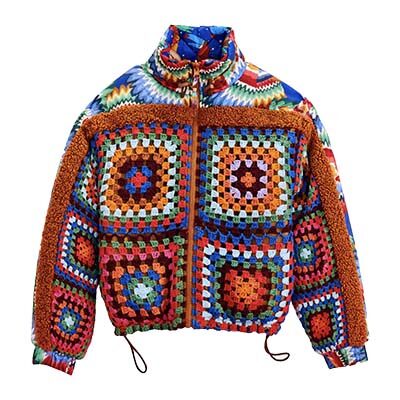 Farm Rio
Crochet Colorful Forest Reversible Puffer Jacket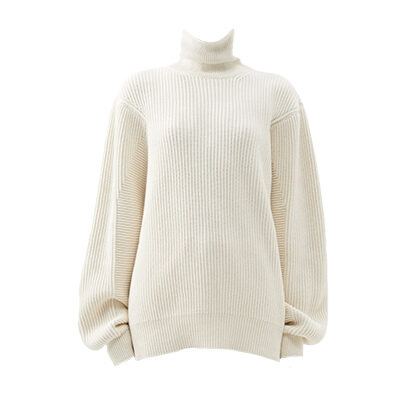 Raey
Roll-Neck Ribbed Cotton and Cashmere Blend Sweater
Today, every mountain has its own après-ski scene. But the culture does vary from resort to resort from family-friendly activities to the party scene of your wildest dreams to a food and drink scene to die for.
Here are the best resorts towns for every type of après-ski vibe, near and far: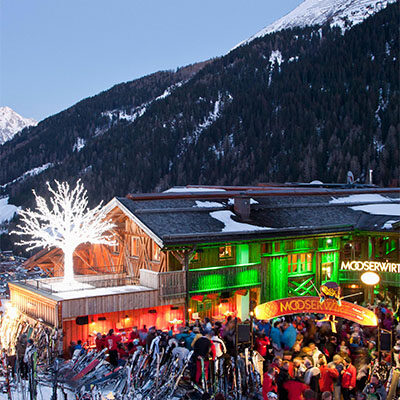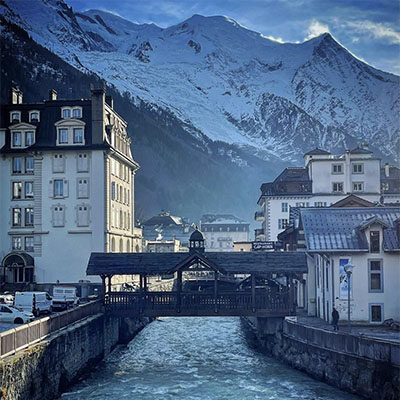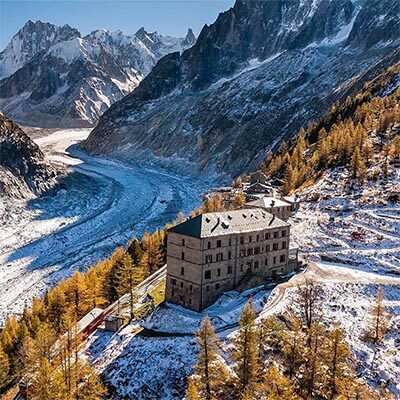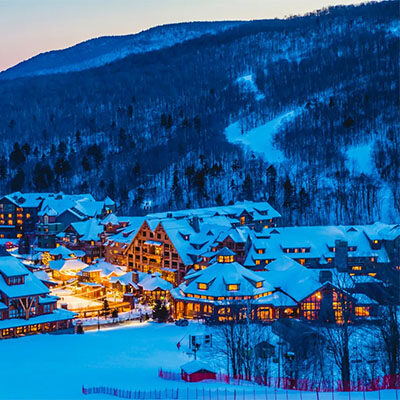 St. Anton, Austria delivers on and off the slopes. Not only does the town have a place in early ski history, but this is also the place for epic après parties, with libations aplenty. Don't worry, most hotels have spa facilities so you can take time to unwind too.
St. Moritz, Switzerland has hosted two Winter Olympic Games, multiple Alpine World Championships, and countless World Cup races, so it's no wonder it's often credited as the birthplace of modern winter sports. With its sophisticated vibes, St. Moritz is one of the most luxurious places to après.
Chamonix, France is nestled at the French, Swiss, and Italian borders, with some of the best skiers and après. As one of the oldest ski resorts in France, there's a variety when it comes to après life from the infamous La Folie Douce to local bars.
Courmayeur, Italy is located at the foot of Mont Blanc and has an old-world feel. If you're a bona fide foodie, Courmayeur is the après destination for you. With Michelin-star restaurants and century-old restaurants, your senses will be sure to thank you!
Stowe, Vermont is about as idyllic and charming as ski towns come. Dating back to the mountain's first season in 1936, tradition runs deep in Stowe. An après scene that ranges from old-school bars to hot tubs to ice skating, there's something for everyone.
Aspen-Snowmass, Colorado gives you the luxury après you deserve. Check out the designer boutiques in town before trying some of the best ski cocktails and its local nightlife. It's clear why Aspen is a destination to see and be seen.
Park City, Utah, a historic mining town, has activities for kids and North America's only ski-in, ski-out distillery (adults only!). If the name sounds familiar, it's because the city hosts the famous Sundance Film Festival each year.
Whistler, British Columbia, Canada, hosted the Alpine skiing events for the 2010 Winter Olympics. It's obvious why it's at the top of a good skier's (and après-skier's) bucket list with top-notch powder and activities off the slopes.
Portillo, Chile is home to South America's first ski resort. With its old-school vibes, it feels like a sleepaway camp. So it's no surprise it's home to some of the continent's best après-ski activities from its Instagrammable heated pool to the views from Tio Bob's.
Queenstown, New Zealand offers the perfect ending to your day on the slopes. From family-friendly restaurants to lakeside bars, it's a must-après for the entire family.
What to Eat and Drink
The tradition of après-ski is the perfect excuse to sample the local cuisine and sip locally-brewed craft beers. Expect rich, hearty foods no matter where you go, from fondue to stew.
But don't be fooled, après-ski culture isn't just about alcoholic beverages. With bars and restaurants serving velvety hot cocoa, apple ciders, and mocktails, there's a libation for everyone.
St. Anton, Austria:
MooserWirt: It's rumored to serve the most beer per square meter in Austria, selling over 5,000 liters of beer a day, filled with people, it's definitely one of the more raucous spots. But what else would you expect with a disco ball and a sunny terrace?
Krazy Kanguru: Krazy Kanguru advertises "snacks, shots, and sunshine." Owned by Mario Matt, an Olympic slalom skiing champion, he knows how to celebrate. Known for their crazy après-ski parties with beer and schnitzels that can kick off as early as 11 am, you can reserve a table to make sure you have a seat as early or as late as you want.
Basecamp: Located opposite the Gampen chairlift, it's the perfect stop right on the slopes. Boasting a massive weather-protected terrace, homemade pasta, and an extensive wine menu, it's a great stop with an unbeatable atmosphere.
The Museum Resturant-Cafe: If you're looking for a break from the party scene, search no more! Located in a refurbished historic 1912 mansion overlooking St. Anton, the restaurant boasts a wine list of Austrian whites and reds that enhance their locally sourced meals.
St. Moritz, Switzerland:
El Paradiso: Dine sky-high at this mountainside restaurant. El Paradiso is the spot to get your après-ski started early. Soak up the sun in the Gucci Paradiso lounge (members only but day passes are available) with some fondue, oysters, and champagne. I mean what else do you expect at this luxurious après?
Sternbar Marguns: Located at 2,838 meters high, you'll find the Sternbar Marguns, one of the trendiest outdoor bars and the ultimate spot on a sunny day. For the ultimate experience, order a pizza from the Restaurant Chadafö and have it delivered to the bar and enjoy with a cocktail!
Renaissance Bar: Picture a crackling fireplace, wingback chairs, and no ski boots. For a more sophisticated après in glamorous Badrutt's Palace, make sure you stop at your room to switch into more formal attire. Try a St. Moritzino with Cointreau or two before dinner.
Hauser's Roo Bar: In the cellar vault at the Roo Bar, guests and locals of all ages meet up to blow off steam. Sing, dance, and laugh like snowbody's watching! And try the homemade mulled wine.
Chamonix, France:
La Folie Douce: Nobody does après-ski like the La Folie Douce. For one of the wildest parties on the slope, complete with an outdoor bar, air show, and live DJs and musicians, you can't stay at Chamonix without stopping by. They also have the Kids Palace during school holidays so your kids can take part in ski lessons, cooking workshops, games, and treasure hunts.
La Terrasse: Located in a pink art nouveau building, La Terrasse is a hot spot for live music. With a breathtaking terrace and interior, it's a must-see for its architecture alone, never mind its local bands that play into the early hours of the morning.
Les Vielles Luges: Reachable by skis or a 20-minute hike from the Maison Neuve chairlift, this 250-year-old farmhouse turned restaurant is worth the work. Try the farcon, a traditional Savoyard dish made full of cheese, potatoes, raisins, and prunes, with some vin chaud. There are also vegetarian, and sometimes vegan, offerings.
Elevation 1904: To après with the locals and hardcore ski guides and mountaineers, try Elevation 1904. With the laid-back vibes and large sunny terrace, you can prop your skis outside and share your day's tales.
Courmayeur, Italy:
Caffe della Posta: Founded in 1911, enjoy a coffee and a quick pastry at the oldest bar in town. Located in the village, right by the bus stop, it's a perfect meet-up spot for visitors and locals.
Pierre Alexis 1877: If the spectacular vaulted ceilings have dazzled you, just wait until this Michelin-star restaurant brings out dinner. Using fresh produce and flavors, the chef reinterprets alpine cuisine from the Aosta Valley. With a fully stocked wine cellar full of local wines, this isn't a meal you'll forget anytime soon.
Ristorante Aira at Maison St. Jean: For a relaxed mountain atmosphere in a chalet-style hotel, this restaurant prepares some of the best traditional Italian dishes. But don't fill up on all the savory bread, pasta, and pastries! Save room for some wine from their extensive wine list, one of the best in the Aosta Valley.
Super G: If you can't wait to leave the mountain to start your après-ski, then you're in luck! Located right on the slopes of Mont Blanc is this iconic après-ski club with a weekend DJ and a massive terrace.
Stowe, Vermont:
Matterhorn: Or the "Horn" as its know to the locals, has been serving beers since the 1950s. It's quite literally the first stop on the way down the mountain. A local tip: check the events schedule for some great bands. Even though it's a tiny stage, the Monkees and members of the Grateful Dead have all performed there!
The Den: If you want to start while still on the mountain, look no further. With an old-school cafeteria that meets a woodsy interior and local craft beers on tap, it's the perfect place to unwind.
Idletyme Brewing Co.: With a restaurant and beer garden, it's the perfect hang-out spot whether you're with friends or family. Specializing in a Vermont take on classic European brewing, try their pale ale, Helles Lager, or Idletyme Double IPA.
Piecasso Pizzeria: Pizza will always hit the spot after a long day, especially one out on the slopes. With grab-n-go slices, a bar and lounge, a patio, and an arcade room, you really can't go wrong with pizza here.
Aspen-Snowmass, Colorado:
Snowmass S'mores: Start your early evening off right with s'mores! Starting at 3:30 pm, look for the S'mass S'mores carts. Whether you've got young ones with you or you're looking to embrace your inner child, these s'mores are available to all ages.
Zane's Tavern: If you need a break from the ritzy vibe, check out Zane's. You'll find locals in a mellow après-ski scene, sipping on pitchers and playing a game of pool. With a pub grub menu, the kitchen is open until midnight, making it the perfect late-night snack, après your après-ski.
The Wine Bar at the Little Nell: In the newly renovated lounge, sip rare wines while listening to a DJ spin vintage vinyl. There's even a wine tasting for $200 per person (by reservation only) where their world-class sommeliers will teach you everything you could ever need to know about wine. As a heads up, it's a smaller space so we do recommend making reservations beforehand.
Ajax Tavern: When you think of après-ski, we promise you the Ajax Tavern is exactly what you have in mind. Located halfway up the mountain, it's both glamorous yet laid back. Enjoy a side of truffle fries on its sprawling, sun-drenched patio that's perfect for people-watching.
Park City, Utah:
High West Distillery: The only ski-in, ski-out distillery in North America! You can come straight from the slope and warm up around the outdoor fire pit.
The Viking Yurt: For a truly unique and unforgettable après-ski experience, try this Nordic mountain fine dining adventure. It includes a sleigh ride up the mountain and a 6-course dinner with incredible views of Park City. Reservations are a must with only one seating of 34 guests an evening.
Champions Club: The best spot for a casual après with the whole family. Boasting 3,500 feet, this arcade-meets-bar has new games and old-school classics. Air hockey winner buys wings and pizza!
No Name Saloon: Even though it may have no name, it's certainly become a hot spot. It's easy to see why with a year-round heated roof-top patio, wall art, and buffalo burger. Plus check out the Annex Burger, the family-friendly side, just next door if you have young ones with you.
Whistler, British Columbia, CA:
Garibaldi Lift Co: From huge patios to live music events (check out the fantastically named local band She Stole My Beer) to its crazy Smirnoff House Parties, it's easy to see how GLC is known for its great après. If you're feeling adventurous, try the Cowboy Caesar, a Canadian Bloody Mary with a steak-spice rim garnished with beef jerky.
Mallard Lounge: If you have a sweet tooth, this is the place for you! Enjoy a salted caramel chocolate martini while looking out onto views of Blackcomb Mountain. Even though it's a pricier après, their drink menu is worth it.
High Mountain Brewing Co: Looking like a cozy log cabin, with fireplaces aplenty, it's one of the best spots to grab a beer in town. They serve handcrafted ales and lagers that perfectly complement their classic brewpub cuisine. Just when you thought it couldn't get any better, did we mention it's right next to the Olympic Rings?!
Portillo, Chile
Tío Bob's: Situated with a 360-degree view of the Andes Mountains, it's hard to beat this slopeside restaurant just off the Plateau chairlift. Serving classic Chilean grilled food and equally delicious wine, you can start your après right on the mountainside.
Tea Time at the Hotel Portillo: Tea is served! From 5 pm to 6 pm that is, right after the ski lifts close when everyone heads over. Kick off your boots and warm up with a cup of tea or coffee and a plate of cookies to hold you down until dinner later that night.
Portillo Central Bar: Located on the second floor of the Portillo Hotel, you can enjoy Chilean Pisco Sours by the fireplace with a live band or pianist. Serving sushi and fondue, even the pickiest of eaters will find something to satisfy their post-ski-cravings. Guests tend to start arriving at 7:30 pm to enjoy some pre-dinner drinks.
Portilla Discotheque: Get ready for a late night! Even though the discotheque in the basement opens for drinks at après time, the DJ (and party) really doesn't start until 11:30 pm. If that's past your bedtime, don't worry, there's plenty of seating around the dance floor.
Queenstown, New Zealand:
Steamer Wharf's Ice Bar: Check out the coolest bar in town! It looks like a scene taken straight from Frozen with its ice furniture, sculptures, and glassware. Serving mocktails and cocktails, it's perfect for skiers of all ages.
The World Bar: Start your après at the World Bar. With everything from Vegan Nachos and Poutine to classic wings and burgers, you're sure to find the perfect savory comfort food to fill up after a long day on the slopes before starting your refreshments.
Rhino's Ski Shack: Keep the skiing vibe going during the après, and try one of Rhino's Ski Shack shot skis at this ski-themed bar. But don't let the woodsy decor fool you—it's also the only hip-hop bar in Queenstown, plus there're pool tables and Jenga!
Gibbston Valley Winery: "Wine" down after a day on the slopes at the Gibbston Vallery Winery. Even though it's 20 minutes outside of Queenstown (the winery offers its own transport you can book!), the wine cave tours and wine and cheese tastings are worth the trek.
Don't think the altitude won't get to you. Remember to take it easy, not enough water and too much of a good thing is a recipe for altitude sickness.